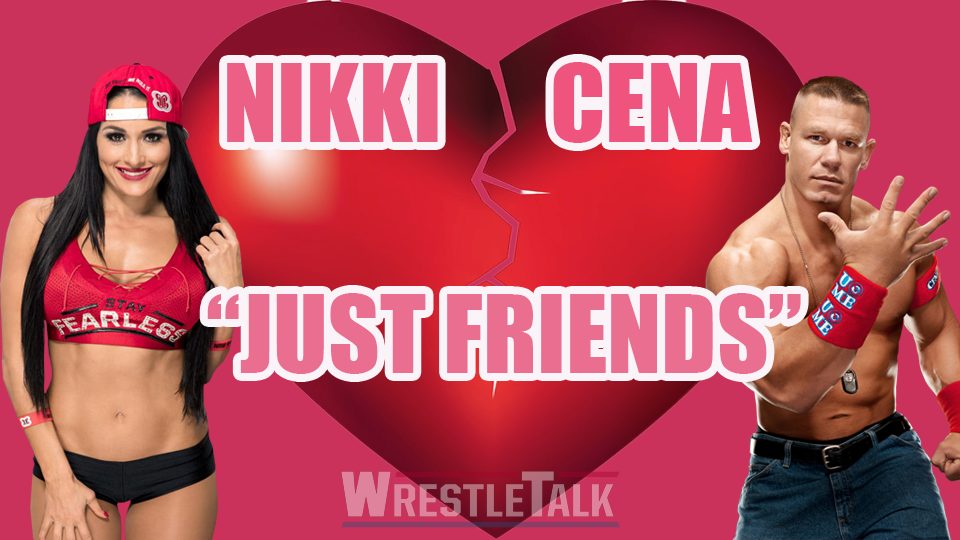 Are John Cena and Nikki Bella together or not?
According to Nikki's latest video, it's 'not'.
The couple were shown reuniting on a much talked about June 18 episode of Total Bellas where the couple met for a heart-to-heart and Cena appeared to suggest that he'd be willing to have a vasectomy reversal to they could have children. See our article here.
But in a video message filmed at her office in San Diego, Nikki said that since the episode was filmed, she and John are now back to being "just friends" again.
Nikki felt she had to set the record straight and that it was "extremely hard to relive" the break-up on the reality show.
"We film and things get shown a few months after and people are like, are they together or are they not?" she said.
"Right now, we're just friends. We are both working on each other, and trying to work on us. We talk every day. He is not only my best friend but he truly is one of the most amazing people I have ever met. He has patience with me and he has really taught me a lot over the past few months. I think one of those things is an inner strength that I thought I had but I didn't realize how strong I had it.
"I don't know. I do have hope for us. John right now is in China filming a movie and so I hate to say 'perfect timing' but it's giving us this time in life to see what we really want for the future. I know for some people because of the media or what they read on social media they look at this as a very negative thing but for all of you who are going to get married, who are engaged, or who are married I think you understand this is forever. I don't want to be someone who has a divorce, or who has kids and then gets a divorce. I truly want to walk down that aisle and I want to give my vows and I want this to be one time. So there's a lot of issues I had to deal with and really know what I wanted for the rest of my life. I'm just beyond grateful that I have this amazing man who is staying by my side and helping me fight through those issues and helping me become an even better person, even stronger. That's where we're at right now. Hopefully one day we will get back together and if we don't we just both want to each other to be very, very happy.
"So that is the update on John and I because I feel like there's a lot of confusion."
Nikki also plugged the upcoming episodes of Total Bellas which she said will include her bachelorette party and an insight into how their wedding might have looked.
She also said the season finale is "very tough, raw and honest and very real".
Do you watch Total Bellas? What do you think of the show? Let us know! Comment below!