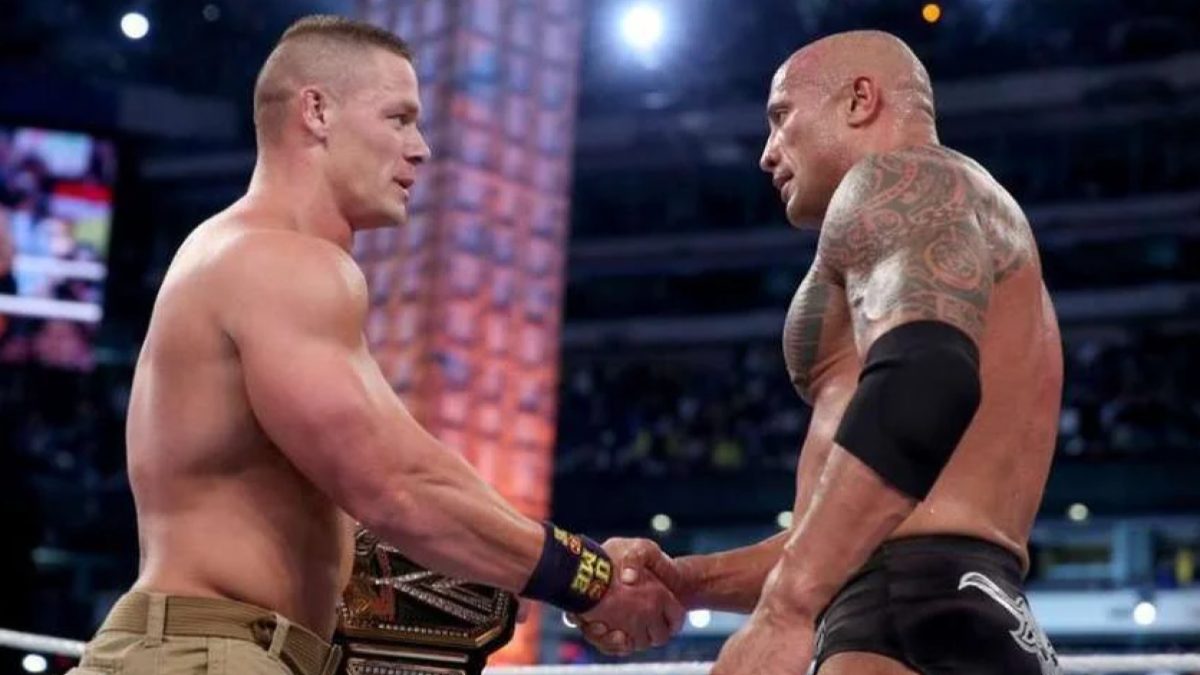 John Cena has shared his honest thoughts on Dwayne 'The Rock' Johnson, following their previous rivalry and heat.
Cena notably faced off against The Rock in the main event of WrestleMania 28 in a match billed as 'once in a lifetime'.
The duo had a rematch a year later at WrestleMania 29, this time with the WWE Championship on the line.
Throughout the build of the WrestleMania 28 bout, Cena and The Rock would cut promos that blurred the lines between work and shoot. Cena often commented on The Rock's part-time status, with The Great One also making a name for himself as a Hollywood star.
Cena himself is now rising through the ranks in Hollywood, giving him a new perspective on The Rock's decisions.
Speaking with MTV News' Josh Horowitz, Cena explained how his mindset has changed, noting:
"I would like to think, in my perspective, that we always have been good, except for one little patch where I really messed up.
"I got selfish and me, living WWE at that point, did not have any concept of growth or someone else's perspective. I took Dwayne's comments as not genuine, and my view was, if you love something, then be there every day.
"What a hypocrite I am. Because I still love WWE, and I can't go all the time. I just didn't see that. I was so selfish. I had his number and we could have talked about it.
"Instead of going, 'Hey, man, I'd like to try to do this thing to hook you back in and maybe we can collaborate, and really make it big,' I was like, 'F this,' and was calling this dude out.
"This is a moment, he gave me an opening, and I'm gonna kick the door open. I was diligent, and I understand why he got upset because he's changing the perception of the industry.
"Him, Dave Bautista, they made it okay to be in WWE. WWE isn't that carnival performer stereotype.
"Pro wrestlers have had that carny stereotype for so long, and these guys are breaking down barriers and shattering ceilings, and on top of that, just transcending the art form, and I just got selfish and wanted a main-event marquee match because it would better what I thought was the business. That's so short-sighted and selfish."
Noting that he and The Rock have a better relationship now, Cena said:
"It worked, but it worked at the cost of two people who communicated and almost put it in jeopardy.
"There was a moment where there was a lot of bad vibes between us, and rightfully so because Dwayne came back, and he wanted to give to the business openly, as much as he could.
"He has a great perception of WWE and understands that you build equity and go do something else and you pass the torch, you give away all of your electricity, as he would say.
"He was trying to do that on his own terms, and I wasn't having any of it. We made some great TV, so much so that one dude (points to Horowitz) wants to see it again.
"But it was almost at the cost of our friendship, which I would like to say now is in a really good place.
"I think step one of any conflict is to somehow find your fault. It's my fault, and I knew exactly what I was doing, and I also knew that I had to punch up to his level.
"He came in in a league of his own, and to make sure that it's like Mike Tyson (versus) Muhammad Ali, I gotta be Mike Tyson, and Rock was like Ali, and I was like some scrub like Glass Joe from Punchout.
"I had to punch my way up, and I had to do it by really blurring the lines of collaborative work. If we're in the WWE and we have a match, I assume they were gonna perform, just like stunts in a movie, and our concern is to safely do the show.
"That's the magic, and the magic is to be able to do it again and again, and trust your performer. Nothing's different when you verbally have issues with each other.
"It's all in good fun, and it's all for the business, but you're supposed to have trust with each other." 
Commenting on the possibility of the duo having one more match together, Cena said:
"I'm so old. I haven't won a match in like five years. No one notices, thank you, but if you check the stats, I'm on a bit of a slump.
"He's not exactly an easy opponent. I need to get somebody really easy to get another win on the board before I go knocking on The Rock's door again"
Cena recently provided an update on his in-ring future, which you can read more about right here.
If you want to stay fully updated on all the latest wrestling news, click the red bell in the bottom right of your screen to receive notifications from WrestleTalk.com straight to your device!