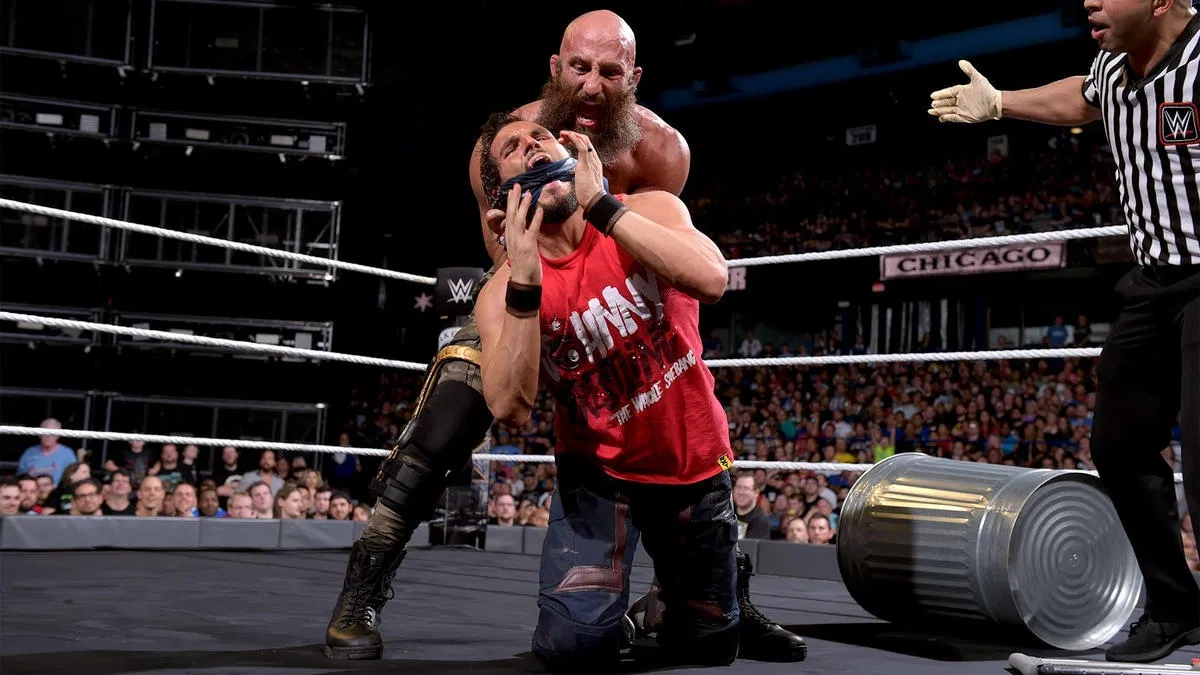 Johnny Gargano has reflected on his storyline with Ciampa in WWE NXT.
Gargano and Ciampa told a four-year story arc during their time in NXT.
From their teaming in DIY and dramatic breakup to feuding over the NXT Championship and eventual blowoff, the two men created a legacy that will make their eternally connected in the eyes of fans.
During the "What's NeXT" live stage show at Starrcast V, Johnny Gargano reflected on the storyline and described the various obstacles like Ciampa's ACL injury in 2017 that they had to overcome to complete their rivalry.
He said:
"The story of me and Tommaso was really honestly just things working out for us. As everyone knows, Tommaso tore his ACL in that match, which required him to go get surgery. If he doesn't tear his ACL, we have that match much sooner. We have that match probably a month or two later at another TakeOver, like probably two months later at a TakeOver. So the fact that Tommaso tore his ACL really gave us an opportunity to really let that story breathe. I think in the current climate of wrestling, fans and us as a culture, we want it now. Like I'm watching a YouTube video, I don't even want to watch a 10-second ad. I [hit] skip ad, skip ad because I don't wanna wait for thing. But the injury really made all of us wait for Tommaso to come back to have the match that everyone was waiting for."
When asked if he was worried that the injury would force the storyline to be put on hold, Gargano answered:
"Oh no, at that time, I was kinda just living in it, and I didn't really realize what it would become. Obviously we all hoped it would become a huge deal. We didn't realize it would become even more. I think we all got incredibly lucky. My story of NXT is a lot of injuries happening, and us making the best of how things work out. I think that's how anything works, you know, happenstance, how the universe works. Things work out best for people who make the best out of the way things turn out, and we did that a lot in NXT."
Reflecting on how his NXT Championship Match against Andrade Cien Almas at TakeOver: Philadelphia would have never happened if not for Ciampa's injury, Gargano said:
"It's just so interesting how that worked out in the sense to where if the turn happens and Tommaso and I have that match immediately, the Andrade match never happens, and it just worked out story-wise. Andrade versus Drew was the match in San Antonio for the NXT Championship, I believe San Antonio. I just remember because there was a live event in San Antonio I think the weekend of that show, and I wrestled Andrade in the opener. Hunter came to a live event, which Hunter came to a live event sometimes. But Hunter came to that live event, and me and Andrade, whether it be a live event, whether it be a pay-per-view, whether it be a show, a local show in Florida in front of like 50 people, we always ripped it up. Every single time we went out there, we gave the people their money's worth. That night in San Antonio, we went crazy, we went off. We had a crazy match, and Hunter absolutely lost it. He was like, 'That was amazing.' Shawn obviously loved it, 'Crazy, amazing.' So that weekend, the TakeOver happens, and that's when Drew tears his shoulder, or tears his tricep I believe. So Drew tears his tricep defending the NXT Championship against Andrade, and Andrade wins the title. I think they were going to go to Drew and Andrade again at the next TakeOver in Philadelphia. That was the plan, to do the rematch in Philadelphia. But Drew tore his tricep or bicep, and he could not do it, so they needed a challenger for Andrade. I believe Shawn and Hunter, having seen what we just did at the live event the night before, was like, 'Let's go with Johnny. Let's put Johnny in there.' It works out great because Tommaso'a gonna come back that pay-per-view, and he can come back at the end and screw Johnny off, and that's great,"
The former NXT Champion concluded by summing up his feud with Tommaso Ciampa, saying:
"Perfect circumstance where I had the match with Andrade, Tommaso comes back, and then we're off and rolling with our feud. Again, everything works out for a reason."
Johnny Gargano has been one of the names mentioned to be returning to WWE now that Triple H is in power as head of creative.
His name trended on Twitter following SummerSlam when he didn't appear, which Gargano responded to.
Transcription via Fightful
If you're in the UK but didn't manage to get tickets to Clash at the Castle on September 3, WrestleTalk is hosting a watch party at The Joiner on Worship in Shoreditch, London, and we'd love for you to join us! Click here for more details.