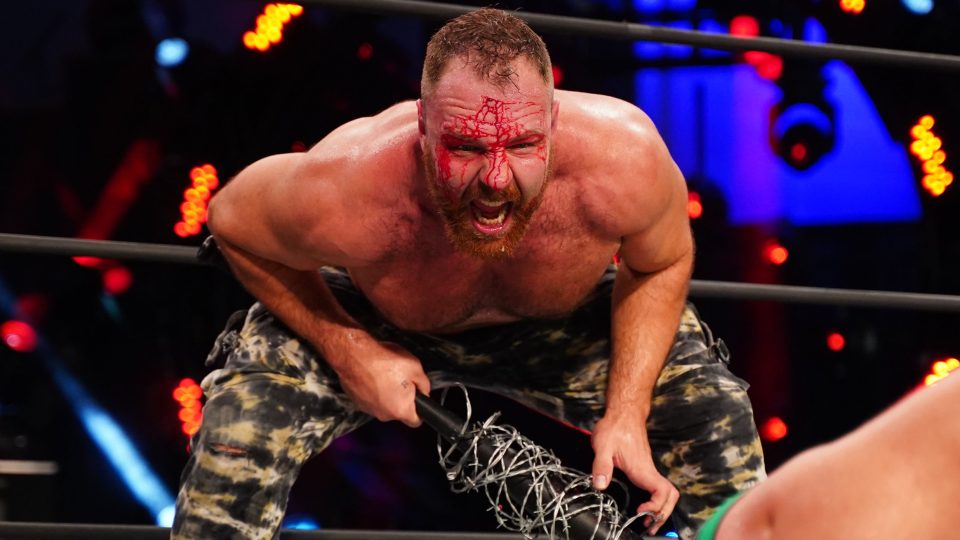 To some wrestling fans, the idea of an exploding, barbed-wire death match between Jon Moxley and Kenny Omega is all a bit too much to stomach, and let's face it, it's easy to see why, given the likelihood of a lot of blood and general ouchies.
On the other hand, a lot of wrestling fans love that stuff, so once again, let's just agree that not everyone has to like certain match gimmicks, and that's ok.
Speaking to Gary Cassidy of Inside the Ropes, Jon Moxley warned fans that the match will be incredibly, and if they have a problem with that, they should "turn it off".
"I'd say you probably shouldn't watch the pay-per-view then, or at least turn it off before that match happens.

"It's the good thing about AEW, we've got a little something for everybody, but there's really no way to sugarcoat an Exploding Barbed Wire Death Match, you know, so if you don't want to see it, then don't watch. If you think your kid is going to be a little bit too young to watch it, a little bit too violent for them, don't watch it."
Moxley specifically thanked AEW President Tony Khan for allowing him and Kenny Omega to have so much creative freedom.
"There's no restrictions as far as what could happen in AEW and I can't thank AEW, Tony Khan, and everybody enough that the fact that, when they put me in these situations, I make it very clear, 'Don't put me in these situations if you don't want… Be careful what you wish for.

"If you want Jon Moxley at level ten, then make sure that's what you really want.' I don't want to get yelled at by sponsors, and TNT, and Bleacher Report, and everybody, after the fact, so make sure this is what you really want and that's what we're doing – and that's what we're going to get on March 7th. It'll be unlike anything you've seen, definitely any time recently."
Moxley added that he feels modern wrestling could do with a bit more "actual danger", so it seems this will be far from the last insanely violent match we see Moxley in during his career.
What are your thoughts on the above story? Let us know in the comments on Twitter or Facebook.