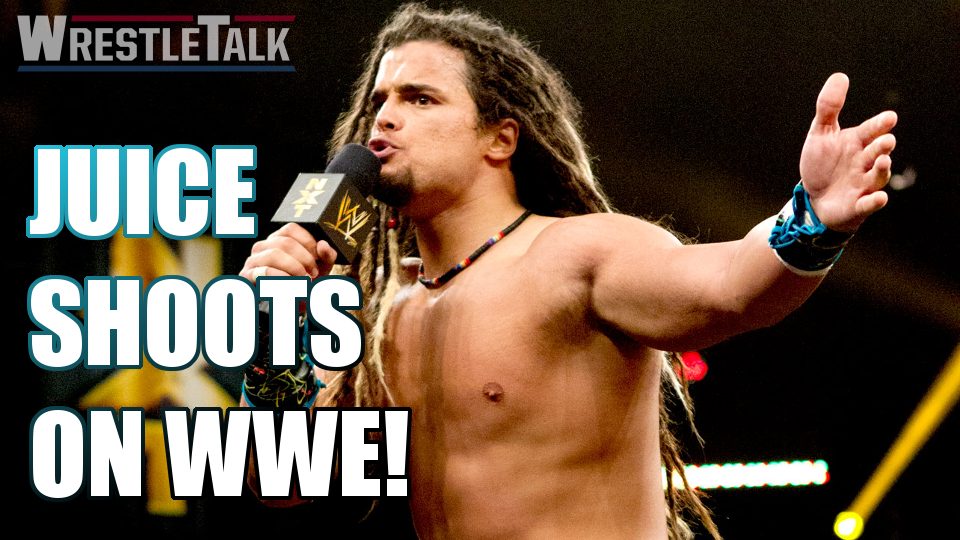 Juice Robinson, formerly C.J. Parker in NXT, has had another terrific rant into the mic. On Saturday's NJPW G1 Special at the Cow Palace, Juice became the first American to win the IWGP U.S. Heavyweight Championship when he defeated 'Switchblade' Jay White. At the press conference afterward, the flamboyant Juice had this to say about winning championships, becoming a star, and everyone's favorite subject, WWE:
"Anybody who says titles don't matter in this business can burn in hell, all right. Let's be honest. Titles matter, and the United States championship matters. It matters. And you know what now? Juice matters. All of the sudden, presto-chango! You leave f***ing NXT, the only place that's supposed to matter … Canyon Ceman told me, he looked at me and actually used my shoot name, Joe Robinson. He said, 'Joe, go out and make yourself a star.'"

F***, it's taken me three years, but I landed on my feet, that's right. Fast forward three years, WWE, NXT, all that sh**, everything that you guys constantly ask me about…that's in the rearview mirror now, and guess what? I ain't goin' back. I ain't ever goin' back. And it's okay because guys like Cody Rhodes, guys like Kenny Omega…Will Ospreay, the big stars, the big 'independent' stars? 'Independent?' No, you can take that and shove it up you're a**. They're stars, baby. And I might not be a star yet, but I'm getting' there. And titles do matter."
(Yes, language.)
It was not long ago that WWE's Kevin Owens, himself great on the mic, called Juice the best promo in wrestling. This was an opinion Dave Meltzer supported when he also praised Robinson's ability, noting the Dusty Rhodes' influence.
Somebody needs to find that Juice robinson promo after Jay White broke his hand. There's a reason Kevin Owens calls him the best promo in wrestling.

— Dave Meltzer (@davemeltzerWON) June 23, 2018
The brief lineage of the IWGP U.S. Heavyweight Championship is a strong one, and Juice finds himself in great company. Kenny Omega reigned as a marquee inaugural champion, establishing the title before he was upset by up-and-coming Jay White amid the Bullet Club's civil war. A year later, it is Juice Robinson's turn to honor the championship. All signs point to the ex-WWE man getting better and better.
Are you a fan of Juice Robinson? What do you think of his remarks toward WWE? Share your opinion in the comments below, or tell us how you feel on Twitter. Remember, you can also jump in on our continuous wrestling-related chat on Discord!