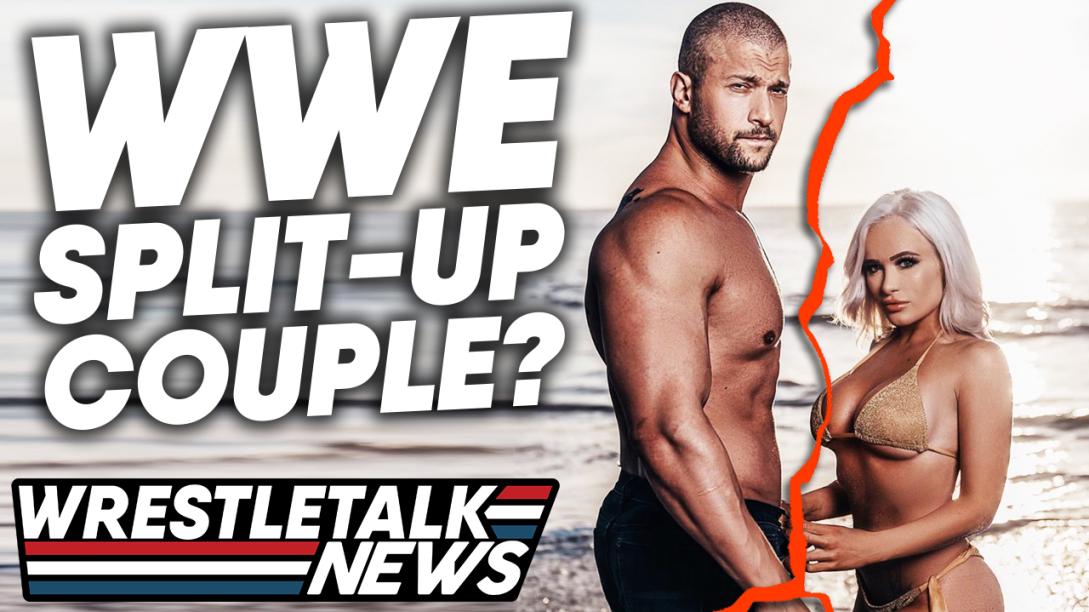 After only signing with WWE at the start of last year, Karrion Kross and Scarlett Bordeaux have already debuted in NXT, won the top title, held it for the shortest reign in history at just four days, vacated it due to injury, took a few months off, returned and won it back in April.
He most recently defended it against four of the top names in the promotion, beating Pete Dunne, Kyle O'Reilly, Johnny Gargano and Adam Cole at the same time. He's been booked as one of the most dominant champions NXT have ever had, so, in true WWE fashion, he's going straight to the Main Event of the Main Roster.
As in, the show Main Event. The one that ironically doesn't have any main eventers on it.
It was revealed over the weekend that Kross had a dark match tryout at Friday's SmackDown tapings – why the NXT champion has to do a main roster tryout is beyond me – and it was then also reported he was backstage at Hell in a Cell. Now Dave Meltzer writes he's impressed everyone so much, he'll be on this week's Main Event beating Shelton Benjamin. And not just that, it seems his act with real life girlfriend Scarlett Bordeaux could be broken up.
According to Melzter, Scarlett is getting a tryout of her own as a singles star this Friday. This would suggest that WWE are already planning on splitting up Kross and Bordeaux before it even arrives on the main roster. But what about the lip-syncing.
It's well known Vince McMahon doesn't like manager gimmicks, which is why Paul Heyman always called himself Brock Lesnar's 'advocate'. The main roster is also meant to give NXT several months' notice before any call-ups are made so the promotion has time to adjust plans and write people out. Such advance warning never seems to happen, though, with Ciampa and Gargano famously being called up as a tag team while they were having one of the most intense blood feuds NXT has ever seen. Perhaps the main roster wants Kross as a fresh face for when fans return.
What do you think of WWE splitting up Karrion Kross and Scarlet Bordeaux? Let me know in the comments because I'm be replying to people for the first 30 minutes after this video goes live FROM OUTTA NOWHERE.
But that's not the only Kross ruined by the main roster. Kross segway!
Superhero Gimmick Was Nikki Cross' Idea
On last night's Raw, Nikki Cross debuted her new superhero gimmick where she will inspire people with her spirit. The Her-rricane. Vince McMahon has always loved this idea, wanting to make AEW's Pac a Mighty Mouse character when he came up from NXT, and giving these same promos to Ricochet. 
But according to her real-life husband, NXT's Killian Dane, this was Nikki's idea: "She had an idea and saw it brought to life. Very excited to see whats next!"
Or, who's next. Segway game is on fire!
Goldberg And Undertaker Returning?
In WWE's latest attempt to reverse their falling ratings: like putting Roman Reigns vs. Rey Mysterio on SmackDown and having another Hell in a Cell match on Raw last night, it was also reported a couple of weeks ago that WWE would have a Draft this September that would shake up the brands. A Draft just two months before Survivor Series, again. Brand warfare!
According to Ringside News, a preliminary list of wrestlers who will be part of that Draft is circulating backstage and it included some surprising names: Goldberg who hasn't been seen since the Royal Rumble, and The Undertaker who retired last November at Survivor Series. 
Interestingly, given all the recent reports, Brock Lesnar's name was not on the list. Ringside News are saying that creative were told "there are no plans with Brock" and they're "not even in discussions" with him.
Brock Lesnar return confirmed.
Now it's time for my review of last night's Raw… in about 5 minutes.
WWE Raw Review
With Hell in a Cell having lost to itself via roll-up the previous night, Monday's Raw opened focusing on the next pay-per-view: Money in the Bank, announcing five whole qualifying matches for the show.
But not before we got some Bobby Lashley celebration action with his sexy sisters. This guy loves his family. 
The New Day has no time for the incest casting couch genre, however, interrupting them by throwing pancakes and neatly outlining the conflict between their two acts. Lashley surrounds himself with users and hangers on. Kofi surrounds himself with positivity. It sets the basis for a much deeper kind of wrestling feud. Not just one based on 'I don't like you' or 'I want that title', but a clash of philosophy. 
Bobby not only accepted Kofi title match challenge for Money in the Bank, but also a match tonight, against Xavier Woods… in Hell in a Cell. Man, things really got out of hand fast. 
The first qualifying Money in the Bank match should've been amazing, but was more of just some high spots and then an angle. Ricochet pinned AJ Styles after Styles got distracted by the Viking Raiders brawling with Omos, who charged through the barricade. This would've been more psychologically effective if Omos was interfering in the match, and the Raiders had come out to stop him. WWE really need to decide whether AJ and Omos are heels or faces.
Well we released Lana and Asuka's not fighting for a title anymore. Hey Asuka and Naomi, you're best friends now! They tagged against Eva Marie and Piper Niven, now officially named Dew Drop – which saw Marie get rolled up by Naomi when Dew Drop didn't tag in, seemingly because she doesn't want to be called Dew Drop. Why am I saying Dew Drop so much I'm a 33 year old man?!
For the story they're trying to tell, this is way too early to do any kind of Dew Drop defiance.
Definitely not Raw General Managers Sonya Deville and/or Adam Pearce told off Rhea Ripley for causing a DQ at Hell in a Cell, and then booked yet another title match with Charlotte for Money in the Bank. There was speculation that the pay-per-view was meant to be some kind of double turn for Rhea and Flair. Nope. They're both still incredibly unlikeable.
Because the segment was so good last week, we got a mirror image redo of Mandy Rose and Dana Brooke joshing with Natalya and Tamina. The acting was just as bad.
Let's do it like it's 2008! Randy Orton faced John Morrison in a Money in the Bank qualifier. I know how this is going to go. Orton will win his match, Riddle will win his. They'll have to fight in the Money in the Bank match. I'm in for this.
But showing just how well WWE are booking this story, they zigged when I expected them to zag, and it was better. 
Miz interfered, so Riddle chased him round the ring in a race of scooter vs wheelchair. This distracted Randy, causing him to lose to Morrison – adding an interesting layer of tension to the RKBro act.
Which was brilliantly furthered a few matches later…
In the best match of the night for me, although the main event was also terrific, Drew McIntyre took on Riddle in another Money in the Bank qualifier. There was a lot of context going into this match. The RKBro stuff from earlier, and Drew's desperation at not being able to challenge Bobby for the title. A Money in the Bank briefcase could be a technicality around that. 
Add in that Drew masterfully selling the effects of Hell in a Cell from the night before, because someone's got to. It was as though he was wrestling his own body as much as Riddle. They went through two commercial breaks, putting the contest over like an absolute war. Randy appeared on the stage to watch on, it still not known whether he'd help Riddle or cost him the match out of spite, but Riddle just ended up beating Drew. 
It sounds counterintuitive, but these losses are really getting me back into Drew's character.
Bringing a surprising amount of feels, though, Orton wouldn't fist bump Riddle at the top of the ramp, just having his arms crossed and staring dead ahead. Riddle heartbreakingly cried, 'Randy, what's wrong?' This is such a well told story. I was concerned they were just going to do another pay-per-view cycle of New Day matches even though that chapter concluded last Monday, but they smartly moved both acts onto something new.
WWE then announced Orton, McIntyre and AJ for a last-chance qualifier next week. I'm really excited to see how Randy and Drew's stories play into that.
Unfortunately this is a three hour show, and it's hard to make everything good. But WWE wisely just shoved all the crap stuff into the same segment!
Alexa Bliss and Nikki Cross took on Nia Jax and Shayna Baszler that had so many things wrong with it. Bliss has got new, headache inducing entrance music. She's still doing the supernatural possession nonsense, and she tagged with Nikki never really addressing their history together.
But the most frustrating, likely because it's the newest, is what's happened to Nikki's character. She's a superhero now.
It's a difficult situation, because this will undoubtedly get her more screentime. One of the shortcuts to get Vince's attention appears to be: humiliate yourself and become another one of his clowns. The benefit is, he'll give you more stuff to do. Nikki won this match and got in a bunch of offence, a far cry from her winning matches by running away from them over the last few weeks, but it comes with a bitter taste.
The undercard yelled at Adam Pearce about not being in Money in the Bank qualifiers. Yes, Jeff Hardy is currently in the undercard.
Ryker is taking on Elias in a strap match next week.
And the main event saw that random Hell in a Cell match announced under three hours earlier. Hardly the big blood feud blow off the stipulation was invented for, but it's hard to complain when it's this fun.
Lashley gave Woods a lot, including a great near fall with a jumping elbow through a table, but all must tap to the Hurt Lock in the end. This only went ten minutes, and was more about the feud-building visual with Kingston – locking Woods in the cage with Lashley and MVP afterwards, so Kofi had to helplessly watch his friend getting beaten up. If the idea is that Kofi's strength is surrounding himself with positivity, the story should be based around all that positivity being slowly stripped away from him.
What did you think of Raw? Let me know in the comments down below and vote in our poll on a pole match on the community tab, where 69% of you have gone for RAW JUST GOT GOOD AGAIN!
And I agree. I've said that every Tuesday morning I wake up thinking 'is today the day that WWE start caring again?' And, for one week at least, they've filled me with hope again. This wasn't a huge show stacked with surprises, but it was an incredibly solid episode of wrestling TV – with matches with stakes, great action, and hooking you into new stories. By Raw's recent standards, this episode was 4 out of 5, and arguably one of the best of the year.
To make sure you stay updated with all the latest wrestling news, add WrestleTalk.com to your Google Discover feed and follow us on Twitter!