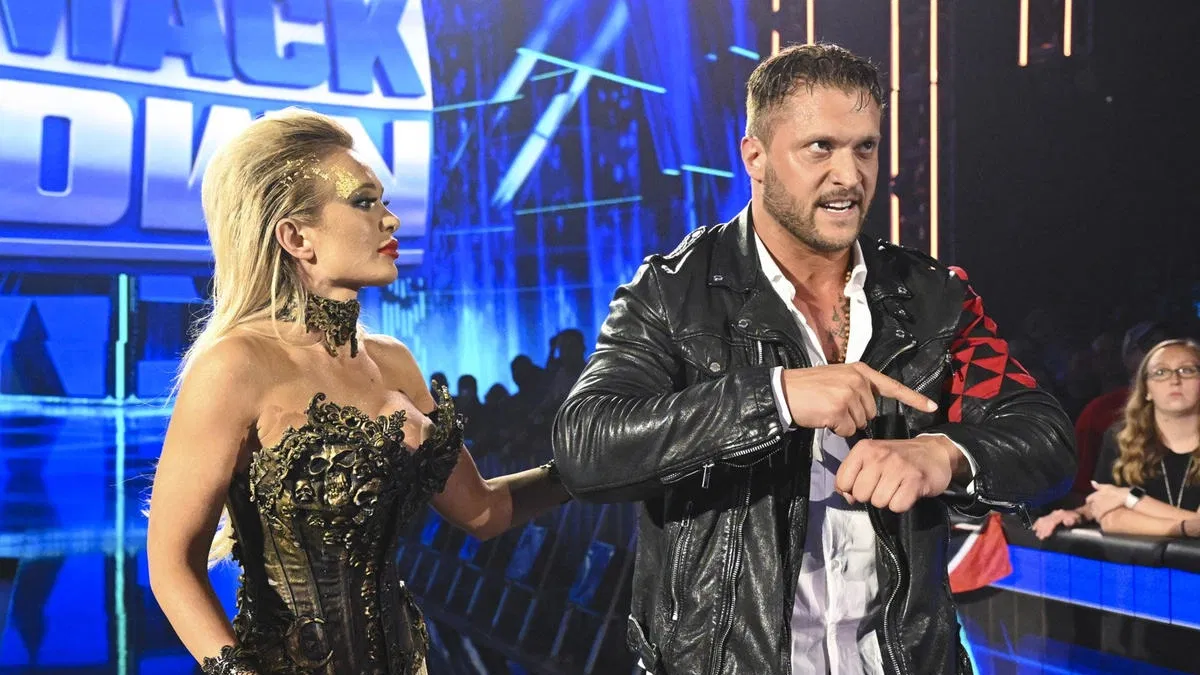 When Triple H took over WWE creative, the returns of many released WWE stars were speculated.
We didn't have to take long, as we very quickly saw Dakota Kai, IYO SKY and Bayley return at SummerSlam, followed shortly by Karrion Kross and Scarlett returning on the August 5 SmackDown show.
Kross and Scarlett were favourites of Triple H down in NXT, with him becoming a two-time NXT Champion during his stint on the black and gold brand.
Kross and Scarlett were both guests on this week's WWE After the Bell, where they discussed their return to WWE.
Scarlett spoke about the one thing she was most nervous about ahead of her return, saying:
"The thing I was nervous about, I was nervous that I wasn't going to feel those same butterflies anymore because I had become almost too peaceful and content not being there. Going through day by day, I was like, 'I love wrestling, I don't need it to make me happy.' At one point, my identity was completely associated with my career, that was everything about it. I was most worried coming out, 'Am I going to feel that?' Oh my God, everything is back and rushing in. It was just as special as the very first time I ever had my first match. It was perfect and amazing,"
Kross then spoke about his feelings on wrestling after he was released, and how it feels to be back in WWE.
He said:
"It's really hard to find the words. To want something so bad and then to have to accept that's not the reality anymore, and then to get a call one day, out of the blue, and be offered everything you were striving for. It's pretty incredible. I remember my first match back on the Indies, after being released, I was worried what was going to happen, going into a small room after working giant arenas in WWE, whether that was going to voluntarily turn on when I heard music, and it did. Even a small group of people in a small venue in Vegas, it turned on and I was like, 'I still love this.' It didn't have to do with the bells and whistles and smoke and mirrors and all the people, I still love to do this and entertain anybody, whether it's a few people or a few thousand. You magnify that feeling, being in the arena, it was awesome. To see everybody again too, it was a good feeling"
Kross and Scarlett then discussed the respect they have for Triple H, dating back to their days in NXT.
They said:
Scarlett: It was the easiest decision too. We had talked about, 'What if we get this opportunity? Where can we do this? This is how we're going to do thing, we're going to stick to it. We have to do things on our terms.' It's funny when Hunter called us, he was the best boss we ever had. It was a complete no-brainer. No other company has ever compared to it. We trust him, we definitely trust him with our characters and storylines. It's perfect.

Kross: You even said we felt respected and heard.

Scarlett: Yes, I always felt respected and heard by Hunter, even more so now.

Kross: That's a big thing for you to say.

Scarlett: As a woman in wrestling, yeah, to feel respected and heard, yeah. Sometimes you feel, as a woman, you feel very shut down or don't feel comfortable talking to the boss about certain ideas. Hunter is always there, a text away. We just messaged him yesterday with certain ideas and character arcs and storylines. It feels great to have that relationship with a boss who is accessible that way. He loves wrestling, he absolutely loves wrestling and wants to make the best show possible. You feel like you're in great hands at all times.
Kross immediately became a player on the SmackDown roster, currently slotted as the brand's number two heel, behind only Roman Reigns.
transcription via Fightful
If you're in the UK but didn't manage to get tickets to Clash at the Castle on September 3, WrestleTalk is hosting a watch party at The Joiner on Worship in Shoreditch, London, and we'd love for you to join us! Click here for more details.