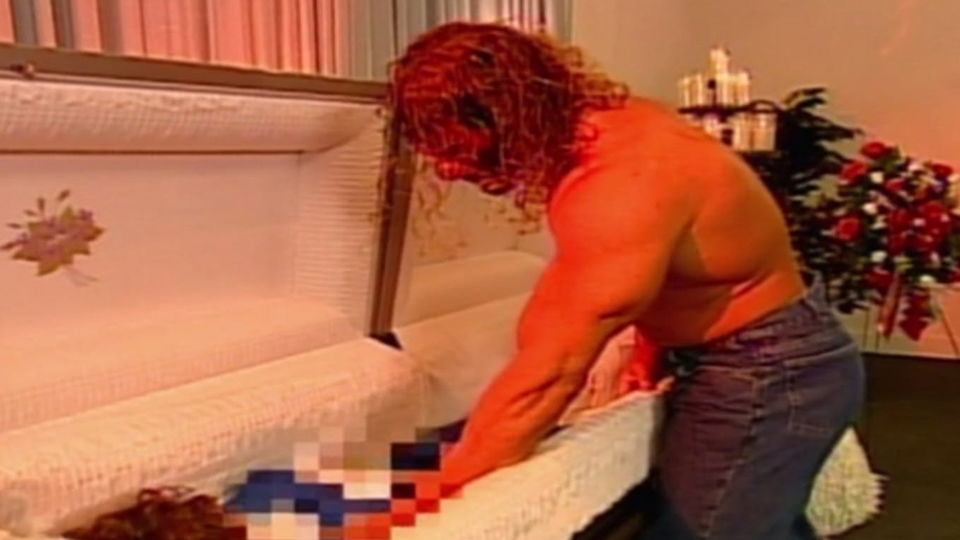 Tommy Dreamer has recalled the originally planned conclusion for the Katie Vick storyline, involving Kane and Triple H.
One of the most infamous WWE storylines of all time, the angle involved Triple H accusing Kane of murdering a woman named Katie Vick, eventually dressing up as Kane and mimicking sexual acts with Katie's 'corpse'.
Speaking on his House of Hardcore podcast, Tommy Dreamer stated that the original conclusion to the story would've had 'Sick Boy' Scott Vick avenge his sister against The Game at WrestleMania, noting:
"The whole Katie Vick, narcolepsy (Necrophilia) angle, that all came about through Vince and the payoff of all that was going to be Sick Boy Scott Vick was going to wrestle Triple H at WrestleMania to avenge his sister, who was dead. That all came about when Sick Boy Scott Vick had a dark match try-out and Vince just liked the name Scott Vick because they couldn't call him Sick Boy.

"This horrible angle with Kane and Triple H was going to be the caveat to headlining WrestleMania with Scott Vick avenging his sister Katie Vick. I remember Johnny (John Laurinaitis) having to tell Vince, 'that's great, but he's not employed here.' He was on a tryout. People have gotten hired on a lot weirder things but I think after that, it was just, 'Oh,' and we lost that amazing WrestleMania to avenge (Sick Boy's) sister's horrible degradation of her grave. That's sometimes how these crazy things happen in WWE."
At WrestleMania XIX in 2003, Triple H instead defended his World Heavyweight Championship against Booker T.
Quote via Fightful. 
To make sure you stay updated with all the latest wrestling news, add WrestleTalk.com to your Google Discover feed and follow us on Twitter!