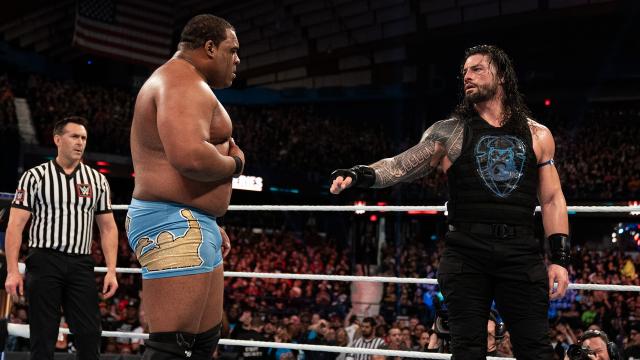 While his performances in NXT for the last six months have been stellar, it was Keith Lee's showing at the Survivor Series pay-per-view event in November 2019 that really put him on the map.
In the five-on-five-on-five elimination tag team match, Keith Lee was the final man standing for his team, pinning former Universal Champion Seth Rollins and going head-to-head with Roman Reigns.
Speaking on WWE Backstage last night, Keith Lee revealed what it was like to be in the ring with Roman Reigns. The North American Champion even revealed that Reigns said to him after their showdown:
"That day was obviously just as intense. I didn't know what was going on and I ended up being the last three to remain in that match. It was quite the squabble with Roman Reigns who was the last to kick out of a Spirit Bomb for crying out loud and he speared me out of my boots onto my neck. After that, that moment set a tone for me. After that he told me straight-up that 'I want a one-on-one match against you.'"
During the interview, Keith Lee also said that out of everyone on the WWE roster, his dream match would be a clash against SmackDown Superstar Cesaro.
After defeating Dominik Dijakovic at NXT TakeOver: Portland last weekend, Keith Lee will presumably defend his title against a new opponent at NXT TakeOver: Tampa. For the latest on WWE's plans for the big man, stay tuned to WrestleTalk.com.