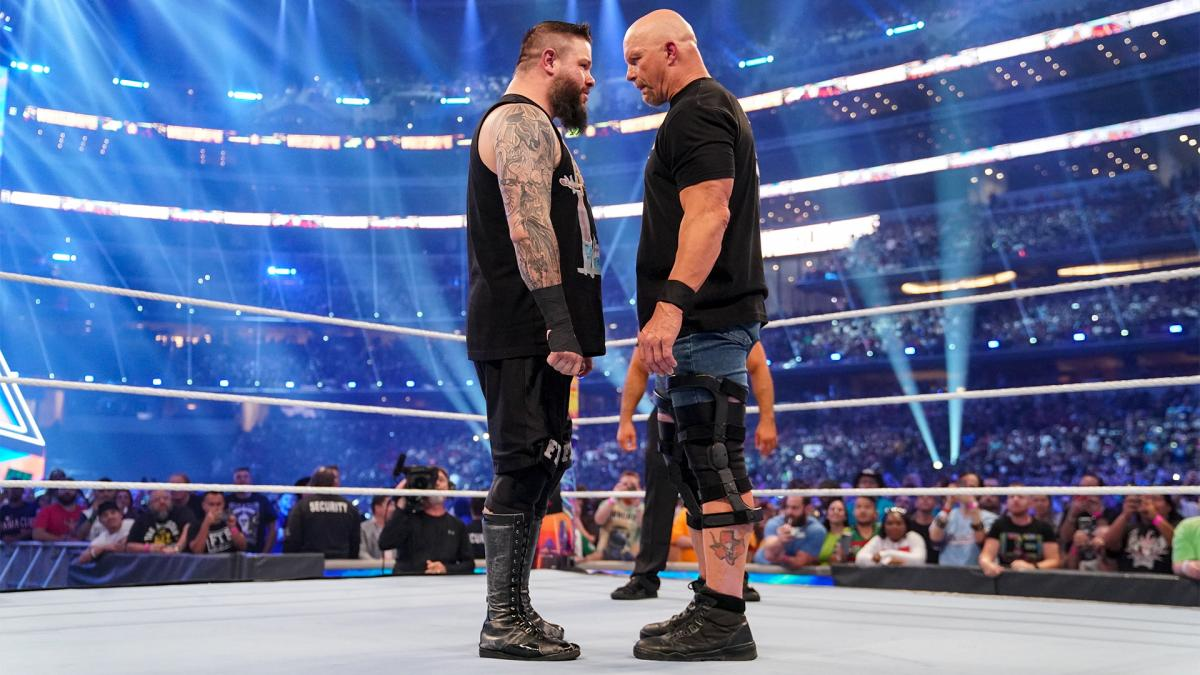 Kevin Owens says he's the biggest Stone Cold Steve Austin fan, and if you disagree you're in for a fight plus Sami Zayn can vouch for him!
Kevin Owens spoke to Metro.co.uk about being told by Vince McMahon that he would be involved in a program with Stone Cold Steve Austin at WrestleMania 38, including his evidence that he is in fact, the biggest Stone Cold Steve Austin fan, ever.
Speaking about how much of a fan of the Texas Rattlesnake he is and what other WWE star could vouch for him, Owens said:
"As cliche as it sounds – everybody's like, "I'm the biggest fan, I'm the biggest fan, I'm the biggest fan". Anybody who says they're a bigger Stone Cold fan than me are in for a fight. If you saw my room at the time – if you talk to Sami [Zayn], you can ask him. Floor to ceiling, 'Stone Cold' Steve Austin on one side, other superstars here and there, but Stone Cold was top.

"It's funny, 'cause I was a fan of his from the start. He came in as the Ringmaster, and even he would probably say it wasn't a great time in his career, I loved him as The Ringmaster! And then he became Stone Cold and he was on another level."
When describing the moment Vince McMahon told him he would be facing Stone Cold at WrestleMania, Owens shared that it definitely included expletives, saying:
"Vince told me a little while ago. My reaction was quiet jubilation because I was in Vince's office, but I may have said a few swear words to him – positively! It was really surreal."
Kevin Owens has gone on from WrestleMania to meet Elias' younger brother Ezekiel on the Raw after WrestleMania and begin feuding with him, in a quest to prove that he is in fact, Elias.
To make sure you stay updated with all the latest wrestling news, add WrestleTalk.com to your Google Discover feed and follow us on Twitter!