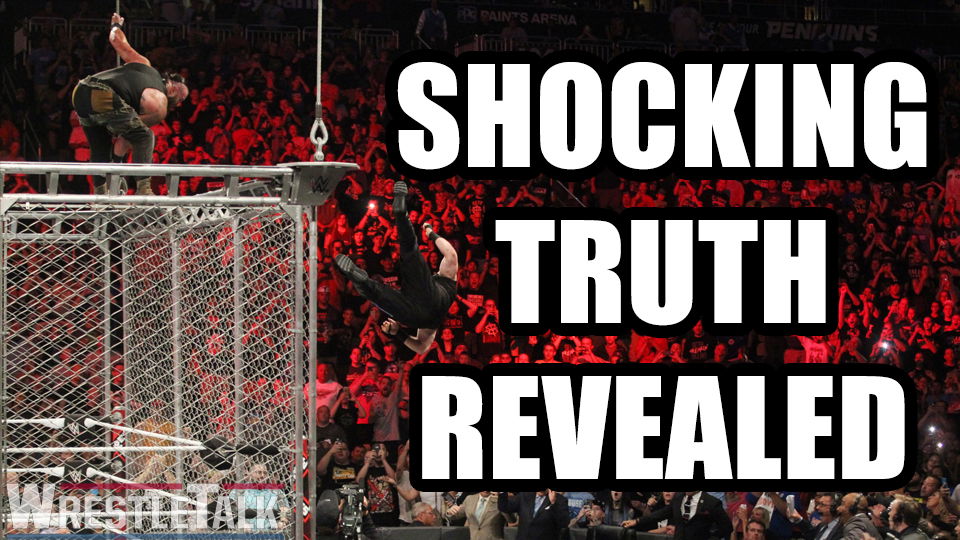 In 1998, at the WWE King of the Ring pay-per-view, The Undertaker and Mick Foley created one of the most iconic moments in wrestling history. The clip of Foley being thrown off of the top of Hell in a Cell is one of the most breathtaking moments ever in WWE. 20 years later at this year's Extreme Rules Kevin Owens – in an homage to Foley – took a plunge from the top of a steel cage onto an announcer's table below.
In an Interview with Gorilla Position Owens shared the surprising and fairly concerning news that the bump wasn't his idea:
"The tribute to Mick Foley I can't even say was voluntary because we happened to be in that city and I happened to be in a steel cage match. As far as who's idea it was and why it happened… I'm gonna keep that under wraps for now."
That admission rather calls into question just who in WWE is suggesting that wrestlers take dangerous and potentially life-threatening falls.
As for comparisons between his and Foley's fall Owens said:
"Once I realized what was gonna happen, of course in my head comparing it to what Mick Foley did 20 years before was an obvious thing. But, I'll never be arrogant enough to say what I did equals to what he did. His will live on forever and I don't think I can say the same about mine.

Look, I will remember forever watching Mick Foley get thrown off that cell. I wasn't trying to emulate or top what he did. I don't think anybody will ever top it. But some people felt it was similar and he sent me a text a few days later congratulating me and making a special moment and I really appreciated that.

It's very flattering, but I would never put what I did in the same league as what he did ever. His was legendary, you know it's a history-making moment and that was a moment people will always remember I would never put myself in the same class as him."
Owens said that he had nothing going through his mind before the fall. He tried to avoid looking down, saying he knew where to be on the cage and had a 'general idea of where he was going.'
Owens also talked about Sami Zayn's Health, childhood wrestling memories, and the current independent wrestling scene. The full interview can be found here
Related Reading:
Do you think Owens and Foley's Bumps should be compared? Let us know in the comments, on Twitter, or on Discord today!