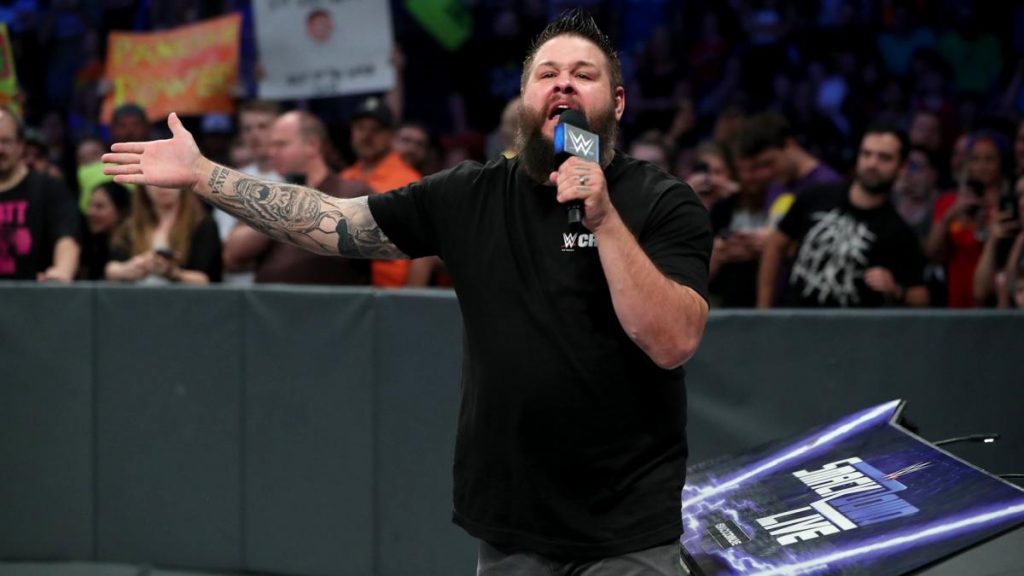 One of the undoubted highlights of last night's episode of SmackDown was a memorable promo cut by Kevin Owens early in the show.
Owens continued his babyface push – which was the plan for him anyway post-WrestleMania until he was turned due to an injury suffered by Daniel Bryan – by "shooting" on Shane McMahon.
Owens delivered an epic rant against Shane, ripping into him for taking television time away from a number of absent stars and calling out WWE and the McMahons for reneging on their own promises.
"You know what, last week I came out here and I spoke the truth about Dolph Ziggler but it looks like tonight someone else needs to hear the truth and that's Shane McMahon.

Now I've sat back and tried to be a good guy, a good company guy, and not piss anyone off for too long, and I'm done with that because it didn't get me anything.

So, you know what? A while ago I watched the entire McMahon Family come out in this ring and say, 'Hey, from now on we're going to listen to the fans and give the audience what they want.'

But the only thing that's happened since then is Shane McMahon has gotten more power, more authority and more TV time than anyone, and trust me when I say that nobody watching ever wanted that.

You know, now we have to sit back every week on every show and listen to Shane McMahon call himself the best in the world and every time that happens it makes me sick, makes me want to come out here and smash my head into this stupid table. This is the biggest load of crap I have ever seen."
As part of the storyline, Shane McMahon came out and had Owens' mic cut off. But Owens was wise to the ploy.
"Hey, guess what, idiot? There's more than one microphone and I'm not done. You know, every time you call yourself the best in the world, that is an insult and slap to the face to every single person in the back, in the locker room, who break their backs week in, week out, on TV, on the road, around the world, to be WWE Superstars, and it makes me sick.

It makes me sick and it makes everybody sick. You know what happens when you call yourself the best in the world? Everybody back there, including me, is thinking, 'Shane McMahon can kiss my ass!'

I would never call myself the best in the world and there's 100 people back there… and you take up TV time for Apollo Crews, Buddy Murphy, Ali, Liv Morgan, Asuka, AOP, Kairi Sane…"
Following that, Owens left through the crowd to evade security forces called by Shane. The promo was met with a huge reaction from the live crowd and many of the wrestlers appreciated Owens' words as well.
Ali simply tweeted "thanks" in response, as did Buddy Murphy. Liv Morgan, who has not been seen on TV in forever, called Owens the "GOAT (greatest of all time)".
It is clear that WWE is positioning Owens as the modern day everyman who will stand up for what he believes in and rally against the boss. Basically, the Steve Austin of 2019.
Owens returned later in the night to drill McMahon with a Stunner and WWE even tweeted Austin's old catchphrase in response to the promo and Stunner:
Arrive.
Raise Hell.
(Stun your boss)
Leave.#SDLive @FightOwensFight @shanemcmahon pic.twitter.com/Yk3lqe5ccM

— WWE (@WWE) July 10, 2019
Thanks to Wrestling Inc. for the transcription.