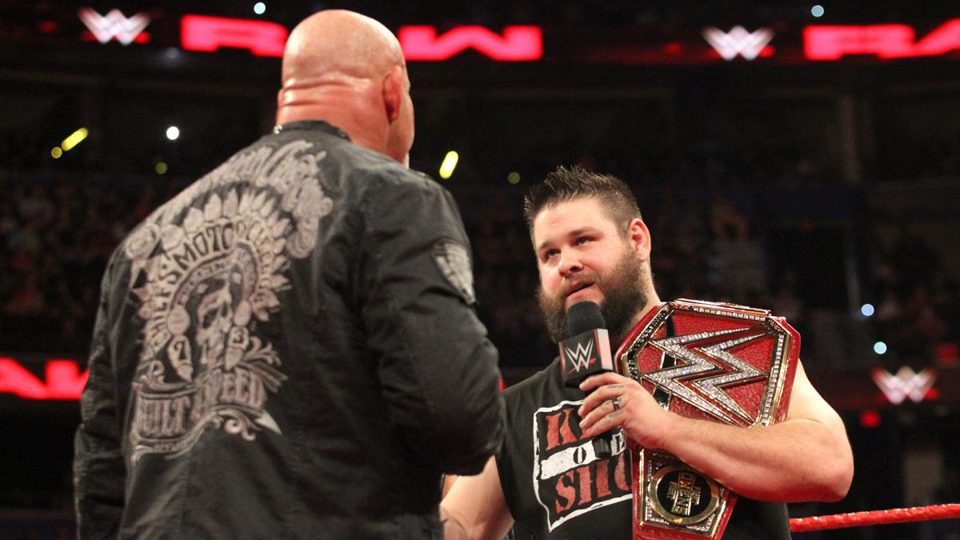 Former WWE Universal Champion Kevin Owens has stated that he'd love to face Goldberg again, if the conditions were right.
At Fastlane 2017, Owens clashed with the WCW icon in their one and only encounter, losing the Universal Championship in just 22 seconds. Owens would never receive a rematch against Goldberg, who lost the title Brock Lesnar, less than a month later.
Kevin Owens recently told Metro UK that he'd love to wrestle the powerhouse again, as long as Goldberg would actually be there to work. Here is the quote, courtesy of Fightful:
"I'd love to work with him again if he was here to work. I'm not saying this is his fault, but he's not – his career has never been about long matches or anything like that. To me, I don't see much positive out of wrestling him for two minutes, or 20 seconds or 30 seconds or whatever, you know what I mean? I'd love to work with him again if you got to do a story beyond – all we did was, what, two weeks, maybe three weeks If we got to do some cool stuff, and some cool promos, exchange back and forth, and then have a quality match, that'd be great. But that's just not usually what he's here for. [His style] works. I'm not saying anything against that, it's just not what I'm interested in. As a fan, I've never been interested in that stuff. Even when he was in WCW, I didn't really like it. That's just not what I look for in my wrestling."
Despite challenging for WWE's top title in the main event of Fastlane 2017, Goldberg was hardly featured on WWE Raw during the weeks leading up to the event.
Instead, a large portion of the build to this match focused on the friction between Kevin Owens and Chris Jericho, resulting in the brilliant 'Festival of Friendship' segment.
Unfortunately for Kevin Owens, he doesn't seem to be on the radar of the former WCW Champion. Goldberg recently revealed a number of WWE wrestlers who he'd love to face, but made no mention of KO.
Owens challenges Roman Reigns this Sunday for the Universal Championship at TLC.
What are your thoughts on the above story? Let us know in the comments on Twitter or Facebook.