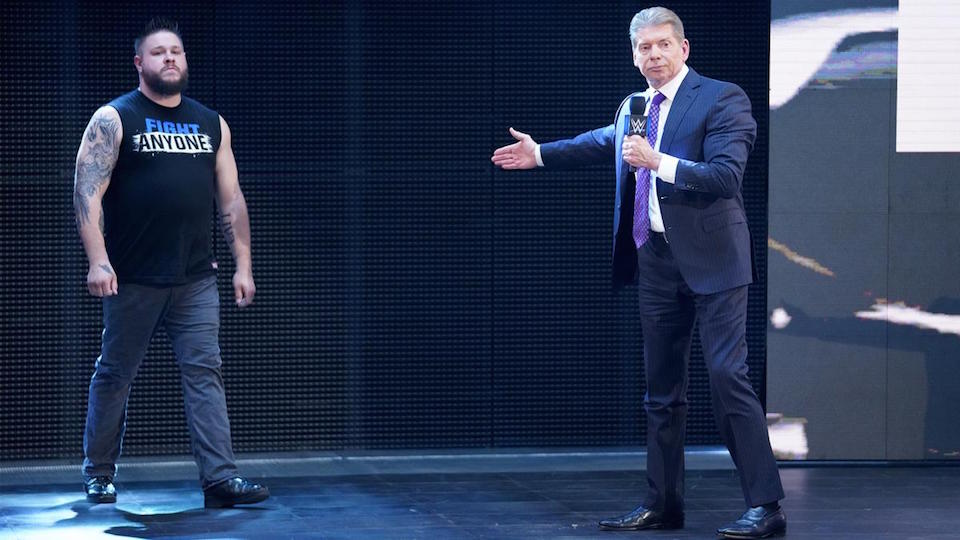 It was previously reported that a member of the WWE roster had talked to Vince McMahon about face masks. We can now report that the star in question was Kevin Owens.
Pat Laprade on Les anti-pods de la Lutte (via POST Wrestling) has reported that Owens raised concerns about the use of face masks during the July 3 television taping. He states Owens went to McMahon and talked about being uncomfortable with the lack of caution being displayed by WWE.
Owens then confirmed this himself in an interview with Sports Illustrated.
"It's been brought up—at first, the masks weren't being taken seriously enough. Eventually, a fine system was implemented to make sure people took it seriously. That came from me. I thought that the masks weren't being worn seriously enough, so I went and talked to the people in charge. They immediately did what they could to remedy the situation. I don't blame anybody for the mask thing. It's easy to forget how important those masks are.

Some people just straight up believe that the masks don't make a difference, and that's their belief. But if we're all going to work together and we're all trying to keep each other safe, I think it matters. If you've had somebody in your family affected by this the way my family was, it's a lot easier to remember that these masks make a huge difference. These masks do make a difference, and I felt it was important for people to take that seriously. I was pleased that the company felt the same way and made sure to get the message out to everybody that this is a big deal. That's why, in the end, I decided to come back. I feel comfortable going back to work, and I feel as safe as I can be there,"

"I think they're important. It's like I said in my video, if you feel they're not and you decide not to wear them, that's your choice. Just don't make people feel bad or belittle them for deciding to wear them. I've been in public and been called a sheep for wearing a mask. That's just so ridiculous. All it comes down to is being kind to each other. Whatever your beliefs are, all you're doing is picking one source of information against another.

And the person that disagrees with you, they're just picking a different source of information," he said. "Just be kind and be respectful. Some places force people to wear masks if they want to enter, and I know that causes a big stir. But if you don't want to wear a mask, then just don't go there. It's not that hard. Be kind and use common sense. That's a good way to live, and that's what I encourage more than anything. Let's be kind and not ridicule each other for not having the same belief."
Owens was also absent from the June 17 television tapings. WWE had an outbreak at the Performance Center where several people tested positive for the virus. In the weeks since, they have increased the measures they have taken. WWE personnel are now required to wear masks if they are not performing.
This is a big step up from where WWE had been in relation to the coronavirus. Considering WWE talent were reportedly prohibited from wearing masks on camera, this is definitely a step in the right direction.
Kevin Owens is scheduled to face Seth Rollins in a WrestleMania rematch tonight on Raw. This comes before Rollins faces Rey Mysterio in an Eye for an Eye match at Extreme Rules.
What do you think about Kevin Owens going to speak with Vince McMahon? Let us know on Twitter!