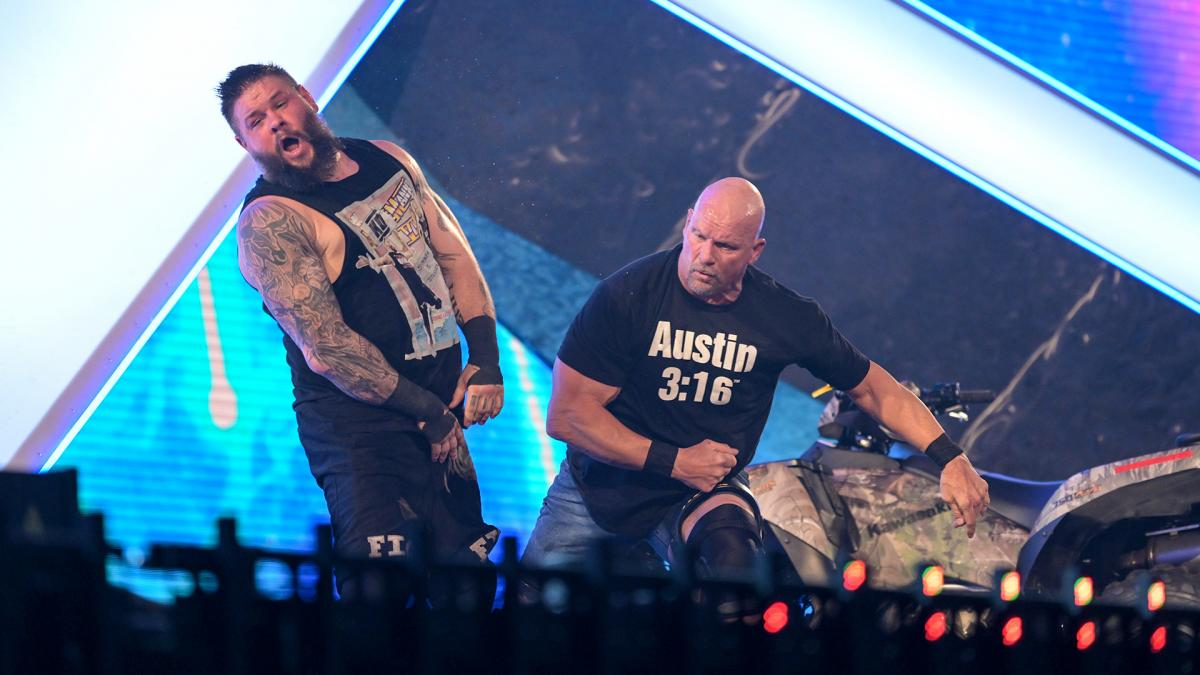 Kevin Owens was in a rather unique position at WrestleMania 38, when he faced off against 'Stone Cold' Steve Austin in the main event of night one, in Austin's first wrestling match in 19 years.
Owens grew up a huge Steve Austin fan, and was given the honor to use the Stunner as his own finisher in WWE. Owens spoke on the WWE After the Bell Podcast, where he explained that he believes his career is 'all downhill' from that moment.
He explained:
"It's all downhill from here really, and I say that with the most optimistic point of view I can have really, I mean that in a good way. It was really unbelievable, it's still unbelievable. Sometimes I'll have my moments where I'm not doing anything and I'm just sitting around, and I'll pull it up on my phone and I'll specifically watch the moment where the ref rings the bell. I still can't' believe it happened, it's really hard to process what happened, it's hard to put it into words."
Owens carried on, reflecting on his career so far, and how things keep getting bigger for him, but he doesn't believe anything will top facing Austin.
He said:
"At one point, right before we went out, I caught a glimpse of him just pacing back and forth. He looked like a caged lion just ready to murder people, and I was like, oh man, this is going to be wild. It's really all very surreal, it's very hard to put into words, that's so cliche when we talk about what we do. As I said, I get these moments where I just start reflecting on my career, and I was thinking how crazy it was when I started with Cena and how people around me were like, this is unbelievable.

"The one I'll always hear is that you outlive any expectations any of us ever had for you. Everyone knows if you look at me, I don't fit the stereotypical WWE superstar, a lot of people thought [WWE] would never take two looks at me. I got signed, which people were surprised by, then I won the NXT title two months in. 'What the hell's going on?'

"Then I show up on RAW and attack John Cena, now I'm wrestling Cena on a pay-per-view and I won. Then I won the Universal title, it just kept getting bigger and bigger, and then I beat the s*** out of Vince McMahon on TV. Somehow, it keeps getting topped. But I don't know what tops this…"
Owens has been butting heads with Elias' brother Ezekiel in recent weeks on Raw.
transcription via WrestlingInc
To make sure you stay updated with all the latest wrestling news, add WrestleTalk.com to your Google Discover feed and follow us on Twitter!