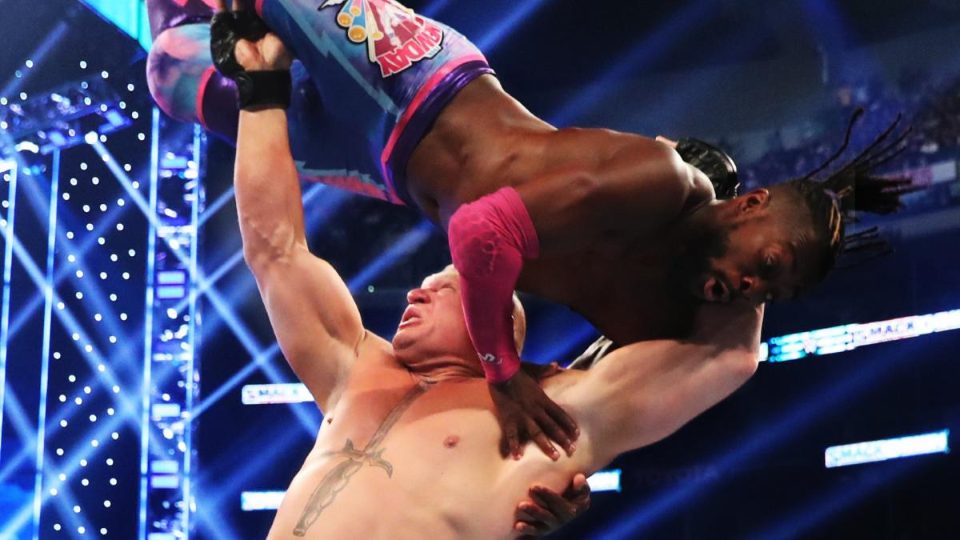 Kofi Kingston has compared a fellow WWE star to Brock Lesnar, saying they are the only two wrestlers that can manhandle him like they do.
The WWE star in question is Cesaro, who joined the most recent edition of New Day's podcast.
Kingston, much like many other WWE stars have done, was full of praise for the 'Swiss Superman', saying:
"Anytime I see that we have a match scheduled? I know that it's gonna be something completely different than anything that we're gonna see on the card" Kingston began. "Or anything that we've done in the past you know? We wrestle a lot of matches man, and not that it gets hard to look forward to wrestling; but I'll say when I do see your name across the marquee on the card or whatever? It's always a pleasure.

"It's impressive to be able to do that [strength] stuff to someone like Big E because he IS so big. But me myself? Like, I have never been manhandled and felt like I could not do anything. It's only you and Brock Lesnar [who could do that]. I remember there's a couple of moves so you do like that Suplex; where you stand on the outside on the second rope and suplex me from the outside. I remember the first time we went to go do that and I literally had no choice. Like you hooked me and I'm like, 'Okay, here we go, I guess we're going, oh my god!?' I literally had no control whether I was going or not. Like I literally had no choice (laughs).

"There's been a lot of moves like that to the point where it's like, if you say, 'oh, I'll just catch you and I'll do this' that I'm like, 'Okay, I know you will.' There's no other opponent that I've had more confidence in the ring with. Knowing that everything is going to be executed to perfection."
As mentioned, Kingston is far from the only WWE star to have praised Cesaro, and his comments just go to back up his billing as 'pound-for-pound the strongest competitor in WWE'.
Thanks to WrestlingNews.co for the transcription