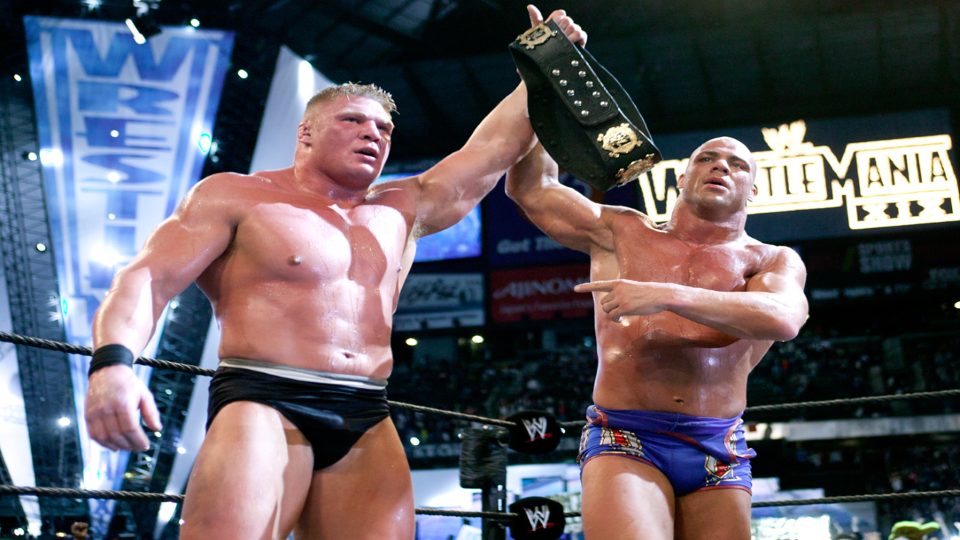 Kurt Angle was the best rival of Brock Lesnar during his first run in WWE. As a result, he has lots of experience working with him.
While speaking on The Kurt Angle Show, Angle addressed the injuries he suffered while working with Lesnar. In short, Angle took responsibility for not alerting Lesnar of his condition prior to the spot that injured his neck. Here is the quote, courtesy of Wrestling News:
"Well, it was actually my fault the second time. The first time it happened was when he slung me into the corner sideways and my head whiplashed at No Way Out. The second one was about eight months later. I came back two months after WrestleMania. I wrestled the next six months. We had a show where Brock had to hit Chris Benoit and myself with chairs. Chris told him earlier 'I want you to swing sideways because of my neck.'

He had surgery on his neck a couple years prior and didn't want to reinjure it. I forgot to tell Brock that, so when Brock brought the chair, he brought it hard and went over top, right on top of my head. My vertebrae cracked, three of them cracked immediately and I knew my neck was screwed. I knew it again. I was in dire straits and I was going to be out for a while and I was. That's when I took the GM job after that happened."
Kurt Angle would ultimately leave WWE in 2006, returning almost a decade later in 2017. He has also recently revealed that he is putting off having major neck surgery.
What are your thoughts on the above story? Let us know in the comments on Twitter or Facebook.