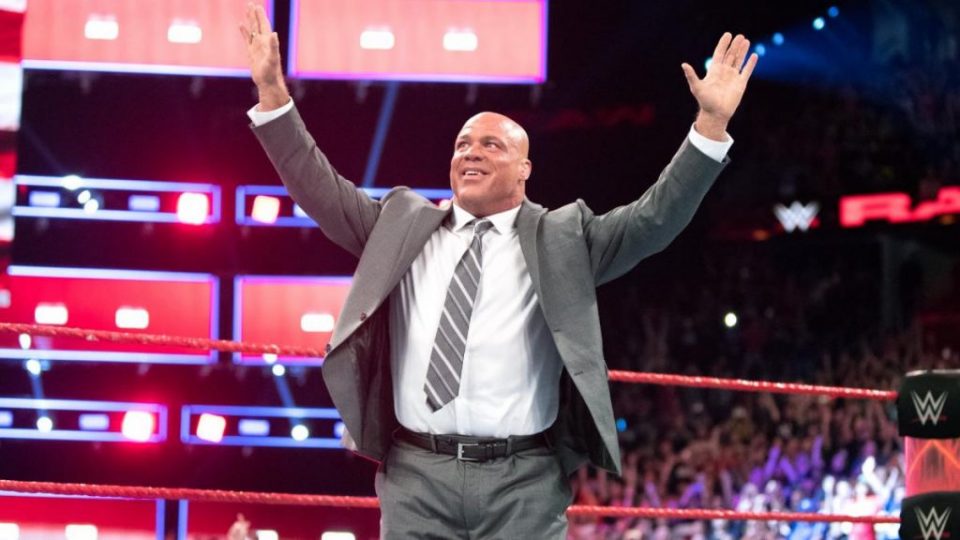 Kurt Angle might have retired at WrestleMania 35 in an underwhelming fashion after a loss to Baron Corbin on the "grandest stage of them all", but it appears that the WWE Hall of Famer has an interest in staying with the WWE in a different role.
The former WWE Champion took part in a Q&A on his Facebook page where he was asked if he would like to work for WWE in other roles, and had the following to say:
"I would like to teach the sports entertainers anything that I can to help them improve. It will be fun and challenging. I may end up with a managerial role on TV down the line. It would be fun managing the talent."
Speaking of younger guys, Angle was also asked which of the new NXT call-ups since the start of 2019 have caught his eye. The former General Manager of Raw would even criticise WWE's booking thus far of two of the call-ups:
"I'm really starting to like Aleister Black and Ricochet, but not as a tag team. They're good together, but I think they will shine more as singles wrestlers. There are talents that have yet to be used—like Apollo, Gable, and Roode. It's a good time to watch new stars come out of the woodwork."
Finally, Angle was asked if he still has any of the old championships titles that he won throughout his long career, and if he gave any to his kids:
"Unfortunately, I didn't save any. I gave them either to charity or to Hall of Fames to display for fans. My wife disagrees with me, but I've never kept a shrine of my accomplishments because I don't need a title to remind me of how good I was. Although, I wish I kept some of the apparel that I gave away, for my kids."
Thanks to Wrestling Inc., for the quotes.
Issue 9 of WrestleTalk Magazine is available NOW worldwide. Order your print or digital copy or subscribe to the next six issues at this link