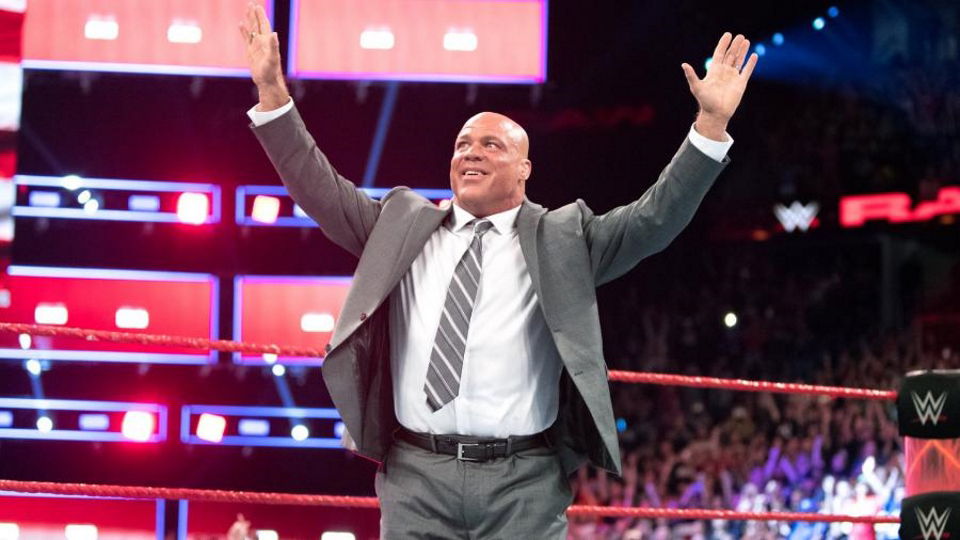 The return of Kurt Angle to WWE has been on of mixed fortunes to say the least. He's managed to combine being a useless Raw GM with appearing in the best match of WrestleMania 33, and being a member of the Shield with being constantly emasculated by Stephanie McMahon.
His latest efforts have been losing ones to both Baron Corbin and Drew McIntyre, and it looks like it could all be a part of Kurt's final in-ring run before he hangs up his singlet.
Dave Meltzer has reported on Wrestling Observer Radio that there are several discussions ongoing within WWE about Kurt having a retirement match at WrestleMania 35.
Meltzer did not have any thoughts on who might be the person to retire the former Olympian, but did mention that Angle's name had been brought up in the Daniel Bryan WWE Championship picture in backstage discussions.
With Kurt Angle being a member of the Raw roster, Bryan is perhaps an unlikely candidate, and as WWE like to have babyfaces retire babyfaces, it will much likely be a passing of the torch moment than an opportunity to generate heat for a heel by retiring a legend.
Angle teased a possible retirement two weeks ago on Raw by announcing he would be addressing his future in WWE, but before getting to his point, he was interrupted by Baron Corbin* and Drew McIntyre.
With just under seven weeks to go until WrestleMania, if this match is to happen, they're gonna need to start planning quickly.
*If Baron Corbin retires Kurt Angle I quit.