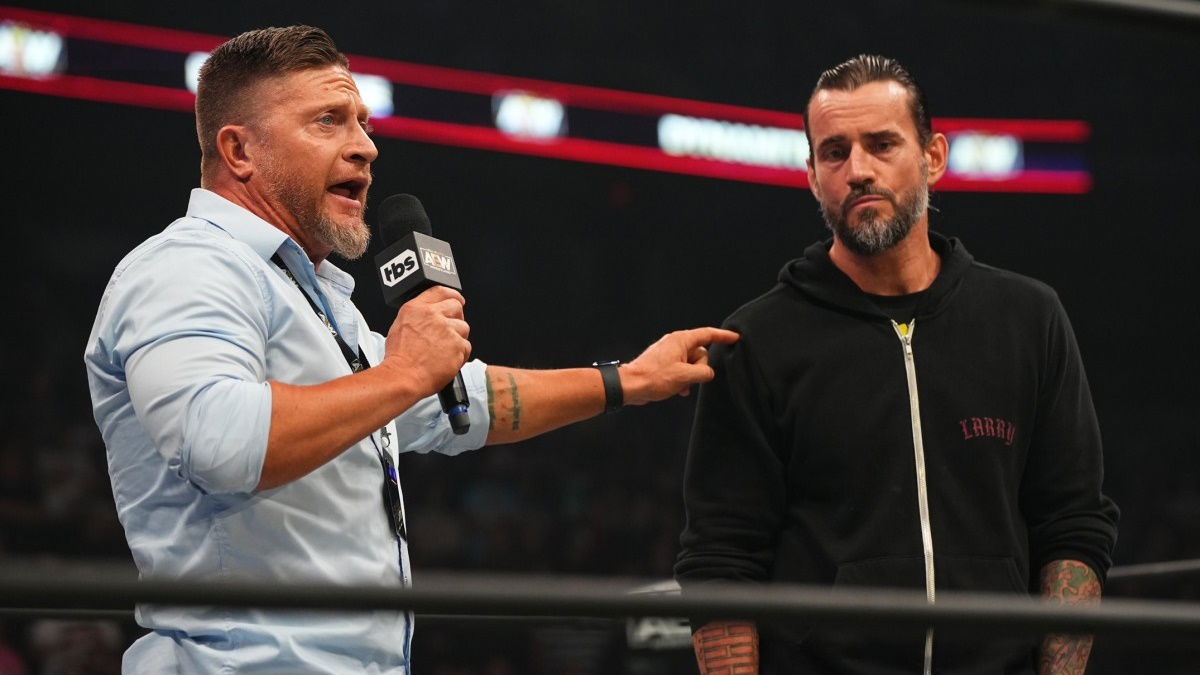 Here's the latest on the reported issues between CM Punk and AEW regarding the current status of Ace Steel.
As emerged this week, CM Punk was all set to be included in all the announcements for the new AEW Collision show, but was removed at the last minute.
PWInsider broke the story that the reason for this was that Punk and AEW were again "at odds", this time over Steel.
Punk reportedly wanted Steel to be brought back into the company to work backstage at Collision, which Fightful Select reported was actually something mentioned by Chris Jericho in the recent Punk/Khan/Jericho meeting.
The belief is that Khan was on board with rehiring Ace Steel, but having him work remotely and not allowing him to be backstage at AEW shows.
That's reportedly what led to the new issue between Punk and AEW, as Punk wants him to be backstage.
Steel was initially fired by AEW after his involvement in the Punk/Elite backstage fight at All Out.
Now, a new report has emerged, from Nick Hausman of Haus of Wrestling, that Steel was actually rehired by AEW "months ago".
Steel has reportedly been working remotely since that point, but there was said to be "an understanding" that he would return to the road once Collision kicks off – but the decision was made not to do that.
At that point, after Punk heard about it, there was reportedly "some miscommunication between lawyers", and Punk was removed from Collision promotional material.
Hausman did add to the report that it does seem like Punk is still motivated and the relationship between he and Tony Khan is "on sound footing".
Dave Meltzer in the Wrestling Observer Newsletter commented on what he's heard about the Steel situation, writing:
Nick Hausman reported that Steel was actually rehired months ago. We had that denied to us when asking several weeks back, but based on what we were told by others weeks ago when the name first started surfacing, the claim had been he was hired a few weeks before that, so about six or seven weeks ago would fit that time table.
But at the time those close to him said that it was a closely kept secret and he would actually return at the first Collision show.
Even top people in AEW at the time were unaware of this and most still didn't know until this week.
When key talent found out about two weeks ago, they were shocked.
After Punk was removed from Collision advertising and people found out about it due to a WBD mistake where they didn't remove him from an email link, WBD released a statement saying Punk "is not affiliated with TNT's AEW Collision".
According to Meltzer, the reaction within WBD after that was they shouldn't have said that, and instead should have just let it play out.
WBD is reportedly hopeful Punk and AEW can get back on the same page.
Tony Khan appeared on AEW Dynamite this week and announced upcoming dates and locations for Collision, but did not announce the location of the premiere on June 17, instead saying that'll be announced next week.
The premiere was planned to be at the United Center in Chicago and based around Punk's return, but that is obviously uncertain now, so the idea seems to be that Khan has given himself an extra week to figure out whether to commit to it being in Chicago or not.
We'll keep you posted with any further updates.
If you want to stay fully updated on all the latest wrestling news, click the red bell in the bottom right of your screen to receive notifications from WrestleTalk.com straight to your device!