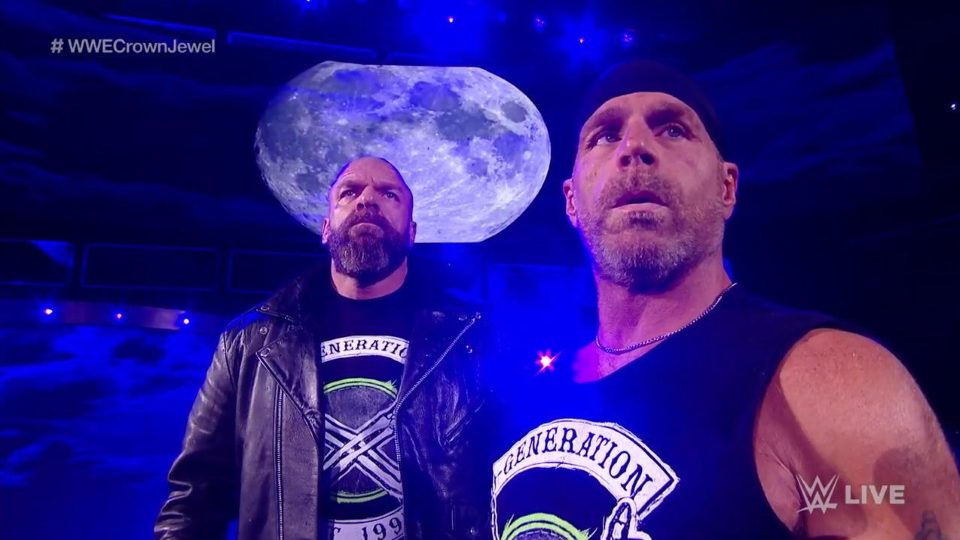 03:14am
After the Brother of Destruction describe what they're going to do to DX as "slow, agonizing pain," and that their opponents will never rest in peace, Triple H and Shawn Michaels are summoned to the ring.
Triple H comes onto the stage, but there's no sign of HBK.
Trips draws Kane out to the rampway, allowing Michaels to surprise 'Taker with a Sweet Chin Music from behind in the ring.
The 'Deadman' sits up mere seconds later though, and the show closes to the legendary tune of 'Taker's entrance music.
To be honest, that was a pretty naff ending to an okay Raw. It didn't really do much in terms of making me care for Friday's Crown Jewel – admittedly a hard task given the circumstances – but there were a few fun moments like Elias, Elias, and… erm… Elias.
See.
Thanks for following along with our live coverage of Raw tonight, and remember to check back tomorrow for SmackDown, and on Friday for Crown Jewel!
02:55am
Dolph Ziggler def. Apollo Crews
Following a decent but short match, Dolph Ziggler manages to get his knees up to block Crews' top-rope attack, the 'Showoff' lands a Superkick to build momentum towards the World Cup this Friday.
Up next, the Brothers of Destruction and DX make live appearances ahead of their clash at Crown Jewel.
#ShowOff OUT, as @HEELZiggler picks up the "W" over @WWEApollo on #RAW! pic.twitter.com/sTVEGkQsF6

— WWE (@WWE) October 30, 2018
02:46am
After Drew McIntyre hints that he is waiting for whoever wins the Universal Championship match at Crown Jewel on Friday, and Dolph Ziggler rubbishes Kurt Angle's World Cup chances saying it will in fact be him that proves he is the best in the world, it's time for tonight's main event match-up.
Ziggler vs. Apollo Crews, up next.
Is @HEELZiggler the best in the world? @WWEApollo is about to put that to the test NEXT on #RAW! pic.twitter.com/uVCJtshDW8

— WWE (@WWE) October 30, 2018
02:38am
As Gran Metalik distracted Scott Dawson with his noise-maker thingy, Kalisto landed a Salida Del Sol to pick up the win.
LUCHA! LUCHA! LUCHA!

@KalistoWWE & @LuchadorLD pick up the WIN over #TheRevival on #RAW! pic.twitter.com/ZoNKLuoKnG

— WWE (@WWE) October 30, 2018
02:33am
It's going to be Kalisto and Lince Dorado taking on the Revival.
Welcome to Monday Night #RAW, #LuchaHouseParty!

@KalistoWWE @WWEGranMetalik @LuchadorLD pic.twitter.com/JDoKUa5mLi

— WWE (@WWE) October 30, 2018
02:30am
Interestingly, up next, we've got the Raw "debut" of 205 Live's Lucha House Party.
Odd.
UP NEXT: LUCHAS are in the ?…

Prepare for the #RAW debut of @KalistoWWE @WWEGranMetalik & @LuchadorLD… the #LuchaHouseParty! pic.twitter.com/D1cZrNSzlS

— WWE (@WWE) October 30, 2018
02:26am
Nia Jax def. Ember Moon
Right then.
So Tamina comes out, and the distraction allows Nia Jax to pick up the win with a leg drop.
Tamina gets in the ring and comes face-to-face with Nia, and then just walks away.
Is an alliance forming?
Like it or not, @TaminaSnuka may have just given @NiaJaxWWE the assist in that win over @WWEEmberMoon… #RAW pic.twitter.com/j0a7ljoBV3

— WWE Universe (@WWEUniverse) October 30, 2018
02:24am
Michael Cole is still pushing the idea that Survivor Series is:
"The one night of the year when Raw and SmackDown compete in head-to-head competition".
Aye, except the Mixed Match Challenge which is ongoing as we speak, and the World Cup which is literally this Friday pal.
? THE ROTATION ?#RAW @NiaJaxWWE pic.twitter.com/KUzNszR1tz

— WWE Universe (@WWEUniverse) October 30, 2018
02:16am
After Lio Rush tells us that LASHLEY LASHLEY LASHLEY LASHLEY LASHLEY LASHLEY LASHLEY LASHLEY etc, is going to win the World Cup, it's time for Nia Jax vs. Ember Moon, up next.
UP NEXT: The winner of last night's #BattleRoyal at #WWEEvolution @NiaJaxWWE goes one-on-one with @WWEEmberMoon on #RAW! pic.twitter.com/f1or5tWhgZ

— WWE (@WWE) October 30, 2018
02:12am
Rollins asks Ambrose "as a brother" to come to the ring and explain his actions last week, but instead of entering the ring, Dean appears at the top of the stairs among the crowd.
The crowd unites in chanting "you sold out" before Seth calls Dean a "cold-hearted bastard."
When Seth threatens to meet Dean at the top of the stairs, Ambrose simply walks away completely emotionless.
"You really are a soulless lunatic."@TheDeanAmbrose isn't offering up ANY explanations to @WWERollins tonight… #RAW pic.twitter.com/Z0zz3ZJofl

— WWE (@WWE) October 30, 2018
01:58am
After a recap of what went down with Dean Ambrose's emotional heel turn at the end of last week's Raw, up next Seth Rollins demands answers from the 'Lunatic.'
Remember, the pair are the Raw Tag Team Champions, so this could get very interesting.
Well, this should be very interesting…#RAW @WWERollins pic.twitter.com/zajOO9Fgug

— WWE (@WWE) October 30, 2018
01:54am
Bobby Roode & Chad Gable def. AOP and The Ascension – Triple Threat tag match
Gable picks up the pinfall win with a Chaos Theory German Suplex, but AOP stand tall after demolishing absolutely everyone. Because that's what they do, it seems.
VICTORY FOR CHAD GABLE AND BOBBY–OH MY GOD, IT'S AOP!

@Akam_WWE & @Rezar_WWE weren't about to let that quick victory slide. #RAW pic.twitter.com/QnYuCTM0R0

— WWE (@WWE) October 30, 2018
01:44am
After Kurt Angle tells us all that he wants to win the World Cup on Friday, we get set for Triple Threat tag team action, as the Ascension take on the team of Chad Gable and Bobby Roode, and AOP.
We're off to a CHAOTIC start in this one!#RAW @WWEGable @REALBobbyRoode @ViktorRiseWWE @KonnorWWE @Akam_WWE @Rezar_WWE pic.twitter.com/d64wyMWQYr

— WWE Universe (@WWEUniverse) October 30, 2018
01:40am
The bracket for the Crown Jewel World Cup tournament is revealed:
? #WWEWorldCup ALERT ?@WWERollins vs. @fightbobby@RealKurtAngle vs. @HEELZiggler@JEFFHARDYBRAND vs. @mikethemiz@reymysterio vs. @RandyOrton#WWECrownJewel #RAW pic.twitter.com/cBaActXDr9

— WWE (@WWE) October 30, 2018
01:34am
Elias def. Jinder Mahal
In a match that Jinder was largely on top for, and with the Singh Brothers continuously getting involved, Elias picks up the win.
Also, this is my favorite thing of all time:
01:25am
Elias is the best.
After recapping what happened last week when he smashed a guitar over the back of Baron Corbin in the ring, Elias takes us backstage to confront Corbin once more.
On the way there, Dana Brooke asks Elias for a performance, but the songsmith hilariously replies:
"For you? No."
Amazing.
Elias then performs a song for Corbin outside his office, calling him a "taller, stupider version of Kurt."
Just as Elias' song is getting to the best part (you, know, that part when he calls Corbin Stephanie McMahon's bitch), he is assaulted from behind by Jinder Mahal, and the acting GM makes a match between the two… NEXT.
I repeat: Elias is the best.
The #ModernDayMaharaja @JinderMahal just TUNED UP @IAmEliasWWE, and @BaronCorbinWWE has put those two in a match NEXT on #RAW! pic.twitter.com/WqZUn5yee3

— WWE (@WWE) October 30, 2018
01:10am
Natalya, Bayley, Sasha Banks, Lita & Trish Stratus def. The Riott Squad, Alicia Fox & Mickie James
After things broke down as they tend to do, the bayfaces gained the upper hand with Bayley and Lita delivering in-sync Twists of Fate, before Lita assisted Natalya with a Hart Attack on Alicia Fox.
Fox kicked out, but very quickly tapped out to the Sharpshooter.
Nia Jax and Ember Moon then have a massively cringeworthy interview with Kayla Braxton. Nia showed shades of a heel turn, in coming across slightly arrogant after she won the Battle Royal at Evolution last night.
Jax announces that she will be waiting for Rousey after the Raw Women's Champion beats Becky Lynch at Survivor Series, before accepting Ember Moon's challenge for a match later tonight.
Is it about to be ON between @NiaJaxWWE and @WWEEmberMoon TONIGHT on #RAW?! pic.twitter.com/XBA2wDiJOQ

— WWE (@WWE) October 30, 2018
00:58am
We're into the first commercial break in this one, and it is very much a 10-woman tag team match indeed.
After dominant opening salvos from Trish and Lita, things quickly broke down with everyone ending up in a massive pile outside the ring.
Things are getting INTENSE on the #10WomanTag Match on #Raw! pic.twitter.com/FN3Fvv4SDR

— WWE (@WWE) October 30, 2018
00:47am
It is announced that at Survivor Series in under three weeks time, Raw Women's Champion Ronda Rousey will take on SmackDown Women's Champion Becky Lynch.
Oh my God, I am so excited.
Up next tonight, it's the 10-woman tag match!
GET. READY. FOR. THIS.#RAW #WomensChampion @RondaRousey squares off against #SDLive #WomensChampion @BeckyLynchWWE at #SurvivorSeries! pic.twitter.com/ICHLsATWj8

— WWE (@WWE) October 30, 2018
00:45am
The notification that Lio received was in fact from Acting GM Baron Corbin, who is in the trainer's room due to being destroyed earlier by Braun Strowman.
Corbin reveals that Bobby Lashley will – as reported earlier this week – replace John Cena in Friday's WWE World Cup tournament.
WOW. @fightbobby just impressed @BaronCorbinWWE so much, he's qualified for the #WWEWorldCup tournament to determine the best in the world at #WWECrownJewel! #RAW pic.twitter.com/ulUFC9OBYD

— WWE (@WWE) October 30, 2018
00:39am
Finn Bálor def. Bobby Lashley via DQ
In a match that was largely dominated by the bigger man, Lio Rush shoved Bálor off the top rope to cause a DQ and hand Bálor the victory.
Lashley proceeds to absolutely destroy Finn after the match, with Rush repeatedly slapping the Irishman.
Lio then seems to rather cheerily look at a notification on his phone, and he and Big Bob head back up the ramp.
BLATANT disrespect from @ItsLioRush to @FinnBalor, and @fightbobby LOVES every second of it… #RAW pic.twitter.com/uM29lPYkDo

— WWE Universe (@WWEUniverse) October 30, 2018
00:22am
Just for clarification, and because I'm too lazy to type it all out, here is tonight's 10-woman tag match:
ALSO TONIGHT: @trishstratuscom @AmyDumas @SashaBanksWWE @itsBayleyWWE & @NatbyNature team up to take on @RubyRiottWWE @YaOnlyLivvOnce @sarahloganwwe @AliciaFoxy & @MickieJames in a massive #10WomanTag match on #RAW! pic.twitter.com/DWXZ8ickLv

— WWE (@WWE) October 30, 2018
00:20am
It is announced that coming later tonight will be live appearances from Dean Ambrose, Seth Rollins, DX, the Brothers of Destruction, and a 10-woman tag match combining those involved in tag matches last night at Evolution.
Up next, it's Finn Bálor vs. Bobby Lashley in a rematch from last week!
UP NEXT: @FinnBalor goes one-on-one with @fightbobby on #RAW! pic.twitter.com/AmR2QcqSTJ

— WWE (@WWE) October 30, 2018
00:17am
After telling Lesnar he's going to "get these hands," Strowman delivers three Powerslams to Baron Corbin to serve as a demonstration for what is going to happen to the 'Beast' on Friday, but he is caught off guard and Brock lands an F5 before hoisting the title above his head.
Strowman gets up just seconds later though, screaming
"I'LL GET YOU FRIDAY YOU PIECE OF CRAP!"
ONE TOO MANY #RunningPowerslams from @BraunStrowman to @BaronCorbinWWE, because the #MonsterAmongMen just ran into an #F5!#RAW #WWECrownJewel @BrockLesnar @HeymanHustle pic.twitter.com/liBNY7l920

— WWE (@WWE) October 30, 2018
00:14am
Heyman gives us a "spoiler" that Lesnar will defeat Braun Strowman at Crown Jewel this Friday and become a two-time Universal Champion, saying that the only way he could be even more certain would be if the result was predetermined. What a tease.
Braun Strowman then marches to the ring with the crowd very, very firmly in his corner.
With a purpose, HERE COMES @BraunStrowman! #RAW #WWECrownJewel pic.twitter.com/ygI6rflOhG

— WWE (@WWE) October 30, 2018
00:08am
Raw opens with an emotional recap of last week's heartbreaking news, when Roman Reigns announced that he is battling with leukemia and had to relinquish his Universal Championship.
Again, we extend our thoughts, prayers, and best wishes to Joe Anoa'i.
Acting Raw General Manager Baron Corbin is introduced in the ring with the vacant Universal Championship, before he is very swiftly cut off by BROCK LESNAR.
THAT DIDN'T TAKE LONG…@BrockLesnar and @HeymanHustle are LIVE on #RAW! pic.twitter.com/7Von1nE4Sz

— WWE (@WWE) October 30, 2018
Raw's an hour early for us UK folk given our weird clock nonsense that I don't understand, so that was a pleasant surprise. Just to get you all up to speed so you don't end up looking silly like me, SmackDown also starts at 12 midnight tomorrow, and Crown Jewel at 4pm on Friday. Then back to normal next week.
Speaking of Crown Jewel, the Universal Championship match is now Brock Lesnar vs. Braun Strowman for the vacant title, after Roman Reigns unfortunately relinquished the belt on last week's show due to his fight with leukemia.
As we covered earlier, Brock Lesnar will indeed be appearing on the show tonight along with his advocate Paul Heyman, presumably to build towards that very match.
It is also expected that we will see John Cena's World Cup replacement for Friday decided tonight, with him refusing to travel to Saudi Arabia for very obvious reasons, and WWE have reportedly decided on their man.
Let's not forget the despicable actions of Dean Ambrose last week, who beat down his Shield brother Seth Rollins to close the show after they had defeated Drew McIntyre and Dolph Ziggler for the Raw Tag Team Championships, in one of – if not the – most emotionally charged heel turns I can remember.
Evolution is also in our rear view mirror, and the Raw side of things last night saw Sasha Banks, Bayley and Natalya defeat the Riott Squad, Nia Jax win the Battle Royal, and Ronda Rousey's main event Raw Women's Championship retention over Nikki Bella. Tonight will likely see us start to build towards the Rousey vs. Jax match for some point down the line.
Other stuff
Any thoughts heading into Raw tonight? Let us know in the comments, on Twitter, or on Discord.