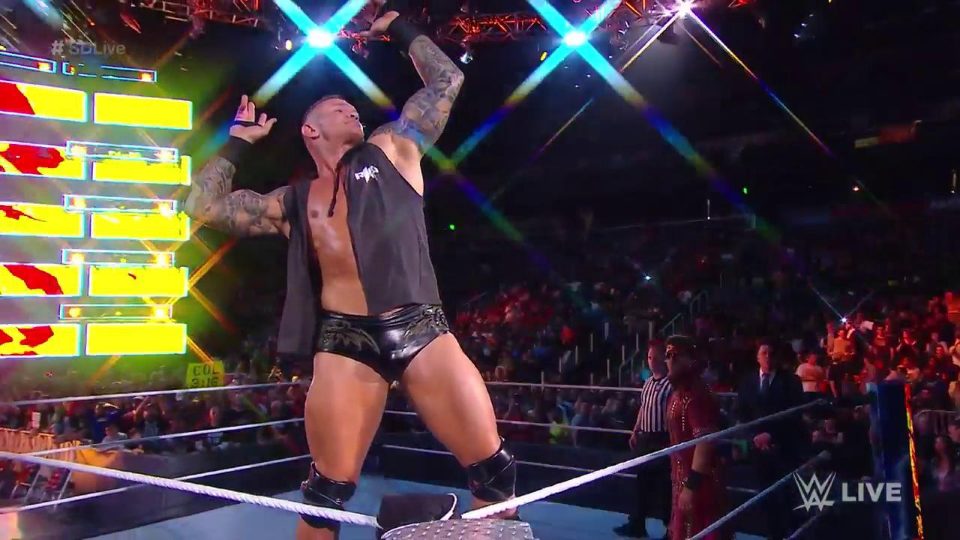 02:06am
Jeff Hardy & Rey Mysterio def. Randy Orton & The Miz
A pretty slow, formulaic tag team main event that. It wasn't bad, it was just… fine.
Miz and Orton used heel tactics throughout, distracting the ref regularly and working over Jeff Hardy.
After a while, Jeff caught Orton with a Whisper in the Wind and managed to tag in Mysterio, who built momentum, and after reversing the Skull Crushing Finale, tagged Hardy back in.
The two worked in tandem to strike Miz with a Poetry in Motion, a 619, and a Swanton Bomb for the win.
Before they get chance to celebrate, Orton strikes them both with RKOs OUTTA NOWHERE, before nailing Miz with one too, because he's Randy Orton and he does what he wants.
That was a pretty average show if I'm being honest. As good as Joe is, I'm not a fan of him replacing Bryan given that we have already seen Joe vs. Styles numerous times now. Almas or Rusev would have been better in my opinion.
SmackDown goes two straight weeks without any women's matches, and most of the show was built around the World Cup, which I do not really care for.
EVERY MAN FOR HIMSELF. #SDLive #WWECrownJewel @RandyOrton pic.twitter.com/zyK3YOyvC3

— WWE (@WWE) October 31, 2018
01:47am
I say time flies, literally nothing has happened in the last 10 minutes since Miz made his entrance.
Samoa Joe did this, and the rest has been commercials.
https://twitter.com/WWEAustralia/status/1057447780073975808
As it happens Joe mate, yes I did, actually.
01:37am
It's now time for our main event, as the Miz and Randy Orton take on Jeff Hardy and Rey Mysterio in tag team action!
It's mad how fast SmackDown flies by compared to Raw.
A preview of the #WWEWorldCup takes place NEXT as @mikethemiz joins forces with @RandyOrton against @ReyMysterio & @JEFFHARDYBRAND! #SDLive pic.twitter.com/zTCQDQxlqA

— WWE (@WWE) October 31, 2018
01:34am
Lynch says that she is going to rip Ronda's arm off at Survivor Series.
I assume Ronda wants to do the same.
I reiterate, that should be really, really, really, really good.
What's next for #SDLive #WomensChampion @BeckyLynchWWE?

She wants to DISARM @RondaRousey at #SurvivorSeries! pic.twitter.com/41FehHsYiK

— WWE (@WWE) October 31, 2018
01:31am
It's time for Becky Lynch.
Following her Last Woman Standing match win against Charlotte Flair to retain her SmackDown Women's Championship at Evolution, she looks ahead to Survivor Series, where she will face Raw Women's Champion Ronda Rousey.
That should be an absolute belter.
Is it #Survivor Series yet? #SDLive @BeckyLynchWWE @RondaRousey pic.twitter.com/TCNWRreMEQ

— WWE (@WWE) October 31, 2018
01:25am
Shinsuke Nakamura def. R-Truth
After a pretty short match, Shinsuke Nakamura is victorious in convincing fashion with a Kinshasa.
If the champions stay as they are, it will be US Champ Shinsuke Nakamura taking on IC Champ Seth Rollins at Survivor Series. Don't know about you, but I think that sounds rather good.
WHAT'S UP? #USChampion @ShinsukeN just defeated @RonKillings, that's what's up. #SDLive pic.twitter.com/QfGw1OzEA0

— WWE (@WWE) October 31, 2018
01:17am
AJ Styles storms in and asks Paige for a match against Samoa Joe at Crown Jewel…
So it's official! A rivalry renewed for Friday's event.
Up next, it's R-Truth vs. Shinsuke Nakamura. Tye Dillinger was pulled from the show and will require surgery for a hand injury. Poor bloke can't catch a break.
R-Truth and Carmella are really entertaining, though. This is a non-title match.
Wait, you thought there WASN'T going to be a #DanceBreak in this match? #SDLive @RonKillings @CarmellaWWE pic.twitter.com/4moNUlr3hF

— WWE Universe (@WWEUniverse) October 31, 2018
01:08am
After a really awkward segment involving all SmackDown World Cup competitors, Shane McMahon declares that if a SmackDown man loses in the final, that man will be fired from the blue brand.
Added stakes. Sort of.
"@ReyMysterio is #PowerRanger! @JEFFHARDYBRAND is the long lost member of The #InsaneClownPose and @RandyOrton is…. cool! Randy's COOL!"

Watch yourself, @mikethemiz… you're teaming with #TheViper TONIGHT!" pic.twitter.com/0LWFHyUj43

— WWE (@WWE) October 31, 2018
01:04am
Big E def. Cesaro – Trick Or Street Fight
Yeah that was a bit silly.
Big E won.
There was loads of Halloween-based nonsense.
Not for me.
#TheBrood always has a backup plan… #SDLive @WWETheBigShow @TrueKofi @XavierWoodsPhD pic.twitter.com/VqWOkm5gLQ

— WWE Universe (@WWEUniverse) October 31, 2018
00:55am
So… the New Day appear to have dressed up as the Brood for Halloween.
Again: I hate Halloween.
A #Halloween costume or a birthday tribute to @EdgeRatedR? YOU DECIDE! #SDLive #Halloween @WWEBigE @TrueKofi @XavierWoodsPhD pic.twitter.com/34pSPRh9XW

— WWE (@WWE) October 31, 2018
00:51am
Paige asks Charlotte Flair to be the captain of the SmackDown women's team for Survivor Series… and Charlotte says she doesn't think she's the right person for the job.
Strange.
It seems @MsCharlotteWWE has some reservations about captaining the #SDLive Women's team at #SurvivorSeries… pic.twitter.com/pvSJ7BUlNq

— WWE (@WWE) October 31, 2018
00:49am
Same.
We just gonna shut down all that boo boo kissy face ish.

— Samoa Joe (@SamoaJoe) October 31, 2018
00:46am
Up next, it's one member of the New Day vs. one member of the Bar in a 'Trick or Street Fight' because it's Halloween.
I hated Halloween enough before I remembered that we get stupid stuff like this on our wrestling shows.
Hopefully, given the men involved, they do find a way to make it at least slightly entertaining.
#Halloween comes EARLY in a #TrickOrStreetFight NEXT on #SDLive! ? pic.twitter.com/FT6w8UvQMi

— WWE (@WWE) October 31, 2018
00:43am
AJ Styles (c) def. Daniel Bryan – WWE Championship
Styles retains his championship in a great match.
Much like Styles targeting Bryan's left leg, the latter targeted his offense on Styles' left arm to weaken it for his LeBell lock finisher.
The crowd were very much behind Styles because SmackDown is taking place live in his home state of Georgia tonight.
Styles escapes the LeBell lock, and Bryan transitions into a Triangle of sorts. The 'Phenomenal One' powers out though, hits a Styles Clash, and makes Bryan tap to the Calf Crusher to retain.
As the two men show each other respect, Styles' former challenger Samoa Joe ambushes them, despite reports he is injured, and it looks like we're going to be getting AJ Styles vs. Samoa Joe at Crown Jewel for the WWE Championship.
Where the heck did HE come from?!?!@SamoaJoe is BACK and he wants to put @AJStylesOrg to ?!!! #SDLive #WWEChampionship pic.twitter.com/L9OxVw5hix

— WWE (@WWE) October 31, 2018
00:30am
A very good match, this. AJ Styles is targeting the majority of his offense on Bryan's left knee in preparation for his Calf Crusher submission finishing move, and both men are utilizing a lot of reversals to tell the story that they have scouted each other greatly. And that they're boss wrestlers.
When the #WWEChampionship is on the line, the hits get THAT MUCH HARDER.#SDLive @WWEDanielBryan @AJStylesOrg pic.twitter.com/Tw42x2v7oV

— WWE (@WWE) October 31, 2018
00:23am
I'm expecting Styles to pick up the win here, but the question is who his new Crown Jewel opponent will be, and how they will go about making it happen.
Probably just a post-match ambush angle, and looking at the roster, I have whittled it down to either Rusev or Andrade Almas.
Mainly because whoever faces Styles isn't winning the championship, combined with the fact I want Rusev to remain 100% babyface, I hope it's Almas.
Is that "friendly competition" between @AJStylesOrg & @WWEDanielBryan? Doesn't look like it… #SDLive #WWEChampionship pic.twitter.com/V8kc0Rb4ba

— WWE Universe (@WWEUniverse) October 31, 2018
00:14am
After another passionate Daniel Bryan promo about how the WWE Championship kept him motivated during his retirement, AJ Styles reveals the "accidental" Pele Kick last week was actually on purpose.
Styles then challenges Bryan to a title match, and Shane McMahon comes onto the stage, calls out a referee, and we've got a WWE Championship match right now!
The big man James Dixon says he predicted this would happen. But I don't remember and therefore don't believe him.
(Don't tell him I said that).
.@AJStylesOrg & @WWEDanielBryan want to make a match?

*Cue HERE COMES THE MONEEEEEYYYYYYYY!!!!*#SDLive @ShaneMcMahon pic.twitter.com/k908gAQTCm

— WWE (@WWE) October 31, 2018
00:04am
SmackDown Live kicks off with WWE Champion AJ Styles making his way to the ring.
With reports that Daniel Bryan is out of Crown Jewel, this is going to be very interesting indeed.
He's in the ATL, baby!

What a PHENOMENAL start to #SDLive! @AJStylesOrg pic.twitter.com/IbnEyfaeh6

— WWE (@WWE) October 31, 2018
It's time for the final edition of SmackDown Live before Friday's controversial Crown Jewel event in Riyadh, Saudi Arabia.
Much like yesterday, for us UK folk, SmackDown is kicking off at 12 midnight because of clocks or something, and Crown Jewel will start at 4pm BST in three days' time, not 5.
Here's a quick summary of what we've got to look forward to tonight:
What are your thoughts heading into tonight's SmackDown Live? Let us know in the comments, on Twitter, or on Discord.