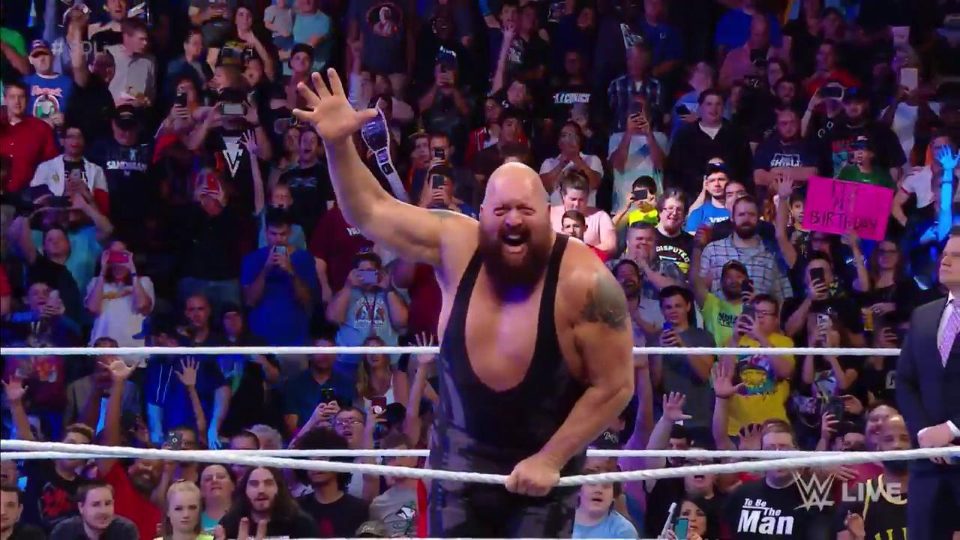 03:05am
That exceeded expectations.
Randy Orton picked up the win after he stuck his thumb in Show's eye and nailed him with an RKO.
The 'Viper' joins Hardy, Cena and Angle in the World Cup field!
And that wraps up a pretty good episode of SmackDown Live, and now we look ahead towards SmackDown 1000 next week.
Thanks for following along with our live coverage of the show, we'll see you back here next week!
02:44am
It's just been announced that next week on SmackDown 1000, Rey Mysterio will make his WWE return to take on Shinsuke Nakamura in a World Cup qualifier.
Holy mackerel.
And that's not all…@reymysterio will battle #USChampion @ShinsukeN in a #WWEWorldCup Qualifying Match NEXT WEEK on #SD1000! #SDLive pic.twitter.com/2tr2aXOCSn

— WWE (@WWE) October 10, 2018
02:42am
Aiden shows us the rest of the clip from last week, and it turns out it was just Lana telling Aiden how much she and Lana appreciate him. The clip abruptly ends with Aiden advancing toward Lana, before it pauses, and English brings out Rusev.
The 'Shakespeare of Song' says that he will destroy the video if Rusev ditches Lana.
Turns out English was hacked – Which I'm sure has NOTHING TO DO WITH LANA BEING RUSSIAN – and the rest of the clip shows Aiden being well and truly rejected. What a mug.
English tell's Lana that the offer is still on the table though, and proclaims:
"When you get bored of them Rusev Days, come and enjoy an Aiden Night."
This prompted Rusev to storm to the ring, with Aiden managing to just about escape unscathed.
I thought that was a decent little segment to be honest. Aiden's doing a great job of this.
02:29am
Up next, Aiden English presents the rest of what happened One Night in Milwaukee.
Let us know your crazy theories on Twitter or join the conversation on Discord!
02:27am
As fun as Miz and Bryan were on commentary, it did take away from the match's finish a little bit there.
Styles won with a Phenomenal Forearm, seemingly out of nowhere, as Bryan rose to applaud the WWE Champion.
A #PhenomenalForearm seals a PHENOMENAL victory for @AJStylesOrg, and @WWEDanielBryan couldn't be happier! ? #SDLive pic.twitter.com/UZJr5zNkdk

— WWE (@WWE) October 10, 2018
02:23am
Miz and Bryan are on commentary for this one, which is adding a bit of extra spice to things.
The match itself is sound too, Shelton Benjamin is into the commercial break on top after preventing a Phenomenal Forearm with a knee right to Styles' kisser.
02:15am
That was fun.
It went pretty much how you'd imagine, with Bryan and AJ playing the "respect" game, and Miz trying to drive a wedge and cause some conflict.
Bryan did get emotional though, and said that AJ is in the way of him achieving his dream, which is of course to win the WWE Championship.
It all went back round to Miz though, and after calling out AJ as being the reason the WWE Title isn't prestigious or headlining pay-per-views, states that he has first dibs on whoever wins at Crown Jewel.
Up next, Styles himself takes on the man who beat Bryan last week, Shelton Benjamin.
"I don't care if YOU win at #WWECrownJewel or YOU win at #WWECrownJewel, I'VE GOT NEXT!" – @mikethemiz to @AJStylesOrg & @WWEDanielBryan #SDLive pic.twitter.com/q343sSlc75

— WWE (@WWE) October 10, 2018
02:00am
Paige has just announced that at Evolution, Becky Lynch will once again defend her SmackDown Women's Title against Charlotte Flair, only this time, it will be in the first ever LAST WOMAN STANDING match!
01:54am
Coming up next, It's Miz TV with guests AJ Styles and Daniel Bryan, who will clash for AJ's WWE Championship at Crown Jewel.
This could get very, very interesting indeed.
UP NEXT: @mikethemiz hosts the CHAMPION and CHALLENGER for the #WWETitle match at #WWECrownJewel as @AJStylesOrg & @WWEDanielBryan stop by #MizTV! #SDLive pic.twitter.com/gI5ZPw04ZB

— WWE (@WWE) October 10, 2018
01:47am
Hardy focused his offense on Joe's injured left leg throughout that one, which AJ Styles worked on at Super Show-Down.
And… the match has been called off as the referee deemed Joe unable to continue, and Hardy is declared the winner, taking the third spot in the WWE World Cup. He joins Cena, Angle and either Big Show or Randy Orton, who will tussle tonight.
01:31am
Becky retains! Sort of.
The champ did attempt to get herself counted out, but Charlotte manages to prevent her and direct her back into the ring.
The ref is about to DQ Lynch, but Charlotte rolls her up and the ref decides to count the pin instead. Lynch kicks out at two, and the match goes on.
Charlotte looks like she's about to be counted out after a Bexploder, but she manages to pull Lynch out to restart the ref's count at nine.
The Natural Selection is hit by Flair, but Becky manages to roll out the ring. Charlotte then beats her up, but lets the count get to 10… and it ended in a double countout. So I was almost right.
And then, being the absolute sore loser that she is, Charlotte Spears Becky through the LED wall at the top of the stage.
Up next, Jeff Hardy vs. Samoa Joe in a WWE World Cup qualifier.
Due to a double count-out, @BeckyLynchWWE is STILL your #SDLive #WomensChampion!

But it's safe to say, @MsCharlotteWWE got the last SPEAR! #WomensTitle pic.twitter.com/hGodiPWXpX

— WWE (@WWE) October 10, 2018
01:13am
Into the first commercial break of this one, and despite Lynch using heel tactics in the early stages, the crowd are still firmly behind her, because of course they are.
A pretty even affair so far in this one. Still betting on a countout. Well I'm not betting because betting on wrestling would be stupid, but that's what I'm predicting.
Did @MsCharlotteWWE just ? @BeckyLynchWWE's??!?#SDLive #WomensTitle pic.twitter.com/8GG1fpVcIv

— WWE (@WWE) October 10, 2018
01:04am
We're kicking things off hot tonight with the SmackDown Women's Championship match!
Becky Lynch defends against Charlotte Flair, but remember: if Lynch get's DQ'ed, she loses the title.
Odds on a countout?
12:30am
WEEEEEEEELLLLLLLLLLLLLLLLLLLLLLLLLLLLLLLLLLLLLLLLLLLLLLLLLLLLLLLLLLLLLLLLLLLLLLL etc.
It's the Big Show.
Welcome to our live coverage of the October 9, 2018 edition of WWE SmackDown Live, in which the 'World's Largest Athlete (except not really)' will be wrestling his first match in over a year.
Before the show kicks off, remember to check out our full preview of the show, but here's a quick round-up of what's going down:
Becky Lynch (c) vs. Charlotte Flair – WWE SmackDown Women's Championship – If Lynch gets DQ'ed she loses the title
Jeff Hardy vs. Samoa Joe – WWE World Cup qualifier
Big Show vs. Randy Orton – WWE World Cup qualifier
Miz TV with AJ Styles and Daniel Bryan
What are your predictions for tonight's SmackDown Live? Let us know in the comments below, on Twitter or on Discord.