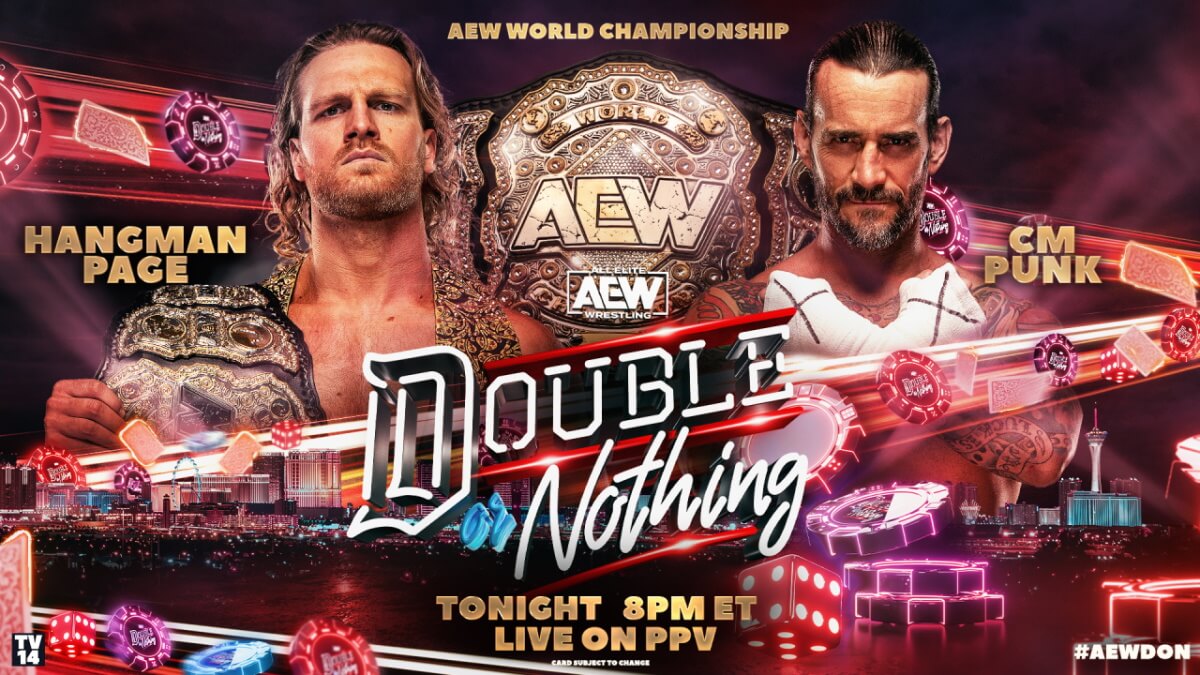 It's Sunday, and you know what that means! It's time for the fourth annual edition of AEW Double Or Nothing, and it looks like we're in for a heck of a night.
A major story that's unfolded throughout this weekend is the saga of MJF and whether or not his planned match with Wardlow will even be happening tonight.
A new update has revealed that MJF vs Wardlow is scheduled to open the show.
If this match does go ahead, we'll have a 13 match lineup tonight. And those 13 matches are:
Hangman Page (c) vs. CM Punk – AEW World Championship
MJF vs. Wardlow
Thunder Rosa (c) vs. Serena Deeb – AEW Women's World Championship
Adam Cole vs. Samoa Joe – Men's Owen Hart Foundation Tournament Final
Britt Baker vs. Ruby Soho – Women's Owen Hart Foundation Tournament Final
Jungle Boy & Luchasaurus (c) vs. Keith Lee & Swerve Strickland vs. Powerhouse Hobbs & Ricky Starks – AEW World Tag Team Championship
Bryan Danielson, Eddie Kingston, Jon Moxley, Ortiz & Santana vs. Jericho Appreciation Society – Anarchy in the Arena
Jeff & Matt Hardy vs. Young Bucks
Darby Allin vs. Kyle O'Reilly
Jade Cargill (c) vs. Anna Jay – TBS Championship
Death Triangle vs. House of Black
Ethan Page, Scorpio Sky & Paige VanZant vs. Frankie Kazarian, Sammy Guevara & Tay Conti
Danhausen & HOOK vs. Mark Sterling & Tony Nese (Pre-Show)
We're in for a long, but hopefully very good, night of wrestling! Follow along below for all the results, updates and reactions to tonight's pay-per-view.
The main event
I think you can tell I am a big AEW fan. This show is a long one. However, I've sat through some Raws that felt longer. I really, really want Hangman Page to win this one, but I don't think that's happening. Tony seems to be confused on commentary. He keeps telling people it's not too late to join us tonight. I'm pretty sure the only people who are watching are the people who did join. I'm not buying it again Tony.
Hangman is the homegrown star AEW has pushed to be the face of the company. Do they decide to give him the big win over the WWE made star? Or do they go with CM Punk who is the biggest known name in their company.
They match starts with the two men going forehead to forehead. They do the slap exchange, but Hangman gets the best of Punk. Punk pushes him into the corner and doesn't break clean.
The crowd is very much split. Hangman is wrestling in a way where this doesn't feel like a predetermined match. He is bringing  some heat. Punk is too. These two guys are working stiff.
After about 10 minutes of them beating the hell out of each other. CM Punk gains control. He hits a few powerslams and climbs to the top rope. He hits a Crossbody, but Hangman hangs on. He hits the Fall Away slam.
Hangman hits the rolling elbow and almost knocks out CM Punk. This match feels a lot like the time CM Punk faced Brock Lesnar. Page is more effective inte hurting him.
Page sets up for the Buckshot Lariat, but Punk has him scouted and pushes him off the apron. Punk is on the outside. Page goes to the top rope and tries to hit the moonsault, but Punk pushs him off. Page hits a big clothesline, but Punk is fighting back.
Punk has moved into control and he's hitting the big moves he's known for. He hits the step up knee and the diving clothesline.  He cannot get the win. Punk goes to the top rope. Page is up and takes him out. Page then pushes him to the outside and hits the big top rope moonsault. He tweaks his knee.
Back the ring, Punk locks in the Sharpshooter after countering the Buckshot. Page gets the ropes.
Punk goes for a Buckshot. He falls down on the flip. Page quickly puts in the GTS. Punk gets out. Punk tries it again. He falls again. He gets up and hits the clothesline. He goes for the cover and Page kicks out.
Page goes for the GTS but he cannot get it. Hangman hits the deadeye. Page covers Punk, but Punk didn't kick out on time. Punk's shoulder was clearly on the mat and the ref didn't hit 3. Page's knee is hurt. Page signals for the GTS. He tries for a 3rd Time. He cannot get it. Punk kicks him in the head instead. Punk goes to attack and Page hits a GTS. It was a beauty too.
Punk has not looked sharp in this one. Based on this match, the two stumbles and then the forget to kick out don't make him look good. If he wins, it will be a bit hampered by the botches. The knee is bothering Page. He can't run.
He does hit his clothesline over the to rope. On the outside, Page throws him through the times keeper table. Now he's setting up for the Buckshot. He flips into the ring and Punk puts him up for the GTS. He spins and kicks the ref in the head while on Punk's shoulder.
While the ref is down, Page remembers he has a title belt he can use. He walks over and grabs it. He was going to hit Punk in the head with it. He can't bring himself to do it. He throws it down. Hangman Page goes for the Buckshot one more time. He flips and Punk counters into a GTS.
PUNK WINS!!! CM Punk is the new champion. Punk defeats Hangman Page. Punk is in tears. Page couldn't do what it took to beat Punk. He won't cheat and it cost him.
We'll see what happens next. Until next time.
.@CMPunk with the GTS!! There's still time to order #AEWDoN on @BleacherReport & Internationally on @FiteTV / https://t.co/30z8K48kUT pic.twitter.com/GD4pRlnU7y

— All Elite Wrestling (@AEW) May 30, 2022
3-Way Tag
I'm pulling hard for Hobbs and Stark in this one. I expect Lee and Swerve to win this though. Jungle Boy is due a singles run. I could see him making a run for the TNT title after he feuds with Christian.
Another match where I won't be able to keep up with the action. Swerve and Lee are the stories so far. They hit some really nice tag moves. Jungle Boy goes for repeating dives to the outside of the ring. On the final one, Lee caught him. He then Powerbombed him into Luchasaurus a few times.
Starks and Hobbs are over with this crowd. They love them. Starks does the top rope walk while holding Jungle Boy's hand. He doesn't walk as much as strut. That was awesome. Eventually, Jungle Boy kicks the rope and Starks crotches himself on the rope.
Starks tags himself out. Hobbs is in. Someone backdrops Starks onto Jurassic Express. Starks lands on his head similar to how he broke his neck. This time it was on the floor. Starks has to have been hurt. He gets back up and takes a backflip from Swerve who moonsaulted off Keith Lee.
Starks seem to be okay, but he'll be sore. He's back in the ring and Luchasaurus runs wild. He battles with Hobbs who falls into Keith Lee. Lee tags himself in. He ends up getting chokeslammed by both Hobbs and Lee. Lee and Hobbs square off. Talk about a fun tag team. Instead of Swerve in our Glory, we could have Power and Glory 2.0.
Lee throws him to the outside. Lee loads up and dives onto everyone. We're down to Lee and Luchasaurus exchange blows. They both go down. Hobbs is back. He hits a diving blockbuster onto both men. He tags in Starks. Starks and Jungle Boy are legal now.
Starks had the win, but his feet were on the rope. Christian breaks up the pin by pushing his feet off the rope. In the craziness, Starks hits a huge spear when Jungle Boy was checking on Christian. 2 count. Starks hits Slingshot Reauchambeaux and Luchasuarus breaks it up.
Now everyone hits their big moves. We're left with Jungle Boy and Swerve. Luchasaurus accidentally kicks Jungle Boy. This is it. They hit Swerve in their Glory and that's it. NO!!! Hobbs breaks it up.
Starks hits Lee with the belt. Jungle Boy is back up. He hits a superkick on Hobbs. Christian stops Starsk from hitting Jungle Boy with the FTW title. Back in the ring, Jurasssic Express hit their finish on Swerve. Jungle Boy makes the cover and retain the titles.
WOW!! I didn't see that one coming. After the match, Christian puts Jungle Boy up on his shoulders to celebrate. We've not seen any title changes tonight. I think we're about to see one.
#Limitless @RealKeithLee takes flight! Get #AEWDoN NOW on @BleacherReport & Internationally on @FiteTV / https://t.co/30z8K48kUT pic.twitter.com/mZVtK6LHlT

— All Elite Wrestling (@AEW) May 30, 2022
The S word is about to hit the fan
At least, that is what Justin Roberts says as he announces this match. JAS is out with new gear. They JAS looks like a boy band from the 90s. They are wearing matching white gear and white Kangols. I wore one of those as a teenager in the late 90s. I wasn't cool then and those hats don't make you cool now.
Their opponents are coming out through the crowd. Santana and Moxley enter together. Danielson and Ortiz come down different sections. The last man out is Eddie Kingston. Danielson looks like a badass. JAS meets them in the crowd.
Jericho and Kingston pair off. I don't think I'm going to be able to keep up with calling in action in this one. Moxley's music is still going.
Danielson and someone are fighting in the tarped off section. Oh, it's Angelo. Someone is bleeding. Moxley is on a mobility scooter. Moxley opened up Matt Menard with a fork.
Someone is in the ring now. Jericho pokes Moxley's eye with sunglasses. LAX are in the ring with Hager. There's more camera cuts in this one than in a WWE match. I can't watch. It's bad.
Jericho grabs the soundboard and cuts the music off. Santana hits a Street Sweeper onto Hager off the apron through two tables. Garcia hits a piledriver on Ortiz on the steel steps which were on the sides. Kingston and Menard have squirted mustard on each other. Danielson drove Angelo into a camera.
PS. The basketball game is over. So, the main event can go on whenever.
Moxley's undone the top rope. Everyone is bleeding. Kingston and Garcia get on a freight elevator. Santana and Ortiz have a ladder. They hit double splashes on two JAS members. Back around the ring, Jericho and Moxley are fighting. Moxley has a barbed wire table out. Jericho sprays a fire extinguisher in his face. The ref has to wipe his eyes and get the spray out of his cuts.
Mox, Hager, Jericho, and Danielson are just beating the crap out of each other in the ring. Danielson and Moxley hit the rapid fire repeating elbows on Jericho and Hager. They lock in submissions. Jericho and Danielson are left in the ring. Kingston is back out. He's got gasoline. He pours the gas on Jericho and Danielson. Danielson starts fighting with Kingston. Moxley breaks it up.
Jericho has a chair. He takes out Danielson and Kingston. Moxley is taken out by Hager and falls into the wire table. Now, Jericho and Hager whip Danielson into the steel turnbuckle.
For crying out loud. Danielson hits the running knee onto the chair. Jericho kicks out. Danielson with the yes kicks. Danielson says he's going to kick his f'n head in. Hager breaks it up. Hager hits Danielson's knee with the bat over and over. Jericho locks in walls of Jericho. Hager chokes him out with the top rope. Danielson passes out. JAS win.
Jericho is very bald by the way. This match was not able to hide that. I did not think JAS would win this one. I thought Kingston would definitely win. When Jericho had the submission in, Moxley couldn't help because he was stuck in the wire.
That match was insanity. I'll have to sleep on whether I liked it or not.
Absolute insanity unfolding here in the ring! Get #AEWDoN NOW on @BleacherReport & Internationally on @FiteTV / https://t.co/30z8K48kUT Two huge matches left; there's still time to order! pic.twitter.com/Z2GvNHazBR

— All Elite Wrestling (@AEW) May 30, 2022
Thunder Rosa defends her title against Serena Deeb
This match features two ladies who had one of my favorite women's matches on Dynamite. They had a great run in the NWA where Deeb dethroned Rosa for the NWA Women's Championship back in the early days of AEW. This should be a good one. Rosa needs it. Her run has been uneventful so far. She's incredible in the ring and Deeb should help her showcase that.
Rosa really is looking good in this one. She's flying all over the ring. She's hitting submission moves and strikes. She goes to her knees and hits an uppercut. After, she does the Golddust taunt. She is firmly in control until she misses a baseball slide to the outside.
Deeb grabs her by her hair and drops her over the ropes. While Rosa is on the apron, Deep whips her into the turnbuckle on the apron. She gets her back in the ring and works her over. She locks in the Abdominal Stretch, but Rosa powers out.
As the match goes on, Deeb keeps moving into different submissions. She locks in the Stretch Muffler, but Rosa finally works her way out. They collide as they run off the ropes and both women are down.
Then we get a great spot. Deeb locks in the figure 4. Deeb starts slapping Rosa while the move is locked in. Then, they trade slaps until Rosa gains advantage. Rosa rolls her over and they roll all the way out of the ring. They land hard.
When they get back in the ring, Deeb locks in the Serenity Lock. Rosa won't quit. She pulls out and hits a powerbomb. Deeb then locks in a cloverleaf. The Woman of 1000 holds has used a bunch of them tonight. Rosa and Deeb counter roll-ups.
As the women geta bit tired, the execution is off a little. I don't mind though because it adds to the match. They are now perched on the top rope and battle it out. Thunder Rosa hits a Superplex. She hangs on and then puts her in the Fire Thunder Driver. She makes the pin and wins.
Thunder Rose is the winner. She retains her title. That was a pretty good match. It will be a close call on whether that was better than Baker/Soho, but it was pretty good nonetheless.
The Champion @thunderrosa22 holding nothing back in this Women's World Title match! Order #AEWDoN NOW on @BleacherReport & Internationally on @FiteTV / https://t.co/30z8K48kUT pic.twitter.com/QvT0Ozp8UI

— All Elite Wrestling (@AEW) May 30, 2022