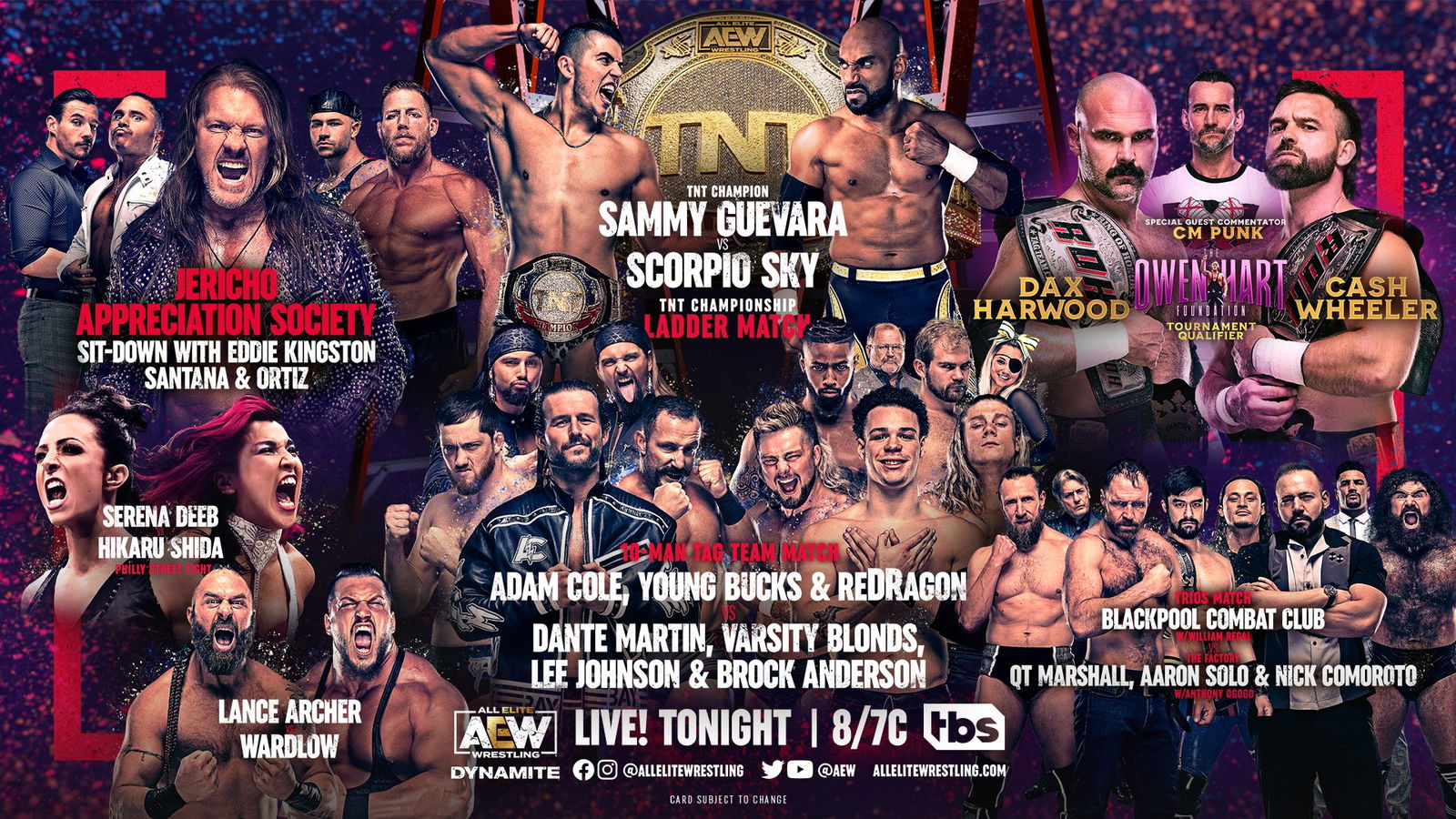 Hey. It's Wednesday and we've got a killer edition of AEW: Dynamite on TBS in store for us tonight. It should be a night of great wrestling and I'm expecting some nice storyline progression.
Here is the card for tonight:
TNT Championship Ladder Match – Sammy Guevara vs. Scorpio Sky
Owen Hart Tournament – Dax Harwood vs. Cash Wheeler
Serena Deeb vs. Hikaru Shida
Wardlow vs. Lance Archer
Blackpool Combat Club vs. The Nightmare Factory
The Undisputed Elite vs. The Varsity Blonds, Dante Martin, Lee Johnson, and Brock Anderson
Jericho Appreciation Society sit down with Eddie Kingston, Santana, and Ortiz
TNT Title Ladder Match
Sammy Guevara and Tay Conti are out. They make out and get a lot of boos. Scorpio Sky is accompanied by Dan Lambert. Sky doesn't wait for the bell. He attacks Sammy before the ring. These two are doing a good job of making this seem personal.
It looks like AEW is listening to the fan reaction with Sammy. They are talking on commentary as though he is the heel.
Sammy goes for a dive off the ladder. He lands roughly. After a commercial break, Sky is climbing the big ladder. Sammy climbs to the corner and gets on a second ladder. He dives like he is going to spear Sky off the ladder. Once he dives, Sky jumps off and hits a beautiful cutter on Sammy. Sky gets another ladder out. It has barbed wire on it. Sammy hits a Spanish Fly on Sky onto the barbed wire.
Sammy pulls Lambert into the ring. Conti kicks him in the crotch. This brings out Paige Vanzant. Sammy, Sky, Vanzant, and Conti just beat each other down. Vanzant and Sky get the advantage, but they celebrate too long by making out. Sky attacks Sammy. Sky TKOs Sammy on the wire ladder. Sky goes climbs the ladder. Conti jumps on his back. Sammy climbs. Paige is on his back.
The ladies fall off. Sammy climbs and looks to win. He gives Sky the finger. Sky bites it. Sammy shoves him off. Sammy thinks he's won. He showboats. Sky is back in. He shoves him off the ladder and Sammy lands on the barbed-wire ladder which is leaning against the ropes. Sky goes to grab the belt, but Sammy tries to stop him one more time. Sky shoves him off. Sky wins.
Sky is your new TNT Champion. That match heated up the last couple of minutes. After the match, Adam Page, Lambert, and Vanzant celebrate. Kaz comes to the ring and gives sky congrats. Sky promised Kaz the first shot. That will be the next match for Sky most likely.
That was a quick paced show. Lots of good. Some bad. But, all-in-all a very enjoyable show.
.@TayConti takes a cheap shot at #DanLambert and @PaigeVanZant picks up where she left off with Tay! #AEWDynamite is LIVE on @TBSNetwork! pic.twitter.com/4PhfDQN0FM

— All Elite Wrestling (@AEW) April 28, 2022
The 10 Man Tag
The Undisputed Elite are facing Dante Martin, Brock Anderson, Lee Johnson, and The Varsity Blonds. Arn Anderson is ringside. Adam Cole and Red Dragon come out as a threesome. The Young Bucks come out on their own. Interesting.
Well, that was fast. In about 5 minutes, The Undisputed Elite defeat Lee Johnson. ReDRagon and The Young Bucks hit a 4-way BTE Trigger. Adam Cole then Hits the Boom. He gets the pin and The Undisputed Elite gets the win. After the match, Adam Cole hands The Young Bucks Undisputed Elite shirts. They put them on.
They immediately cut to the back. JAS has taken out Santana and Ortiz. Jericho launches a fireball into Kingston's face.
The #UndisputedElite get the victory in this massive 10-man tag team match tonight on #AEWDynamite LIVE on @TBSNetwork! pic.twitter.com/vg0C4rNpCg

— All Elite Wrestling (@AEW) April 28, 2022
House of Black vs. Death Triangle
Oh my. This is fun. The lights go out. Fuego Del Sol is laid out in the spotlight. The House of Black appear at the top of the ramp. Standing in the ring is what appears to be Alex Abrahantes. He starts talking and threatening the HOB. Penta and PAC walk out. It turns out in the ring it was Rey Fenix all along. Fenix and PAC are back.
The groups battle until Death Triangle stand tall. They all hit flippy dives onto House of Black who retreat up the ramp. That was pretty cool.
Meanwhile, Swerve Strickland and Darby Allin are backstage. They do some talking about their upcoming Rampage match qualifier for the Owen Tournament. That should be entertaining.
#HouseOfBlack @malakaiblxck, @BrodyxKing, @snm_buddy meet some familiar faces here at #AEWDynamite! #DeathTriangle @PENTAELZEROM, @BastardPac and @ReyFenixMX reunited and we are LIVE on @TBSNetwork! pic.twitter.com/7TkdGAWhhP

— All Elite Wrestling (@AEW) April 28, 2022
It's 9pm and you know what that means. Yep, it's time for the obligatory Dynamite Women's Match
We're getting a Philly Street Fight. The two women have been in a long feud and tonight is being advertised as the blowoff. They've come out aggressive. However, most of the match has been in the ring. They have introduced a chair in the ring, but no one has used it heading into the picture-in-picture break.
The final portion of the match focuses on the use of the chair. Deeb locks in the Serenity Lock. She can't get the submission. So, she slams Shida's knee into the chair over and over. She locks in the Cloverleaf and gets the win. Serena Deeb gets the win. I was pretty shocked that Deeb went over Shida. Then, I saw Thunder Rosa standing and watching in the back. Deeb is a heel and Rosa needs a challenger. Deeb will be a good feud for Rosa. They battled over the NWA Women's Title and had one of the best women's matches in the early portions of Rosa's tenure.
After the match, MJF is backstage and he calls a big man to face Wardlow. MJF says he's facing a guy who is smarter than him and taller than him. He follows up with you can't teach that. Sounds like we're getting W Morrisey against Wardlow next week. Morrissey is in IMPACT. Hmm.
The knee of @shidahikaru unable to take any more punishment and she is forced to tap out as @serenadeeb scores the win! #AEWDynamite is LIVE on @TBSNetwork! pic.twitter.com/qCAEo3bpkd

— All Elite Wrestling (@AEW) April 28, 2022
The face off
The Jericho Appreciation Society is having a promo segment with Kingston, Santana, and Ortiz.  They have all agreed to no contact. Jericho wants an apology for having them kicked out of the arena at Pittsburgh. Jericho and his team have now coined the phrase the AEW Galaxy. Garcia gets in their face and says they can't him. Kingston wants a fight.
Jericho says it is 5 on 3. He says that the JAS is putting a hit out on each of the 3 guys across from them. Kingston says his group has put someone in the ground before and they'll do it again. I wonder if they'll run over a kid in AEW like they did in Impact. At some point, you know it will wind up 5 on 5, but the question is who will be the other 2. I hope it's the Lucha Bros, but Swerve and Lee would be good options as well.
Shida and Deeb are next.
.@MadKing1981 is sick of the entertainment and just wants to FIGHT! It's #AEWDynamite LIVE on @TBSNetwork! pic.twitter.com/JRoYzA18eQ

— All Elite Wrestling (@AEW) April 28, 2022
Beefy Boy Battle
Wardlow and Lance Archer are going at it next. This should be a battle of the beef. MJF is up in the suites again. Prior to the match, Ricky Starks and Powerhouse Hobbs challenge Jurassic Express for the world titles. No announcement on when that will happen, but it will probably be Rampage.
Archer starts off by diving on Wardlow while they are unlocking the handcuffs. As the match goes on, both men trade strikes. These guys are unloading on each other. Archer eventually hits The Blackout Finisher. Wardlow kicks out and counters into a crucifix pin. Archer is out at two.
Archer goes for another Blackout. Doesn't get it. Wardlow is able to counter. Archer is down. Wardlow hits a Swanton. Wardlow then goes for the Powerbomb Symphony. Wardlow hits 4 of them and gets the win.
It's pretty amazing to me that amongst all the WWE guys AEW has signed of late, we are seeing the next round of AEW guys getting pushes. Wardlow, Wheeler Yuta, Ricky Starks, and Powerhouse Hobbs are all getting over in large part by competing with these recently released guys. Even Hangman Page is benefitting from the new additions. The storyline with Punk pushed MJF to another level and that is now being used to get Wardlow over. And, boy, is he getting over.
Who can stop @RealWardlow at this point?! Four consecutive powerbombs lead him to the victory over @LanceHoyt, and @The_MJF and @ShawnSpears stare in disbelief! #AEWDynamite is LIVE on @TBSNetwork! pic.twitter.com/F6guuihFgK

— All Elite Wrestling (@AEW) April 28, 2022
The Blackpool Combat Club
The Blackpool Combat Club comes out to 3 separate entrances. William Regal accompanies Yuta out. Moxley still enters through the crowd. The Nightmare Factory gets zero entrances. As the match starts, all 6 men pair off and start fighting.
The Nightmare Factory is putting up more of a fight than I expected on a night with a lot of matches on the card. Moxley and Danielson do a lot of damage. They take out QT and Solow. That leaves Yuta and Comorato. The Big Hairy Man as JR called him tossed Yuta around. Yuta keeps trying to lock in submissions, but he is unable to make him submit. Eventually, his partners try to get in and Moxley and Danielson lock in submissions. Yuta is able to roll-up Comorato for the victory. That wasn't the best match for Blackpool Combat Club. It was still pretty darn good.
After the match, we get a promo from Baker, Hayter, and Storm. Storm invites Ruby Soho out and after Soho throws some shade their way, Hayter and Baker head out. They say they are heading to Soho's locker room aka catering.
Up next, Wardlow vs. Archer.
The #BlackpoolCombatClub continue their undefeated streak with a victory over #TheFactory tonight on #AEWDynamite LIVE on @TBSNetwork! pic.twitter.com/06KtJTLHPn

— All Elite Wrestling (@AEW) April 28, 2022
FTR Goes to Battle
Dax Harwood comes out of the good guy tunnel and Cash Wheeler comes out of the bad guy tunnel. I wonder if they'll wrestle as such. I can't wait for this one. These guys are going to go at it because they will want to show out.
These guys are busting their butts to put on a good match. However, I think they are almost trying too hard. They have missed a couple of spots and had some awkward moments. Doesn't really matter though. Sometimes, the spots that don't go smoothly lead to the match feeling a bit more real.
The match was a lot of roll-ups and reversals. In the end, Cash Wheeler went for a cradle pin, but Harwood reversed it. Harwood gets the win. Dax has now qualified for the Owen Hart tournament. I know both these guys are big Hart fans, but Harwood is more outspoken about it. It looked like it meant a lot to him. After the match, they embraced and all is good with FTR.
We then get an announcement that Punk and Page is official for Double or Nothing. Punk gets up from the announcer's desk and then cuts a promo about the match. Punk says he still has it and that all the matches up til now have been warm-ups for this one. He says he may not win, but this will be a fight. It will be really interesting to see if AEW chooses to put the belt on the biggest star or if they use him to put over Hangman Page.
And @DaxFTR advances into the #OwenHart Foundation Men's Tournament after that brilliant match with @CashWheelerFTR! Watch #AEWDynamite LIVE on @TBSNetwork right now! pic.twitter.com/OVMYwpbczH

— All Elite Wrestling (@AEW) April 28, 2022
Hangman won't be on tonight's show:
Stories heading into tonight's AEW Dynamite: