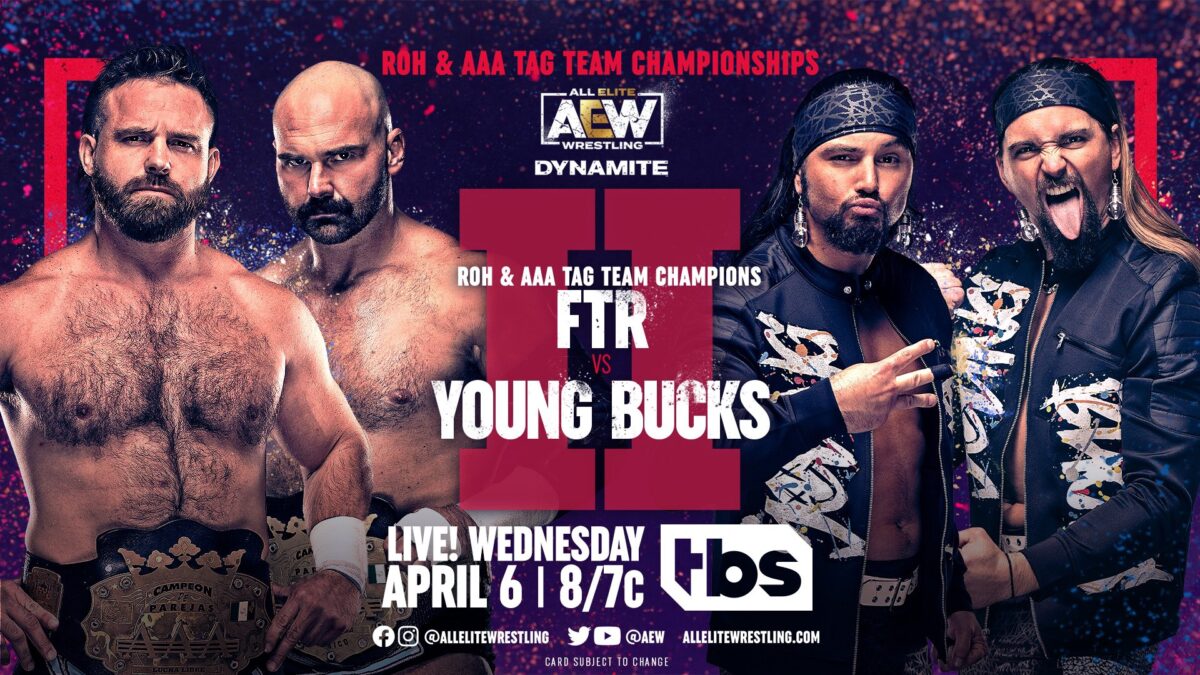 It's Wednesday Night and we're live with AEW: Dynamite tonight. It should be another fun and exciting show. We're getting a tag team match between two of the best tag teams on the planet tonight. Here is the advertised card for tonight:
Samoa Joe vs. Max Caster
Hikaru Shida vs. Julia Hart
FTR vs. The Young Bucks
Tables Match – The Hardys vs. Butcher and Blade
Christian vs. Adam Cole
Here we go!!!
After entrances, this match will probably go 15 – 20 minutes or so. These teams deserve a bit more time for a real classic. I wonder if there will be some shenanigans during it. ROH announcer, Bobby Cruise, is here to announce since the ROH titles are on the line. The AAA titles are on the line too.
I'm sure you'll be surprised to know that this match was fantastic. Dax Harwood has one of the best hot tag's I've seen in a long time. He comes in and wreck's shop. FTR goes for the Powerplex. They get the Superplex done. As Wheeler goes for the splash, Nick Jackson hits a hurricanrana. Somewhere in there we get a slew of near falls.
The Young Bucks hit a bunch of big moves. But, they all result in near falls. Eventually, The Bucks hit More Bang for Your Buck. Another near fall. FTR is just kicking out of everything.The Young Bucks interrupt a Big Rig finish. After the BTE Trigger, Wheeler is able ot get his foot on the romes. The ref counts 3, but reverse it.
The match starts over, FTR puts the Young Bucks away quickly. They hit a BTE Trigger of their own. They get the hugs win over the Young Bucks.They even do a double kiss. FTR put on quite the how in that own.  Until next time.
Foot on the rope by @CashWheelerFTR after the BTE trigger and the @youngbucks are in disbelief! #AEWDynamite is LIVE on @TBSNetwork right now! pic.twitter.com/vdcCvSJlnE

— All Elite Wrestling (@AEW) April 7, 2022
Hart and Shida
Are women's eyes more sensitive to black mist? Julia Hart is still wearing the eye patch months later while all the men are better in a week. Anywho, she's facing Shida in the Owen Tournament.
Before the match, Toni Storm and Jamie Hayter get up in each other's business. Apparently, they don't like each other.
When the match starts, Julia chokes out Shida with her jacket. Pillman and Garrison fuss at her. She then sends them to the back. Hart is wrestling as a heel for sure.
Shida wins. She had to take a lot of cheating and dirty tactics from Hart including a nasty eye rake. After the match, Serena Deeb tries to attack with a chair. However, Shida has her Kendo Stick. They have a stand-off. Deeb leaves.
Backstage, Swerve is interviewed and talks about going to the Grammys. He goes in the locker room and gets attacked by Ricky Starks and Powerhouse Hobbs. Keith Lee shows up and the 4 guys battle. Lee shoves Hobbs through some drywall. The camera cuts away at that point.
Evidently, things are not over between #TheProfessor @serenadeeb and @shidahikaru… Watch #AEWDynamite LIVE on TBS right now! pic.twitter.com/ry7VpV9Qc7

— All Elite Wrestling (@AEW) April 7, 2022
The Table Match
Jade Cargill is out and introduces her baddie section. She talks some trash about Shafir and how she's going to get her 30th win. She also says the s word.
We then cut back to MJF. MJF challenges Dean to a match next week. They also promise way more security for Wardlow next week.
Finally, both teams make their entrances. There is zero chance Butcher and Blade win this one right? Before the match starts, Butcher and Blade break of a leg of the table and use it as a weapon.
Jeff Hardy looks like he might actually be hurt. He gets eliminated first which gets a lot of boos from the crowd. The table didn't cooperate. The table didn't break exactly. The legs broke off and it fell to the ground, but the refs eliminated him anyway. I guess that counts as a broken table, but it's not quite as satisfying.
Matt Hardy is using a chair and then hits Butcher with a leg drop through a table. Everyone wanted Blade and Hardy to be the last two in this one I'm sure. Butcher and Blade prove to be the smartest heels in the history of wrestling. When Butcher is eliminated, he just sticks around and double teams Matt. It's no DQ. Why wouldn't you stay. The ref and announce team point out about 100 times it is an offensive move that has to put you through a table.
At one point, Butcher and Blade put a double suplex from the barricade on Matt. There was a table there, but Jeff Hardy is back and moved the table. Matt Hardy gets plopped on the ground instead.
Normally, I give AEW a lot of credit for being smart in their booking. This time they did something really stupid. Jeff Hardy sets up a ladder. Matt Hardy puts Butcher on the table. Jeff Hardy hits a Swanton from the top of the ladder and Blade is put through a table. Tell me how someone who has been eliminated from a match can perform a legal offensive move to eliminate someone. It counted and the Hardys win.
After the match, AFO come down. Sting and Allen make the save. Backstage, Jurassic Express and Christian cut a promo. Christian was going to talk. He got pissed and threw a water bottle. Jurassic Express say ReDRagon's record isn't good enough for a title shot, but they want them in a fight. So, they challenge them to a match next week. Titles are on the line.
? Insanity by @JEFFHARDYBRAND as he absolutely crushes @BladeOfBuffalo and gets the victory tonight on #AEWDynamite LIVE on TBS! pic.twitter.com/yyX73lvpHu

— All Elite Wrestling (@AEW) April 7, 2022
Eddie Kingston talks
Back from the commercial, we see a video from earlier today. Kingston, Santana, and Ortiz are beating up the Jericho Appreciation Society. The JAS hightails it out of the arena and get in Hager's vehicle who was driving a getaway car.
Kinston, Santana, and Ortiz come down to the ring. The message was it is on site. Basically, Kingston has no problem beating them up even if they are with their wives and kids. Santana and Ortiz make some comments and challenge the JAS to a 6-man tag next week. That should be a fun one.
Some tables are breaking next. It is the Hardys vs. Butcher and Blade.
Earlier tonight @MadKing1981 /@Santana_Proud/@Ortiz_Powerful get some revenge against the fleeing #JerichoAppreciationSociety!

Tune in NOW to #AEWDynamite LIVE on TBS! pic.twitter.com/Zn9jyoIN3l

— All Elite Wrestling (@AEW) April 7, 2022
The Chairman vs. The Captain
I'm not really sure why this match is happening on Dynamite, but it's Sean vs. Shaun. Oh. This is so Wardlow can come out and interrupt a match that doesn't matter. MJF is on commentary.
Prior to the match, The Blackpool Combat Club talk about how they are going to destroy Wheeler Yuta and Trent Beretta on Rampage. Danielson is wrestling Trent. Yuta faces Moxley.
During the match, Wardlow comes down to the ring. MJF starts yelling for security to remove him from the ring. The whole scene distracts Spears. Dean gets the roll-up win. Spears is irate after the match. It appears MJF's world is crumbling around him.
After the match, we hear from Yuta and The Best Friends. Basically, Trent is still upset at Yuta for trying to join up with Regal. Clearly, we're headed to a 6-man tag at some point.
And #TheCaptain @ShawnDean773 gets the shock victory over @ShawnSpears! #AEWDynamite is LIVE on @TBSNetwork! pic.twitter.com/0qyIzLTWTK

— All Elite Wrestling (@AEW) April 7, 2022
Joe, Joe, Joe
Samoa Joe is here and he's going to face Max Caster in the Owen tourney. Caster is here. His rap on Joe was one of the better ones of late. He incorporated Joe being injury-prone, being the champ in NXT when AEW beat them in the ratings, and more.
That was quick. Joe was hot after the rap. So, he just beat the mess out of Caster. He hits the Muscle Buster and gets the win. Caster did a great job selling in this one.
After the match, Jay Lethal and Sonjay Dutt call out Joe. They don't come down to the ring, but they appear on the video screen. Lethal was hot about Joe not answering his calls. Joe was apparently Jay Lethal's mentor. So, he blames Joe for his turning heel. They promise to get Joe a gift he will never forget next week. What could it be?
And @SamoaJoe goes flying into @PlatinumMax! #AEWDynamite is LIVE on @TBSNetwork right now! pic.twitter.com/1I1MtGDVed

— All Elite Wrestling (@AEW) April 7, 2022
Adam Cole Bay Bay
Adam Cole is opening the show against Christian. Adam Cole's entrance is certainly over. He'll be facing Christian. Personally, I've enjoyed Christian as a manager. I think using him very sporadically is a good choice.
The match was very solid. Neither man is prone to high-flying offense. The story of this one was kicking out at two. Adam Cole hits The Boom. However, he didn't lower the knee pad. So, Christian kicked out at two. Later, Cole hit a big superkick to a diving Christian. Another near fall.
This was followed up with Christian hitting a few moves including a big spear. It was Adam Cole's turn to kick out.
Cole gets the win when he finally hits The Boom. After the match, ReDRagon come down. They weren't able to get down to the ring because Jurassic Express stopped them. They battled to the back.
Hangman Page walks down to the ring. Cole then says they've fought enough without the title on the line. Page says that's fine and gives Cole a match on the live Rampage next week. Page says it's punishment for Cole stealing the title. Page says it will be a Texas Death Match. That should be a fun one. Although, I never understand why a face challenges a heel who constantly gets help from others to a match where that's legal.  But, I digress.
The #AEW World Champion #Hangman @theadampage confronts @adamcolepro! Watch #AEWDynamite LIVE on @TBSNetwork right now! pic.twitter.com/Lfg5IYP7pq

— All Elite Wrestling (@AEW) April 7, 2022
Tonight's preview