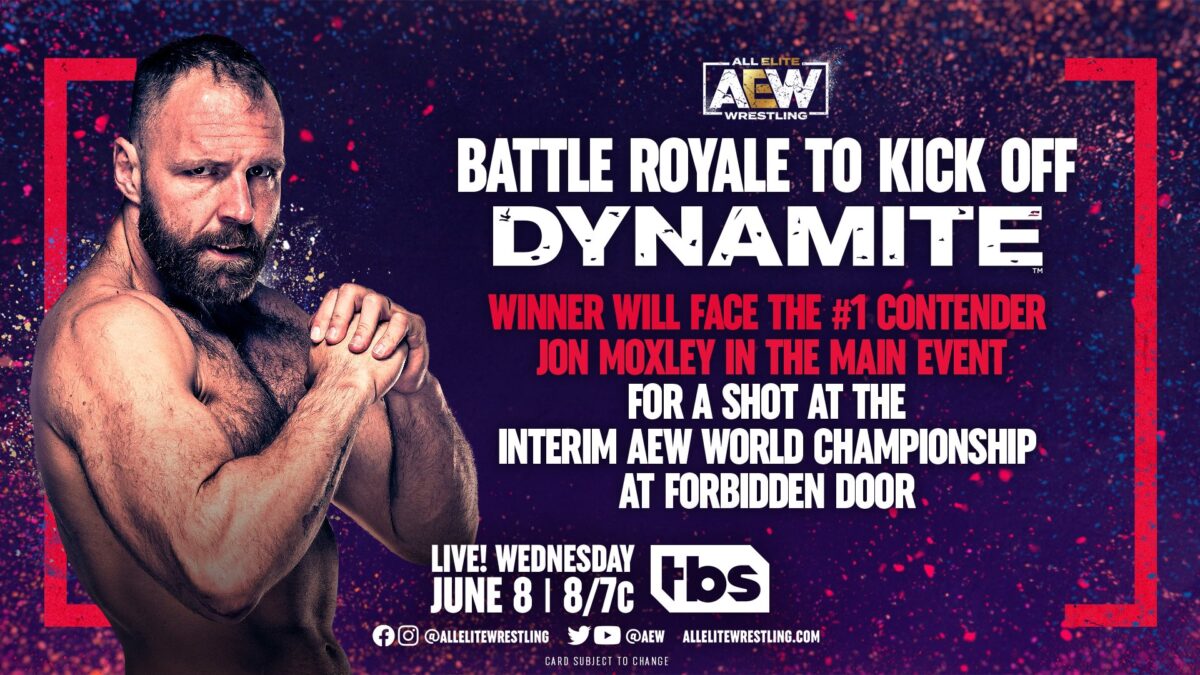 It's Wednesday, and you know what means. It's AEW Dynamite night and there's a very high-stakes show coming our way.
Following the announcement of CM Punk's injury on Rampage this past Friday, AEW needs to crown an interim AEW World Champion, and that process starts tonight.
The show will open with a 21-man Casino Battle Royale, with the winner of that facing Jon Moxley in the main event, and the winner of THAT advancing to Forbidden Door to face Hiroshi Tanahashi or Hirooki Goto to crown the interim champion.
Also on the card tonight in addition to the above:
Thunder Rosa (c) vs. Marina Shafir (AEW Women's World Championship)
Hangman Page vs. David Finlay
Buddy Matthews vs. Pac
AEW Dynamite is always newsworthy and packed full of action, so follow along with our live coverage below for all the updates, results and reactions to tonight's show.
Moxley and O'Reilly
Someone put a little extra caffeine in Regal's coffee tonight. You can actually hear him on commentary. He's very excited about this one.
This one is a hard-hitting affair. Moxley locks in a submission move, then he transitions from one submission to another. Eventually, he makes a mistake and allows O'Reilly to lock in the arm bar. From there, Moxley works his way out.
From there, the two men enter the boo-yay forearm spot. In the end, O'Reilly wins that battle.
Wow. Moxley locks in the Crossface Chickenwing. The only way Kyle can get out of Moxley's submission is to bite the middle rope with his teeth. Moxley drills O'Reilly with a huge clotheline.
Kyle O'Reilly and Moxley are just wearing each other out. Gotch style Piledriver. Now they are trading blows again. Both men no sell german suplexes. Moxley wins the fight though. He hits repeater elbows and a massive Paradigm Shift.
Little doubt about the outcome in this one. You knew Moxley was winning, but AEW does a good job of making you doubt it.
Moxley will now face Tanahashi or Goto. Until next time.
What an incredible fight between @KORCombat and @JonMoxley! #AEWDynamite is LIVE on @TBSNetwork! pic.twitter.com/6UMbmrtJ17

— All Elite Wrestling (@AEW) June 9, 2022
The Women's Title
Before the match, The Young Bucks are back. They want their titles back. The Hardys walk in. They want the titles too. Christian walks in and offers a Triple Threat Ladder Match between The Young Bucks, The Hardys, and Jurassic Express. Hmm. That's a pay-per-view match on Dynamite.
Thunder Rosa finally gets to wrestle on Dynamite. Marina Shafir looks impressive. AEW needs a couple of women who are credible challengers, but also can lose when they level up. They need a woman like Kaz.
Paul Heyman was known for booking where he accentuated wrestlers' strengths and hid their weaknesses. I think it's fair to say at this point in her career Thunder Rosa's biggest strength is her in-ring ability. They need to have her wrestling more often than not to build her star power. Top of the ramp promos wasn't getting it done.
If she can put on good matches, sell us on the fact that she might lose, and make the opponent look great, then she could really get over and help others get over too. The AEW women's roster needs that.
Rosa works stiff at times. She is pretty athletic. In this one, Shafir has been on the offensive for a good portion of the match. Shafir has a nice combination of ground and pound mixed with submission moves. Rosa on the other hand does a ton of strikes and high impact running moves.
She's able to get the victory when she counters a roll-up by rolling through. She gets the pin. After the match, Shafir kicks Rosa int he back. She locks in her submission move. Tony Storm comes down to make the save. Rosa hits the Fire Thunder Driver. Storm hands Rosa the title but looks at it briefly before doing so.  Storm vs. Rosa. I could go for that.
The women's 15 minutes of fame is continuing with Jade Cargill. Stokely Hathaway announces Kris Highlander is taking on Red Velvet on Dynamite. Yes, he said Highlander.
#AndStill! Your #AEW Women's World Champion @thunderrosa22 retains her title here on #AEWDynamite LIVE on @TBSNetwork! pic.twitter.com/xksvFvPmYF

— All Elite Wrestling (@AEW) June 9, 2022
Tony Schiavone welcomes Wardlow
We get a little back and forth between Thunder Rosa and Marina Shafir who will wrestle later. That should be a fun one.
Wardlow has something on his mind. He welcomes the crowd to Wardlow's World. Wardlow asked not to participate in the battle royal because he only wants to beat CM Punk the real world champ. He says there is a title he does want.
He says that title meant something until the last two guys who've held it. He says they've diminished what the TNT Title meant. He wants the TNT Title. Scorpio Sky immediately comes out. Dan Lambert runs down and stops Sky.
Backstage, Smart Mark Sterling is standing by with his security. He says Wardlow has two options. Go to court or face 20 security guards next week. Oh my! Which one will he choose?
The future is bright for @RealWardlow, but what is next for him? #AEWDynamite is LIVE on @TBSNetwork! pic.twitter.com/CQGgYizr4X

— All Elite Wrestling (@AEW) June 9, 2022
Cowboy S is back
Hangman Adam Page is back in action tonight. He's looking to get back on the winning side after losing the title to CM Punk. He's taking on David Finley. Finley is from NJPW. We're getting to a point where Tony Khan is trying to feature way too many people from too many places. We just had a faction from NJPW attacking AEW wrestlers who hold ROH championships. Now, we got another NJPW guy wrestling.
Adam Cole is on commentary. I'm not sure why, but he's there. I assume we may get another round of Page/Cole. So far, Page is squarely in control. He hits a pretty brutal scoop slam. He sends Finley to the outside. He hits a suicide dive on Finley. Finley's head hit the barricade hard. Page celebrates by drinking a fan's beer. COVID is on the rise again. Not sure I'd be drinking after some random fan.
Finley gets back in the ring and after he gets his cobwebs shaken loose, he chop blocks Page and quickly attacks the knee.
Throughout the rest of the match, Page sells his knee. He manages to hit a dive to the outside, but immediately grabs the knee. Every time Page goes for a move, he delays because of his knee. The delay gives Finley a chance to counter. Eventually, Page hits the Buckshot Lariat. He wins.
Adam Cole is very upset on commentary. Hangman grabs the mic and has something to say. Page says he wasn't in the Battle Royal and isn't going to get a title shot anytime soon. Page says he remembers there isn't just one title in professional wrestling. Page says he wants the IWGP Championship and he wants Okada. This makes Cole even more irate.
Cole grabs a mic. He says he deserves the IWGP Championship. He wants the shot. Boom.
And #Hangman @theadampage gets the win, after a physical back-and-forth with @THEDavidFinlay! #AEWDynamite is LIVE on @TBSNetwork! pic.twitter.com/HIKLudc3Ol

— All Elite Wrestling (@AEW) June 9, 2022