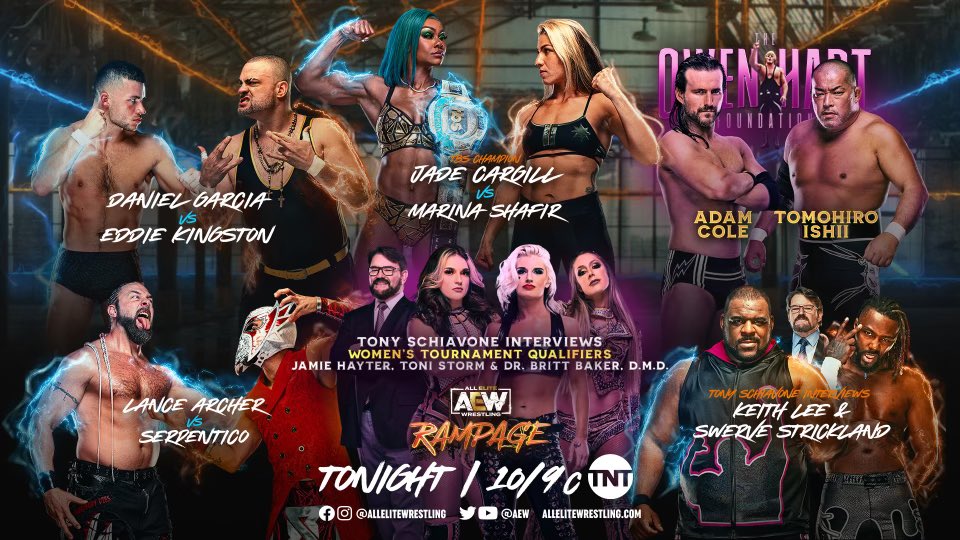 The faster hour in wrestling is back tonight. AEW Rampage is tonight and WrestleTalk will be providing live results throughout the show. As always, Friday is a fun night of action.
Here is the card for tonight:
Daniel Garcia vs. Eddie Kingston
Adam Cole vs. Ishii
Jade Cargill vs. Marina Shafir
Lance Archer vs. Serpentico
Swerve Strickland and Keith Lee Interview
Tony Schiavone interviews Jamie Hayter, Britt Baker, and Toni Storm
Make sure you follow along to see how the results shake out.
It's Time For the Main Event
Marina Shafir and Jade Cargill do the Mark Henry talking segment. At this point, I wonder if they just use the same voiceover every week from Henry. Cargill and Mark Sterling definitely win the talking battle. Cargill is going for her 30th victory.
They've done a decent job of trying to put over Shafir as a major threat. I don't see her winning this one. She probably needs a bit more time on Dynamite picking up victories, but with only one match a week, she hasn't been able to do so. Cargill comes out and man, she presents herself as a star. She's not terrific on the mic, but she has a presence in the ring not too many other women can match.
Shafir is bigger than I thought. She matches Cargill's height, but not her muscles. She starts by using her MMA skills with some leg kicks and goes for a rear naked choke. Cargill uses her power to counter.
Mark Sterling distracts the ref and the Baddy Section gets involved. Red Velvet and Kiera Hogan pound away on Shafir. The distraction isn't enough to put her away. Every time Shafir is able to get a bit of offense in, Cargill uses her power to counter and get out.
Shafir has really attacked Cargill's leg. She continues to kick away at her left hamstring. Cargill inconsistently sells the leg. Cargill is still very green in a lot of ways. It was even more evident, beyond her less than stellar selling, when she planted Shafir through the timekeeper's table. Shafir was planted on the back of her head.
Shafir manages to lock in a knee bar and Cargill looks in trouble. Cargill escapes by just hitting kicks with the back of her foot over and over. Cargill hits the finish and gets the win. Cargill doesn't give her opponent a lot during their matches. Shafir still managed to overcome that to look pretty dang tough.
Definitely not the most exciting Rampage we've ever had, but it still flew by. Until next time…
Nasty pumpkick by the champ @Jade_Cargill! It's #AEWRampage on @tntdrama! pic.twitter.com/1o8xLwdOQj

— All Elite Wrestling (@AEW) April 23, 2022
Looks like the ladies are main eventing
Eddie Kingston and Daniel Garcia are set to do battle. Prior to the match, we get a video package that shows The Jericho Appreciation Society being banned from the building to prevent outside interference. Kingston comes out on fire. He sends Garcia to the outside and just beats him up as they circle the ring.
This match was highly competitive. It was just back and forth for the entire time. Kingston eventually gets the win. Eddie isn't going to win any technical wrestler awards. Kingston gets the win and makes a statement for Chris Jericho.
Backstage, Tony is interviewing Keith Lee and Swerve Strickland. Swerve and Lee say the war isn't over. Looks like we're destined for another tag match at some point.
After the commercial, we hear from the Owen ladies. Britt starts to talk and Toni cuts her off. Toni Storm says all Baker has done is win the AEW Women's Championship. She asks is Baker knows who she and what she's done. No offense Storm, but being in AEW, the biggest thing anyone could do is win the AEW championship. That was a poor choice of words.
#EddieKingston @Madking1981 sends a strong message to the leader of the #JerichoAppreciationSociety, @IAmJericho! Tune in to #AEWRampage on @tntdrama right now! pic.twitter.com/IC6ERvEF8b

— All Elite Wrestling (@AEW) April 23, 2022
Archer dominates
In about 1 minute, Lance Archer destroys Serpentico. He attacks him before the bell even rings. Archer it he hired gun of MJF. This match was made to make him look like a threat to Wardlow. He's about to get fed to Mr. Mayhem. Shawn Spears is on commentary and sells the upcoming match.
This push of Wardlow is very effective. Archer is one of those guys who probably will never be a world champ in AEW, but he's credible enough to be a big hurdle before a rising star takes the final step to the big boss.
Up next, Daniel Garcia and Eddie Kingston.
Perhaps that wasn't a very smart opening move by @KINGSERPENTICO against @LanceHoyt! It's #AEWRampage on @tntdrama! pic.twitter.com/tnb8NfKoIL

— All Elite Wrestling (@AEW) April 23, 2022
Adam Cole and Ishii
Given all the time both men spent in ROH and NJPW as those were partners, I was surprised to find out this was the first time these two guys have faced off. Ishii is his normal self. He's chopping Adam Cole. Adam Cole does his work and uses some submission style grappling.
The end in this one comes when Jay White attacks Rocky Romero on the outside. The ref was distracted. Adam Cole hits the low blow and the ref didn't see it. Cole then hits the Boom on Ishii for the win. Cole had tried to hit the knee earlier, but Ishii ducked it.
The match was a lot of fun. Ishii played the hits. Chops, headbutts, and clotheslines. Cole countered with Superkicks. While there was nothing out of the ordinary, these two guys are really good at what they do. There were near falls and great counters. The match was just very, very smooth all around.
I don't really care about the Jay White connection as we know The Elite and Bullet Club went their separate ways a long time ago. So, I'm not sure what Jay White being involved will lead to. On the other hand, Jay White is terrific and I don't mind having on television.
A massive assist by @JayWhiteNZ, and @adamcolepro advances into the #OwenHart Foundation Tournament! Watch #AEWRampage on @tntdrama right now! pic.twitter.com/Pm8LxJ3xdN

— All Elite Wrestling (@AEW) April 23, 2022