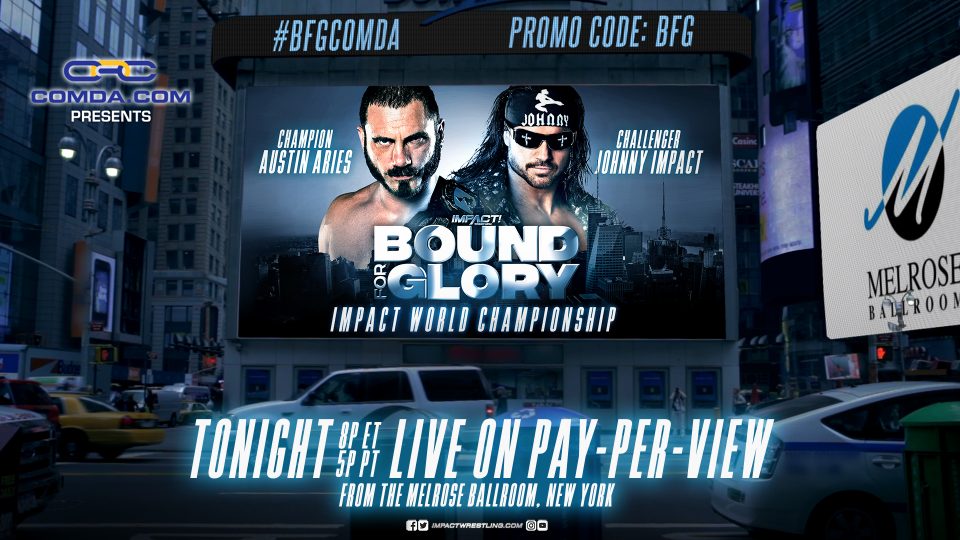 Johnny Impact def. Austin Aries (c) – Impact World Championship
That felt like a fight. Truly fitting of the personal feud that has brewed between the two men involved.
The match had quite a slow pace, but that's what it was meant to be. It wasn't meant to feel choreographed. Maybe that's not to everyone's taste, but this match was designed to feel real, and, for the most part, it did just that.
Of course, with Johnny Impact involved, you're always going to get some awesome moments, and one that stuck out from early on was a split-legged moonsault on the outside, assisted by the ring apron and ringside barrier. Something I personally have never seen done before.
THIS IS ABSOLUTELY RIDICULOUS! #BFGCOMDA @TheRealMorrison pic.twitter.com/TWoq7vx9di

— IMPACT (@IMPACTWRESTLING) October 15, 2018
After a hard-hitting affair, when the match was drawing towards its conclusion, Aries managed to get his hand to the rope following a Starship Pain, and just about a minute later, Johnny did the same off a Brainbuster, building frustration for AA.
Taya Valkyrie was on the outside cheering Johnny on throughout, leading Aries to eventually snap and attack her, much to the disdain of everyone in the arena.
It worked out quite well for Johnny though. As soon as Aries got back into the ring, he nailed the defending champ with a Brainbuster and immediately followed up with a Starship Pain for the win to become the NEW Impact World Heavyweight Champion.
I thought that was a great match. Must admit though, I did not expect Johnny to be the one standing tall at the end of it. Kross and Moose didn't even get involved. Very intriguing indeed.
AND NEW IMPACT World Champion – @TheRealMorrison! #BFGCOMDA pic.twitter.com/ggMkIcwpKw

— IMPACT (@IMPACTWRESTLING) October 15, 2018
I have no idea what just happened
Remember the House of Horrors? This was that, but with magical super powers and… murder. I think. Sort of.
After Allie stuck an axe in Su Yung's neck, her and Kiera Hogan try to escape the Undead Realm, but Jim Mitchell says they can't.
Then Rosemary turns up and says they can because she uses magic powers or something to fend off Su Yung… who was just murdered.
I'm genuinely doing my best here, I just do not know what to make of what I just witnessed.
Anyway, up next, Austin Aries defends his Impact World Championship against Johnny Impact! Hopefully this will make more sense to me at 3:30am.
.@WeAreRosemary stayed behind to fight The Undead Bride and allow @AllieImpact to escape. #BFGCOMDA

— IMPACT (@IMPACTWRESTLING) October 15, 2018
LAX def. The OGz – Concrete Jungle Deathmatch
Well that was FUN. Depending on what you're definition of fun happens to be.
The ring was fully exposed to just wooden boards, which decided to move about for the entire match, making moving about a pretty hard task. The ref didn't have a clue what to do with himself.
Hernandez was busted within approximately 0.00001 seconds of the match starting, and that pretty much set the tone. I think every single participant in that one performed a dive to the outside at some point.
When it looked like the OGz were on top and potentially closing things out, LAX's theme music played, and Konnan came down to the ring. He cleared Hernandez and Homicide, before Santana and Ortiz landed a Street Sweeper on King for the victory.
Up next, it's Allie vs. Su Yung inside the Undead Realm. Su Yung scares me.
BEST ?IN ?THE? WORLD ? #BFGCOMDA @Ortiz5150 @SantanaLAX pic.twitter.com/23UOoLscVI

— IMPACT (@IMPACTWRESTLING) October 15, 2018
oVe def. Cage, Fénix & Pentagón Jr. – oVe Rules Match
I think I counted approximately 312,633 Superkicks in that one. There was not a single moment to breathe.
Far too much happened there to summarize it without it taking all night, but that match was insane.
One particular highlight for me was Fénix hitting an awesome-looking flying cutter from the ramp to the ring on Callihan.
There was a bit of a dodgy moment in there though. Fénix was up on Pentagón's shoulders, and Jake Crist attempted a jumping cutter from the top rope. However, the timing was a bit off and it was just a bit uncomfortable for everyone involved.
That shouldn't take away from the quality of the match though.
With the Lucha Bros. taken out of the equation, Cage kicked out AT ONE off the All-Seeing Eye from oVe, before a Piledriver from Callihan eventually spelled the end, as the leader of Ohio Versus Everything gets a pinfall victory over the X-Division Champion, making him the first man to ever do so in Impact.
Up next, it's the highly anticipated Concrete Jungle Deathmatch, as LAX take on the OGz. Remember though, Konnan was taken out earlier. Will he still be able to compete tonight?
WHAT THE HELL! @TheSamiCallihan just became the first man in IMPACT Wrestling to pin Brian Cage. #BFGCOMDA pic.twitter.com/lK8m6p9vF6

— IMPACT (@IMPACTWRESTLING) October 15, 2018
Eddie Edwards & Tommy Dreamer def. Moose & Killer Kross
To sum up that match in one word:
Ow.
After the two teams battered the absolute piss out of each other, with an exposed concrete floor, chops, kendo sticks and low blows, Edwards picked up the win with a roll-up on Moose, who was taking too long getting excited over a kendo stick.
The glory didn't last long for Eddie though, as he was brutally assaulted by Moose and Kross post-match. Dreamer was still down off of a painful-looking Doomsday Saito Suplex.
Up next, it's oVe vs. Fénix, Pentagón Jr. and Brian Cage under oVe rules, which sounds… fun.
MY GOD! @TheMooseNation and @realKILLERkross DESTROY Eddie Edwards with a powerbomb on the apron. #BFGCOMDA pic.twitter.com/znOgZynjDz

— IMPACT (@IMPACTWRESTLING) October 15, 2018
Eddie Edwards def. Moose via DQ
Well that didn't last very long.
About three minutes into the match, Killer Kross appears from the crowd and ambushes Edwards.
BUT WAIT… It's Edwards' Slammiversary opponent Tommy Dreamer! He assists Edwards and clears the ring of Moose and Kross…
And this is now a tag team match PLAYAS.
.@THETOMMYDREAMER is here to help Eddie Edwards! #BFGCOMDA pic.twitter.com/wrv4xNCfPF

— IMPACT (@IMPACTWRESTLING) October 15, 2018
Tessa Blanchard (c) def. Taya Valkyrie – Knockouts Championship
That was a brilliant match.
Both women showed off a fantastic level of skill in all facets of wrestling. A great combo of speed, power and agility.
They both kicked out of each other's signature moves, with Blanchard escaping a Road to Valhalla, and Valkyrie surprisingly out at two off the Buzzsaw DDT.
It wasn't long after that when Tessa managed to pick up the win and retain the Knockouts Championship off a phenomenal Magnum top-rope Codebreaker.
Minus a slightly dodgy looking Chokeslam from Taya, that really was a great bout.
Up next, Eddie Edwards takes on the man who betrayed him and once-best friend, Moose.
MAGNUM BY @Tess_Blanchard! #BFGCOMDA pic.twitter.com/gazJMp4WcB

— IMPACT (@IMPACTWRESTLING) October 15, 2018
Eli Drake def. James Ellsworth
After a few Ellsworth-based shenanigans, Eli kicks out of a No Chin Music OUTTA NOWHERE early on in the match.
Drake then counters an attempted Styles Clash into a Gravy Train, then, at the request of the fans, hits a second, and picks up the win in about three minutes.
He then grabs a mic, says he wants some "Hall of Fame competition," and the 'Monster' Abyss – who was inducted into the Impact Hall of Fame just yesterday – comes out and lands a Blackhole Slam on the big-mouthed former World Champion.
Abyss then pulls out a table from under the ring, attempts a Chokeslam through it, but Eli hits a low blow and goes to the top rope. Abyss manages to catch him though, and does indeed Chokeslam Drake right through the furniture.
CHOKESLAM through a table by @TherealAbyss. #BFGCOMDA pic.twitter.com/pszRjmZtck

— IMPACT (@IMPACTWRESTLING) October 15, 2018
Eli Drake's Open Challenge
After the opening match, footage is shown of Konnan down in the backstage area having been attacked, claiming it was King. It now looks like LAX vs. The OGz may well go down as a 2-on-3 handicap match now.
Eli Drake makes his way to the ring, insults some New York Giants players, JAMES BLOODY ELLSWORTH answers Drake's Open Challenge, and Eli doesn't look best pleased.
The latter points out that Ellsworth isn't actually from New York – as per his Open Challenge requirements – but then Ellsworth brings up his past with Carmella saying he used to date a girl from Staten Island and even lived in her basement for a little while.
This one should be… interesting.
This crowd…doesn't like @realellsworth. #BFGCOMDA pic.twitter.com/xeb4dJS5uY

— IMPACT (@IMPACTWRESTLING) October 15, 2018
Rich Swann & Willie Mack def. Matt Sydal & Ethan Page
After a fast-paced opening with Willie Mack showing off some extreme athleticism for a big man, the first bout of the night was built around Sydal and Page working over Swann to a Willie hot tag.
There was a funny little dig at WWE in the commentary of this one. Don Callis told Josh Matthews: "You're better with someone screaming in your ear," to which Matthews comically replied: "I still have nightmares!"
Sydal played the 'captain' role in his team, essentially the brains behind the operation with all the knowledge his third eye brings him.
The match descended into chaos towards its conclusion following the anticipated tag to Mack, with bodies flying everywhere and fans already chanting a well-deserved "this is awesome" in the first match of the night.
After Sydal accidentally roundhouse kicks Page, Swann capitalizes and lands a springboard cutter on the former X-Division Champion.
Swann gets the pin on Sydal after a Phoenix Splash to pick up the win for his team in an awesome opener to Bound for Glory!
PHOENIX SPLASH gives @GottaGetSwann and @Willie_Mack the victory in a TREMENDOUS opening contest. #BFGCOMDA pic.twitter.com/ypQogKbHYZ

— IMPACT (@IMPACTWRESTLING) October 15, 2018
The Opener
Following a 'cold open' narrated by LAX's Santana & Ortiz, it's time for the opening bout of Bound for Glory 2018 as Rich Swann & Willie Mack take on Matt Sydal & Ethan Page in tag team action!
Welcome to IMPACT Wrestling @Willie_Mack. #BFGCOMDA pic.twitter.com/LoKWvbvROQ

— IMPACT (@IMPACTWRESTLING) October 15, 2018
Good evening and thank you for joining us for our live coverage of tonight's Impact Wrestling Bound for Glory 2018 event!
Impact has enjoyed a renaissance as of late, and Bound for Glory looks set to be yet another step in the right direction for the promotion.
The event is streaming live on Fite TV for the more than reasonable price of $19.99 from 8pm ET/5pm PT, and will later be available on demand on the Global Wrestling Network.
The card for tonight is as follows:
Eli Drake vs. ??? – Open Challenge
Allie vs. Su Yung
Matt Sydal & Ethan Page vs. Rich Swann & Willie Mack
Eddie Edwards vs. Moose
Tessa Blanchard (c) vs. Taya Valkyrie – Impact Knockouts Championship
LAX (Konnan, Ortiz & Santana) vs. The OGz (King, Hernandez & Homicide) – Concrete Jungle Deathmatch
oVe (Sami Callihan, Dave Crist & Jake Crist) vs. Brian Cage. Fénix & Pentagón Jr. – oVe Rules Match
Austin Aries (c) vs. Johnny Impact – Impact World Championship
You can watch tonight's 'cold open' via Impact's YouTube channel below:
https://www.youtube.com/watch?v=7wE86AKGWu4
What are your predictions for Bound for Glory 2018? Let us know your thoughts on Twitter, Discord, or in the comments below!