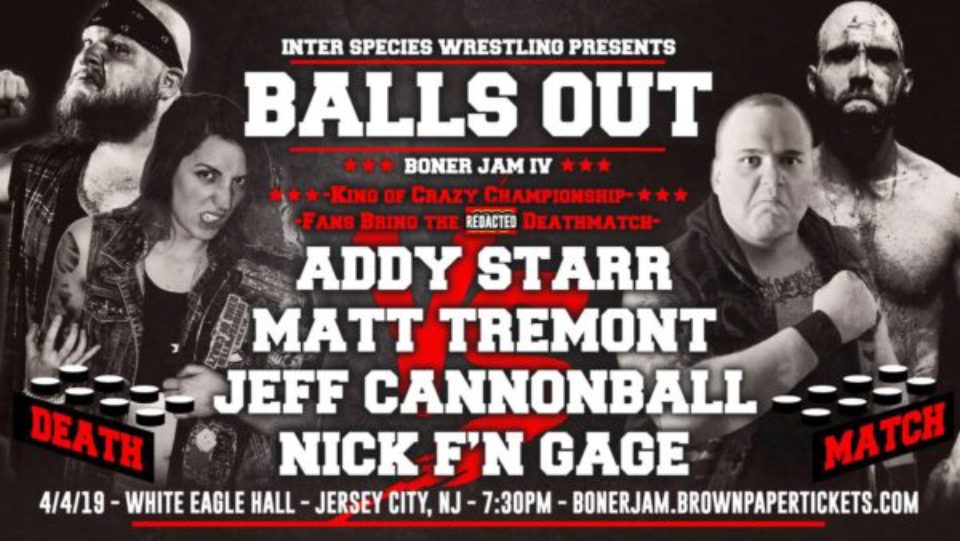 Hello and welcome to our live coverage of the staggeringly named Interspecies Wrestling Boner Jam IV: Balls Out. This could be interesting, to say the least, and you can watch the show along with me live on FITE.
Results:
Sanchez def. Werewolf of Wall Street, Tony Deppen & Jigsaw
"The Mighty" Jae Rukin def. Daniel Makabe
The Gym Nasty Boys def. Team Tremendous
ISW Falls Count Anywhere Championship: Sexxxy Eddy (c) def. Swoggle
Sean Henderson won the Bastian Snow International Food Fight Invitational
Fluffy The Bunny Killer def. Leon St. Giovanni
The Butcher & The Blade def. The Ugly Ducklings
Chris Dickinson def. Chris Brookes
King of Crazy Championship, Fans Bring the L*GO Deathmatch: Matt Tremont def. Addy Starr (c), Jeff Cannonball & Nick Gage
This blog comes as part of day two of our coverage of the WrestleMania weekend's shows, and you can check out WrestleTalk's schedule for the weekend here. The coverage will begin when the show starts at 7:30pm ET (12:30am for our friends in the UK). Be sure to follow along with the show with our live blog.
Among many other live coverage blogs tonight, James Dixon will be covering WrestleCon's Mark Hitchcock Memorial Supershow from 7pm ET (midnight UK) tonight, and Brian Joyce will be guiding us through Impact Wrestling's United We Stand pay-per-view, from 11pm ET (4am GMT) so be sure to check out their live coverages too.
*Warning Strong Language In Some Of The Tweets*