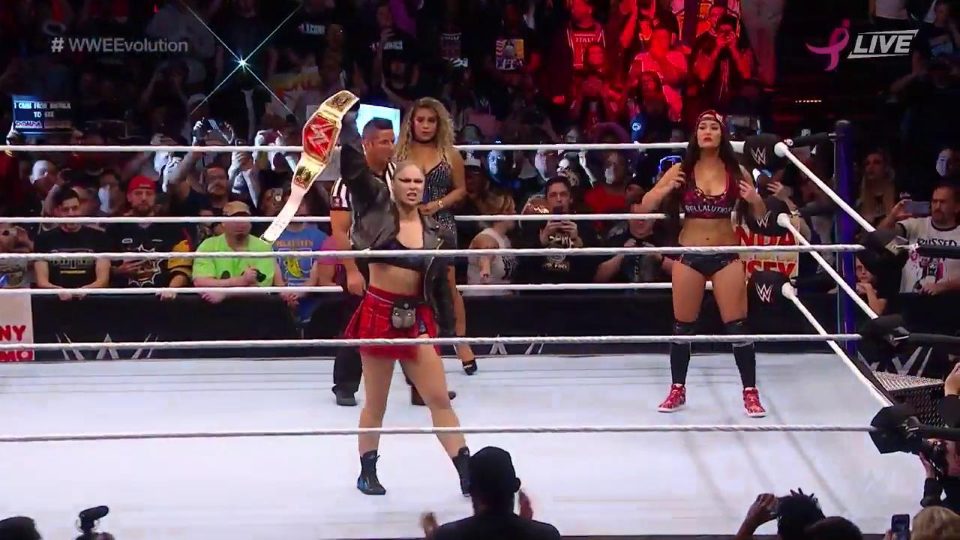 Final thoughts
That was a great show. Definitely one of WWE's best of the year.
I'm going to be completely honest, I had my doubts going into tonight about the quality of the event. I am happy I was wrong.
Every match was entertaining, every match was fun, and there wasn't really a bad match to pick out.
The weakest was probably the tag team opener, but the nostalgic feel and some of the moves on display made up for that. The Battle Royal was enjoyable from beginning to end, the Mae Young Classic final – despite going shorter than perhaps we would of liked – was very, very good. The Riott Squad had a fantastic showing against Banks, Bayley and Natalya.
The NXT Women's Championship match was superb too, and the surprising winner and how it came about has me excited for the NXT women's scene again, something I haven't really felt of late.
Becky Lynch and Charlotte Flair put on the match of the night, definitely up there with the best WWE matches of 2018. You should watch it.
And Nikkie Bella more than held her own against Ronda Rousey, who is quickly becoming my favorite female wrestler because she's really bloody good.
Overall, a brilliant show that exceeded my expectations. Well played to all involved.
Their #WWEEvolution. pic.twitter.com/zRlJHIaZmW

— WWE (@WWE) October 29, 2018
Ronda Rousey (c) def. Nikki Bella – WWE Raw Women's Championship
The maine vent kicked off with Ronda very much on the upper hand, toying with Nikki, and almost allowing Nikki to get some offense in purely because she felt sorry for her.
It didn't take long for Brie to get involved though, and after a distraction, Nikki took the initiative and was on top for an extended period.
After a Double Samoan Drop to both Bellas, Rousey launched Brie over the announce table, but the distraction allowed Nikki to take the upper hand once more, and she landed a Rack Attack but Rousey kicked out superbly at two.
Ronda then locks Nikki in the Armbar, leading to a swift tap out, and retains the Raw Women's Title!
Once #RondaRousey locks in the #Armbar, there's no choice but to TAP… and #NikkiBella just learned that first-hand/arm!#AndStill #WWEEvolution @RondaRousey pic.twitter.com/8oRUb4jM4I

— WWE (@WWE) October 29, 2018
Becky Lynch (c) vs. Charlotte Flair – SmackDown Women's Championship
YESSSSSSSSSSSSSSSSSSSSSSSSSS. Becky retains!
That was good. That was very good. That was one of the best matches of the year. You should watch it.
That match was filled with foreign objects, close calls, and great drama. A very good showcase indeed.
There were a few standout moments in there. In the earlier stages of the match, Charlotte attempted to Moonsault Becky through a table, but the table decided to be an absolute mental 'ardman and not budge. The follow up was great though, as Flair then landed a Senton on Becky through said table.
Another close call in that one was Becky Lynch's leg drop off of a ladder through the German announce table, after which the Irish champion proceeded to bury Charlotte in a pile of chairs.
After a brief comeback from Charlotte,Becky Powerbombed the 'Queen' through a table on the outside to get the 10 count and retain the title.
A brilliant match, that you should watch. And Becky won. Applauds all around.
Up next, it's the main event. Ronda Rousey defends the Raw Women's Championship against Nikki Bella.
LAST. CHAMP. STANDING.

She's the man. She's the #RelentLass. She's the #SDLive #WomensChampion! #WWEEvolution #AndStill @BeckyLynchWWE pic.twitter.com/iQU3Dwo7mt

— WWE (@WWE) October 29, 2018
Shayna Baszler def. Kairi Sane (c) – NXT Women's Championship
Well that was spicy.
Baszler spent much of the match working over Kairi Sane's arm, and after a fightback from the champ, including a brilliant dive to the outside, things got very interesting.
Kairi laucnhed Shayna into the first row, which just happened to be where Shayna's fellow horsewomen Jessamyn Duke and Marina Shafir were sat.
They pair got involved while the ref wasn't paying attention, allowing Baszler to lock in the Kirifuda Clutch, Sane passed out, and the 'Queen of Spades' is our new NXT Women's Champion, the first ever two-time holder of the belt.
A real surprising result there, and one that I am very interested to see play out on TV going forward.
Up next, Becky Lynch defends the SmackDown Women's Championship against Charlotte Flair in a Last Woman Standing match. Come on Becky!
FIRST-EVER TWO-TIME #WWENXT #WomensChampion.

Congratulations, @QoSBaszler! #WWEEvolution #AndNew #WWENXT pic.twitter.com/tbTYKdDeiB

— WWE (@WWE) October 29, 2018
Sasha Banks, Bayley & Natalya def. The Riott Squad
The Riott Squad worked over Bayley extensively in the early stages of this one, eventually building to a Sasha Banks hot tag.
Banks' momentum was halted though when a dive was caught by all three Riott Squad members and she was launched into the barricade at ringside.
Ruby Riott was set to land a Senton on Banks, but Bayley actually lied on top of Banks and took the brunt of the move, allowing Banks to kick out at two.
Natalya then tagged in, and locked in a double Sharpshooter on Ruby and Logan. However, Morgan was legal and broke it up.
It wasn't long before Nattie got the upper hand once more though, and a Powerbomb from her, an Elbow Drop from Bayley and a Frog Splash from Banks spelled the end for Morgan and the Riott Squad.
Up next, it's the NXT Championship match between defending champ Kairi Sane, and challenger Shayna Baszler.
VIVA LA SASHA! With an homage to #EddieGuerrero, a #FrogSplash seals the deal for the team of @SashaBanksWWE @itsBayleyWWE & @NatByNature! #WWEEvolution pic.twitter.com/terBmoonfu

— WWE (@WWE) October 29, 2018
Riott Squad vs. Banks, Bayley & Natalya
Up next, the Riott Squad take on Sasha Banks, Bayley and Natalya in six-woman tag team action!
The Riott Squad made there entrance by popping a balloon, because, you know, riots and that.
https://twitter.com/WWE/status/1056703927515631616
Toni Storm def. Io Shirai – Mae Young Classic 2018 final
Toni Storm is the Mae Young Classic 2018 Champion!
That match wasn't given as much time as many would have liked, but both performers showcased their phenomenal skill and athleticism in the MYC final, and put on a very good match indeed.
Shirai kicked out of a Storm Zero, and a few minutes later attempted a Moonsault to pick up the win. Storm managed to block it though, and landed a second Storm Zero to pick up the win and become the second Mae Young Classic winner.
The two embrace as Toni receives her trophy. A very good finale to a very good tournament!
Feel EVERY emotion @tonistorm_, because YOU just became the winner of the second-annual #WWEMYC! #WWEEvolution pic.twitter.com/7QCtv2y9St

— WWE (@WWE) October 29, 2018
Mae Young Classic 2018 final
It's time for the final of the second annual Mae Young Classic, as NXT UK's Toni Storm takes on the 'Genius of the Sky' Io Shirai!
This one should be GOOD.
EVERYONE'S talking about it.

No 1. Trend WORLDWIDE: #WWEEvolution pic.twitter.com/7nW0Ph9XWw

— WWE (@WWE) October 29, 2018
Nia Jax wins the Battle Royal
Before the match, the IIconics take to the microphone to trash Long Island, in a way only the IIconics can.
But then everyone gangs up on them and they are first to be eliminated.
The opening moments of the match were made up of Mandy Rose and Sonya Deville working in tandem to eliminate the likes of Kelly Kelly and Torrie Wilson, before Rose herself knocks Sonya off the apron. Which I enjoyed very much.
A major spot in the match was the showdown between Nia Jax and Tamina, in which they eliminated Lana and initiated a mass quadruple suplex with everyone left in the ring.
The final four were Asuka, Ember Moon, Tamina and Nia Jax.
Ember chucked Asuka out with relative ease, and after a flurry, eliminated Tamina too.
It came down to good friends Nia Jax and Ember Moon. The crowd were firmly behind the underdog Ember.
BUT WAIT. Zelina Vega was never eliminated! She appears behind Nia and Ember and eliminates both… or so she thinks. They both land on the apron and Nia absolutely launches Vega out the ring.
It is back down to Jax and Moon, and Jax lands a Great Khali-esque slam on Moon and ragdolls her over the top rope to pick up the win.
That was actually far better than I was expecting. Great fun.
NOT LIKE MOST WINS!

@NiaJaxWWE wins the Women's #BattleRoyal to guarantee a future #WomensTitle opportunity! #WWEEvolution pic.twitter.com/RrLObmaRW8

— WWE (@WWE) October 28, 2018
Battle Royal time!
It's time for tonight's Battle Royal, where the winner will receive a future Women's Championship opportunity!
Such a MOOD. #WWEEvolution @NaomiWWE pic.twitter.com/zJ8bT25uuE

— WWE (@WWE) October 28, 2018
Trish Stratus & Lita def. Mickie James & Alicia Fox
Trish & Lita opened things with a quick flurry of momentum, culminating in a showdown between former rivals Stratus and James, after which proceedings took a slower turn.
The heel team worked over Lita for a while, with Alexa Bliss getting involved and pulling Lita off the top rope and preventing a Moonsault, before a Stratus hot tag was the beginning of the end.
Trish hit a Stratusfaction on Mickie for the two-count when Fox broke up the pin attempt… after the ref waited an extra few seconds because Fox arrived late.
Nonetheless, a Lita Moonsault to both opponents and a Trish Kick to Mickie led the Besties Best for Business to victory in the opener!
They got ATTITUDE! #WWEEvolution @trishstratuscom @AmyDumas pic.twitter.com/xqJzgi94bm

— WWE Universe (@WWEUniverse) October 28, 2018
It's time for the opener!
Lzzy Hale and Nita Strauss open Evolution with a live performance. This feels very Triple H indeed.
We've got a nifty custom stage set, and we'll ignore the fact that we all just heard Kevin Dunn tell Michael Cole his mic wasn't working.
Tonight's opening bout will be the altered tag team contest: Trish Stratus & Lita vs. Mickie James and Alicia Fox. Fox replaces Alexa Bliss who was pulled due to injury concerns.
Now, THIS is a STRATUS-FYING START to #WWEEvolution!!! It's time to rock 'n' roll, @WWEUniverse! @trishstratuscom pic.twitter.com/qiumgmiH56

— WWE (@WWE) October 28, 2018
"This is like WrestleMania"
Stephanie McMahon is on the red carpet with Charly Caruso, and likens tonight's event to WrestleMania.
Steph goes on to praise her husband Triple H for his part in the women's evolution, giving females a platform to perform in NXT.
"This is HISTORY IN THE MAKING, and that is EXACTLY what we're going to do tonight!" – @StephMcMahon

Keep on demanding MORE, @WWEUniverse! #WWEEvolution pic.twitter.com/ZYZ9YYa5C0

— WWE Universe (@WWEUniverse) October 28, 2018
R-Truth is my hero
R-Truth is boss.
He stumbles onto the pre-show panel and tells the world that he is entering the Battle Royal and will go on to face Carmella for SmackDown Women's Championship.
We have also heard from many of the talents involved tonight about what this event means to them and for women's wrestling as a whole.
WHAT'S UP, #WWEEvolution? @RonKillings is here, he's ready to win the Women's #BattleRoyal, and he wants to face @CarmellaWWE for a title opportunity!

Wait… what? pic.twitter.com/rdEJ3hq0yo

— WWE (@WWE) October 28, 2018
The pre-show is underway
We join Renee Young, Paige and Beth Phoenix on the pre-show panel, before we are introduced to Charly Caruso on the red carpet with Alexa Bliss and Sasha Banks.
Bliss and Banks tell us how this event is a reward for every women's hard work and dedication over the last few years and even further, and how much it means to everyone involves, with Banks fighting back tears.
This is indeed a historic night for WWE.
"We're here to make HISTORY!" Couldn't have said it better @SashaBanksWWE… #WWEEvolution @AlexaBliss_WWE pic.twitter.com/v1VgxMI1gO

— WWE (@WWE) October 28, 2018
Today is the day that WWE will hold its first ever all-women's pay-per-view event, Evolution, coming to us live from the Nassau Coliseum in New York!
We will be providing live match-by-match updates and coverage throughout the show, so bookmark this page and check back here at 6pm ET/3pm PT/10pm BST (remember UK clocks went back), as our coverage will begin from the start of the pre-show! The main show will kick off an hour later.
Here is the full match card for tonight's show:
Toni Storm vs. Io Shirai – Mae Young Classic 2018 final
Kairi Sane (c) vs. Shayna Baszler – NXT Women's Championship
Sasha Banks, Bayley & Natalya vs. The Riott Squad
Battle Royal, winner gets future a Women's Championship match
Trish Stratus & Lita vs. Mickie James & Alicia Fox (Alexa Bliss was pulled due to injury)
Becky Lynch (c) vs. Charlotte Flair – Last Woman Standing – WWE SmackDown Women's Championship
Ronda Rousey (c) vs. Nikki Bella – WWE Raw Women's Championship
Before the show starts, make sure you check out Andy's predictions so you can tell him how stupid he is in the comments of tomorrow's WrestleRamble.
You can also get involved in the discussion by joining our Discord server, following us on Twitter, on in the comments below this article.