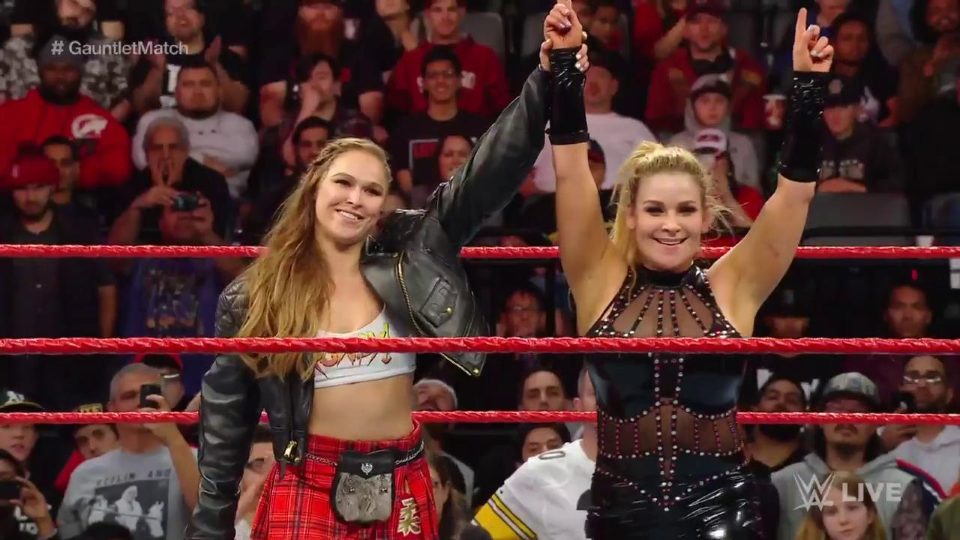 04:05am
After a great final round of the gauntlet, it's Natalya who picks up the win with a Sharpshooter.
Rousey makes her way to join Natalya in the ring ahead of their match next week, and she raises Nattie's arm because… they're bezzies, remember?
Ronda offers a handshake, and then they hug, and then the show goes off the air with them walking to the back together. Silly and pointless.
Confirmed for next week (Christmas eve):
Drew vs. Dolph v Bálor
Elias vs. Lashley in a Miracle on 34th Street Fight
Seth vs. Corbin
Appearance from Paul Heyman
Ronda Rousey (c) vs. Natalya for the Raw Women's Title
NEXT WEEK on #RAW…

– @RondaRousey vs. @NatbyNature for the #RAW #WomensTitle
– @WWERollins vs. @BaronCorbinWWE
– @HeymanHustle celebrates the holidays
– @FinnBalor vs. @HEELZiggler vs. @DMcIntyreWWE
– @IAmEliasWWE vs. @fightbobby in a #MiracleOn34thStreetFight pic.twitter.com/ftpzASSoMG

— WWE (@WWE) December 18, 2018
Overall thoughts on the 'new Raw' – very good. I prefer this apparent way of taking a few weeks to transition rather than just suddenly flipping it on its head. We got Tyler Breeze in an IC Title match, the Revival won a match and are number one contenders, no more Lucha House Rules, a bunch of NXT call-ups, and a great looking show set for next week. Good stuff.
03:47am
Natalya defeats Ruby with a roll-up, and last in is the 'Boss' Sasha Banks!
Natalya vs. Sasha, winner faces Ronda next week for the title.
Believe it or not, Sasha and Nattie have only had one previous TV match against each other, which was a fatal four-way in June, in which Nattie picked up the win.
IT'S BOSS TIME.@SashaBanksWWE is the final entry in this #GauntletMatch to take on @NatbyNature! pic.twitter.com/x3vW5zgtxS

— WWE (@WWE) December 18, 2018
03:37am
Nattie picks up the win with a roll-up, and next out, it's Ruby Riott, who the 'Queen of Harts' beat in a Tables match last night at TLC.
This makes it eight consecutive TV/PPV matches for Natalya that she has faced Riott (obviously counting this gauntlet as one match, rather than the individual matches), and she's only lost one of the last seven.
The QUICK win for @NatbyNature means her next opponent is… @RubyRiottWWE! #RAW #GauntletMatch pic.twitter.com/PqtDq55IeE

— WWE (@WWE) December 18, 2018
03:32am
Moon picks up the W there with the Eclipse, and up next, it's Natalya.
Moon's only win over Nattie came in season two of the Mixed Match Challenge.
The fight is on ALREADY as @NatbyNature enters the fray after @WWEEmberMoon ECLIPSED @MickieJames! #RAW #GauntletMatch pic.twitter.com/NDRET1v8gk

— WWE (@WWE) December 18, 2018
03:25am
Bayley's run is over courtesy of Mickie James, whose next challenger is Ember Moon.
Just like with Bayley, the only victory Mickie holds over Ember was in a 5-on-5 tag in April. Ember has beaten Mickie one-on-one though, which was also back in April.
The veteran @MickieJames has eliminated @itsBayleyWWE, but now she has to go toe-to-toe with a VERY eager @WWEEmberMoon! #RAW #GauntletMatch pic.twitter.com/ThnOAmZ4z8

— WWE (@WWE) December 18, 2018
03:20am
Back from commercials, and Bayley's next opponent is the veteran Mickie James.
These two have never squared off in a singles match. James has only beaten Bayley once (including tag matches), which was a 5-on-5 back in April.
#RAW #WomensChampion @RondaRousey is watching VERY closely as @itsBayleyWWE takes on @MickieJames in the #GauntletMatch… pic.twitter.com/abgmAIFZ2j

— WWE Universe (@WWEUniverse) December 18, 2018
03:12am
Bayley wins the first round over Fox, and the 'Hugger's next opponent is Dana Brooke.
One down, six to go.
Bayley and Dana have had 10 singles contests across NXT and the main roster, and it's currently 7-3 to Bayley.
Oh. Make that 8-3. Dana is gone.
OUTTA NOWHERE!@DanaBrookeWWE is next up in this #GauntletMatch after @itsBayleyWWE eliminated @AliciaFoxy. #RAW pic.twitter.com/pM1TW6T1ks

— WWE (@WWE) December 18, 2018
03:02am
Rousey is welcomed with chants of "Becky! Becky! Becky!" from the crowd, but still says that a champion should defend their title every night.
And… she's issued an open challenge for the title.
We cut to all the women arguing backstage. Jesus Christ my they just burned my eardrums there.
Steph brings them all out onto the ramp, and announces an eight-woman gauntlet match, with the eventual women challenging Ronda for the title next week!
Up first, it's Fox vs. Bayley.
Fox has only beaten Bayley once in singles competition, which was their first match ever back in May 2013 in NXT. Bayley has triumphed in the other four.
#RAW #WomensChampion @RondaRousey is going to defend her championship against the winner of an 8-WOMAN GAUNTLET MATCH that starts RIGHT NOW! pic.twitter.com/hWUTPoEWI5

— WWE (@WWE) December 18, 2018
02:58am
Raw Women's Champion Ronda Rousey is here hot off the back of defending her title against Nia Jax at TLC last night.
Oh, and just the small matter of pushing Becky and Charlotte off a ladder in the main event so Asuka could win the SmackDown Women's Title.
This could be interesting.
Things are about to get ROWDY…#RAW @RondaRousey pic.twitter.com/6Fz0qIh780

— WWE (@WWE) December 18, 2018
02:47am
The Revival just won a wrestling match.
You read that right.
Wilder and Dawson have earned themselves a Tag Title match against Roode and Gable.
They go hard, all day, all night…and now @ScottDawsonWWE & @DashWilderWWE have a future opportunity at @REALBobbyRoode & @WWEGable's #RAW #TagTeamTitles! #TheRevival pic.twitter.com/lcZ8Hi1WFJ

— WWE (@WWE) December 18, 2018
02:35am
A vignette for the currently injured Sami Zayn just aired, so I guess he's not too far away from a return. Good news if so.
That was the first time Zayn appeared on WWE programming (albeit via a vignette) since his last match at Money in the Bank.
He'll be back soon…#RAW @SamiZayn pic.twitter.com/IE2uSn2rR3

— WWE (@WWE) December 18, 2018
02:30am
Just as Lashley is showing everyone his glorious, splendid, beautiful bottom, Elias appears and smashes him with a guitar.
Boss.
Up next, it's the four-way tag match. AOP, Luchas, Revival and B-Team.
He can do much more with a guitar than just strum…#RAW @IAmEliasWWE pic.twitter.com/LSNx4KjTiq

— WWE (@WWE) December 18, 2018
02:27am
After a vignette for the new call-ups, we cut to Lio Rush and Bobby Lashley in the ring.
And Lashley has a guitar and a stool. Oh boy.
A breathtaking performance taking place right now on #RAW…@fightbobby @ItsLioRush pic.twitter.com/2xCsBFNmFL

— WWE Universe (@WWEUniverse) December 18, 2018
02:21am
Drake Maverick and AOP meet Shane backstage and ask for their tag title rematch.
However, Shane declines and makes a four-way for later tonight with the Revival, the Luchas and the B-Team.
In more exciting news, a whole bunch of NXT call-ups have just been confirmed.
OTISSSSSSSS YESSSSSSSSSSSSSSSSS!!!!!!!!!!!
And also the others are great too. Blimey, this is turning into quite the show.
02:15am
Despite a decent showing for Tyler, it was Ambrose who picked up the win with the Dirty Deeds.
Ambrose proceeds to mouth off at Seth before the 'Architect' reveals himself disguised as one of the exterminators.
What's interesting there is Renee actually seemed annoyed at Seth for battering her husband. Yes! Logic!
GOTCHA, DEAN!#RAW @WWERollins pic.twitter.com/SY77iRYT2p

— WWE (@WWE) December 18, 2018
02:08am
Ambrose comes out flanked by his exterminator pals, and says that he's going to take Rollins' career and "throw it in the gutter".
That's not very hygienic, Dean!
Ambrose calls out Rollins from the back, but Seth doesn't show.
Dean then issues an open challenge, that is answered by Tyler Breeze! Cole even referenced Breeze's recent match against Ricochet for the NXT North American Title.
This is boss.
This is the first time these two have shared a ring since April 2016, and is only their third singles match overall. Breeze has never ever beaten Ambrose in any company, any match.
??? Piercing eyes, and a chiseled jaw
Molded by the gods, without a flaw ???@MmmGorgeous is seizing the opportunity in @TheDeanAmbrose's #ICTitle Open Challenge RIGHT NOW on #RAW! pic.twitter.com/8TzZGaI8te

— WWE (@WWE) December 18, 2018
01:55am
A really good match there, but as many would probably have expected, Drew McIntyre storms out and causes a DQ.
A Claymore kick to both Bálor and Ziggler leave the Scot standing tall to close it out.
Up next, the new IC Champion Dean Ambrose is set to address his win last night over Seth Rollins.
You know who wasn't in the mood to see anymore of @HEELZiggler vs. @FinnBalor?@DMcIntyreWWE. #RAW pic.twitter.com/pWvOzscqGP

— WWE (@WWE) December 18, 2018
01:33am
Yep, Corbin got destroyed.
I like to think of that match as wrestling Twitter (Angle & co.) vs. Raw's creative team (Corbin).
And now, a table is being brought into the equation, and Baron receives an Angle Slam right through it.
This is bloody good.
Fun fact: Corbin now has a perfect 2/3 loss ratio for 2018 with that loss (inclusive of dark matches).
Up next, Finn Bálor takes on Dolph Ziggler!
?, @BaronCorbinWWE…#RAW @RealKurtAngle pic.twitter.com/BwVmFIeHDG

— WWE Universe (@WWEUniverse) December 18, 2018
01:31am
It's Shane's turn to pull a Corbin, as he comes onto the stage to announce that this is now a no DQ match!
Now it's @shanemcmahon's turn…

This match is now NO DISQUALIFICATION, and @RealKurtAngle @REALBobbyRoode @WWEGable @WWEApollo are READY! #RAW pic.twitter.com/iST15shSxf

— WWE Universe (@WWEUniverse) December 18, 2018
01:30am
Triple H comes onto the stage just as it looks like Corbin is on top, and gives the former interim GM a taste of his own medicine.
In among the boos, HHH forgot to announce that this was actually a handicap match, and it's now Corbin vs. Angle, Roode, Gable & Apollo Crews.
Corbin is the only man to face Kurt Angle twice since Angle's return.
No biggie. @TripleH just forgot to mention this is a HANDICAP MATCH…@REALBobbyRoode @WWEGable & @WWEApollo are joining the fight against @BaronCorbinWWE on #RAW! pic.twitter.com/bbsG0q8htx

— WWE (@WWE) December 18, 2018
01:22am
Baron stands across the ring from all four McMahons as they encourage a relentless chorus of boos aimed at the 'Lone Wolf'.
His moaning continues – in between clearly asking if they were live – and the four McMahons agree that there is "no chance in hell" that Corbin becomes GM of Raw.
However, Vince and HHH decide that Corbin deserves a chance. If he can win his match RIGHT NOW, he can become the permanent GM of Raw.
All he has to do is beat… Kurt Angle!
Not only that, Steph brings out special referee… Heath Slater! Good luck Bazza.
Per @TripleH, @BaronCorbinWWE can become the PERMANENT General Manager of #RAW if he can beat… @RealKurtAngle! pic.twitter.com/TXQLLyZht6

— WWE (@WWE) December 18, 2018
01:13am
Vince says he "can't do it all by himself anymore", and brings out Stephanie, Triple H, and Shane.
They all line up in the ring, in what is the first time Trips and Shane have shared a ring since Survivor Series 2017.
Stephanie McMahon admits that they haven't been listening to fans, and that that is about to change. Hunter says they're going to give us what we want, there will be new faces, new matchups, and we as fans are the authority!
The segment looks to be over, but former interim GM of Raw Baron Corbin comes out, and moans that his loss to Braun Strowman last night wasn't fair.
And now we go to an oddly timed commercial break. Let's use this to collect our thoughts. What on earth just happened?
"You have no idea how excited I am that the ENTIRE McMahon Family will be running Monday Night #RAW!" – @BaronCorbinWWE

????? pic.twitter.com/iARrc2yWJw

— WWE (@WWE) December 18, 2018
01:04am
HE'S HEEEERRRRREEEE!
Mr. Vince McMahon is opening Raw to "shake things up"!
It's fair to say he's pretty over. What will he have in store?
This is Vince's first Raw appearance that isn't related to a WrestleMania or on a special episode since January of 2016!
WHAT A WAY TO KICK OFF @WWE HOLIDAY WEEK…

IT'S @VinceMcMahon on Monday Night #RAW! pic.twitter.com/g9sIbNBosu

— WWE (@WWE) December 18, 2018
Well, well, well. We are set for one of the most intriguing episodes of Raw of 2018 tonight, all because of one particular fairly important man making an appearance.
That man, of course, is the big Vincent K. who is making a return to "shake things up", and speculation is rife and pertinent about what said shaking up will actually entail.
A few ideas are floating around in my head:
The debut of "the most sought after free agent in WWE history" (lol) Lars Sullivan
Not just Lars, but multiple NXT call-ups
A full on Superstar Shake-up/Draft
The announcement of a new Raw GM as Corbin lost to Strowman last night
The introduction of Women's Tag Team Championships
It could be one of, multiple, or none of those, which is what makes tonight genuinely interesting. I just severely hope we don't end up being let down, because that would be unpleasant for literally everyone, particularly Vince himself.
We've also got the fallout from last night's TLC pay-per-view to look forward to. As mentioned, Braun Strowman – with the help of a bunch of midcard Raw babyfaces, including Finn Bálor, of course – defeated Corbin last night. This has earned Strowman a Universal Title match at Royal Rumble and means Corbin is fired from his position as interim GM.
This means the red brand needs a new boss, and with the return of Kurt Angle to help Strowman last night, and Alexa Bliss currently overseeing the women's division, they have to be the leading candidates.
Dean Ambrose defeated Seth Rollins in a match that viewers and even Vince himself thought was an abysmal match to win the Intercontinental Title. Rollins is of course entitled to a rematch at some point, so we'll see how that plays out.
We've also got Finn Bálor vs. Dolph Ziggler, and presumably an explanation from Ronda Rousey for costing Becky Lynch and Charlotte Flair the SmackDown Women's Title in the main event.
What's the big V got planned for tonight? Let us know your thoughts and predictions by following us on Twitter, and joining our Discord server!