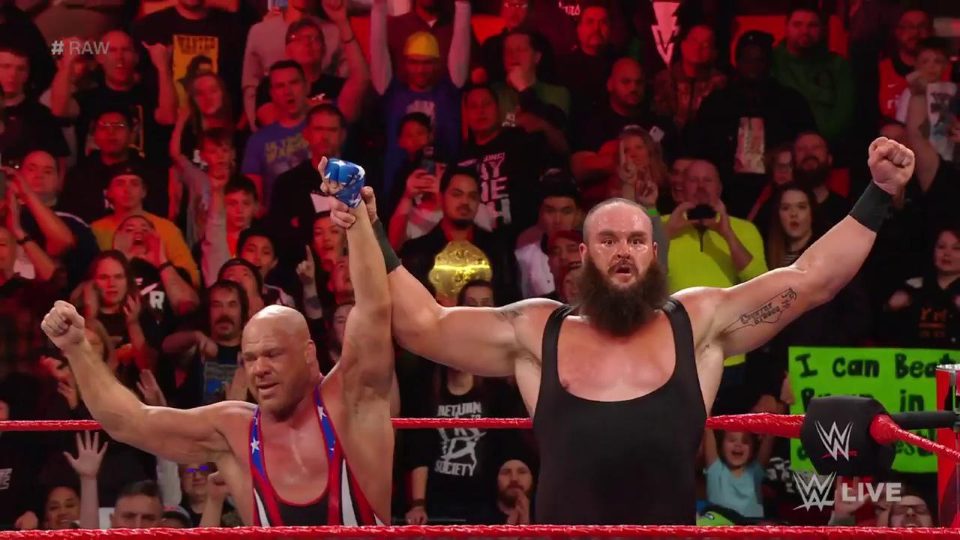 Baron Corbin & Drew McIntyre def. Kurt Angle & Braun Strowman via DQ – 04:00am
This started off pretty much as you'd imagine, with Drew and Corbin working over Angle and keeping him away from Strowman, with Braun getting increasingly angry on the outside.
Angle tried to fight back against Drew but was forced back into the corner and Corbin continued the offense. Angle goes for the Ankle Lock on Corbin but doesn't realize that Drew had tagged in, leading to the Scot landing an Angle Slam on the man himself.
Just you wait, @BaronCorbinWWE. Just you wait…#RAW @BraunStrowman pic.twitter.com/ShP8vEX9fB

— WWE Universe (@WWEUniverse) February 5, 2019
Much like he did in their one-on-one match a few weeks ago, Drew locks in the Ankle Lock on Angle, but the crowd rallies behind Kurt and he manages to roll out and get to Strowman.
Braun takes out both Drew and Corbin. he goes for a powerslam but McIntyre escapes and Corbin pulls the 'Monster Among Men' to the outside.
Baron uses the cornerposts and barricade to work over Braun, before tagging in Drew who lands a neckbreaker for a one-count. A double back suplex on Strowman then gets a nearfall.
Angle in the corner now trying to get the crowd behind Braun so he can tag in, and as Drew and Corbin go for a double suplex, Strowman counters it into one of his own on both men before tagging Angle.
Pure INTENSITY just took over this match!#RAW @RealKurtAngle pic.twitter.com/CNkpb3ga3G

— WWE (@WWE) February 5, 2019
Angle gives Germans to both opponents, launches McIntyre out the ring, and hits the Angle Slam on Corbin, but Drew breaks up the pin.
Strowman wasn't legal but attacked Corbin who was… and that led to a disqualification. I hate it when they do this. This happens in every WWE tag match but no-one bats an eyelid… all of a sudden it's a DQ.
Drew and Corbin go to slam Angle on the steps but Strowman saves him and chokeslams both opponents onto the steps instead.
That was a stupid ending to a pretty dire show.
Mojo Rawley Shouts At A Mirror Again – 03:44am
It's good to see they haven't forgotten about this yet:
.@MojoRawleyWWE isn't interested in the team. Not at all. #Raw pic.twitter.com/KnlWYpJ9O8

— WWE (@WWE) February 5, 2019
EC3 def. Dean Ambrose – 03:36am
EC3 starts the match hot taking it to Ambrose, but after having a bit of a pose, Dean chucks him into the ringpost and out of the ring.
Dean stomps EC3 in the corner and locks him in a headlock on the mat, before EC3 breaks out and hits a couple of forearms.
He hits an STO and goes for a splash in the corner but Ambrose dodges. It makes no real difference though as EC3 gets a rollup win.
It looked like EC3 may have injured his arm there. He was clutching it a bit and looked like he was struggling to move it. Hopefully he's alright.
Remember those initials.#RAW @therealec3 pic.twitter.com/NLPp4w7GFb

— WWE Universe (@WWEUniverse) February 5, 2019
A Moment of Bliss With EC3… and Nia Jax… and Dean Ambrose – 03:28am
Alexa Bliss is getting her flirt on with EC3 before asking him whether he's going to Raw or SmackDown, before everyone's favorite professional wrestlers Nia Jax and Tamina turn up.
Nia says some words about threatening to replace Becky at 'Mania or something. Ambrose then comes out and says that it's clear that Nia is sexually attracted to him, but she needs to contain herself. I thought he hated 'hokey s***'?
Dean then turns his attention to EC3 and asks him why he never talks. Instead of answering, the 'Top One Percent' simply punches Ambrose before sliding into the ring… aaaaand we go to commercials.
What an odd mishmash of a segment that was. Either way, back from commercials and we've got EC3 vs. Ambrose in EC3's main roster in-ring TV debut.
ENOUGH TALK from @TheDeanAmbrose!@therealec3 is heading to the ring on #RAW… pic.twitter.com/3JqRlojkiF

— WWE (@WWE) February 5, 2019
Paige Here – 03:16am
Paige comes onto the stage, and introduces us the the trailer for Fighting with my Family.
Finn Bálor def. Lio Rush – 03:15am
So despite it being announced that we'd be getting Bálor vs Lashley in an IC Title match, Lashley cuts a promo before saying that Bálor will actually face Rush tonight instead.
The 'All Mighty' then beats down on Finn before the match begins, allowing Lio an early advantage.
So it turns out @FinnBalor will be taking on @ItsLioRush, NOT @fightbobby, on #RAW tonight, but before we get started… pic.twitter.com/QFdTeNqbvs

— WWE Universe (@WWEUniverse) February 5, 2019
Rush gets a bit cocky and Finn manages to turn the tables, until Lashley gets involved and the ref throws him to ringside.
There was a bit there when Cole said that Finn slammed Rush to the mat (which he did) and then Graves told him he didn't need to tell us what's happening because this is TV not radio. If the commentators don't think they need to tell us what's going on, then what chance have we got?
We're into commercials here with Rush on top after a suicide dive and Lashley thrown out of ringside.
Back from the break, Rush is targeting the injured mid-section of Bálor, preventing a Coup de Grace in the process and hitting a hurricanrana from the middle rope for a nearfall.
YOU'RE OUTTA HERE, @fightbobby!@ItsLioRush will be forced to go it alone against @FinnBalor on #RAW… pic.twitter.com/QvkcHHCO1s

— WWE (@WWE) February 5, 2019
Finn counters an ab stretch from Lio into one of his own, before hitting a Slingblade, and attempting a 1916. Finn can't manage it with his injuries though and Rush goes for a roll-up and gets a nearfall.
Rush attempts the frog splash, Finn dodges, hits the shotgun dropkick in the corner, and lands the Coup de Grace for the win.
Lashley runs down the ramp immediately but Finn rolls out and makes his way back up onto the stage.
Elias def. Jeff Jarrett – 02:49am
Road Dogg and Jeff Jarrett do their classic 'getting the crowd hyped' shtick ahead of Jarrett's bout with Elias.
They start singing 'With my Baby Tonight' because of course they do. I will be honest, it is a good song. But it is not what I want from my wrestling show at 2:30 in the morning.
J-E-DOUBLE F J-A-DOUBLE R-E-DOUBLE T is ready for ACTION on #RAW! pic.twitter.com/UAWJCO7NnQ

— WWE Universe (@WWEUniverse) February 5, 2019
After they have their fun for a bit, Elias walks onto the stage, and says that like the two guys in the ring, their song has not aired well.
Elias says Road Dogg has come to ruin Raw's ratings tonight instead of SmackDown in what was the most amazing thing to happen on this show so far.
Elias says he's not going to do a song tonight because Portland doesn't deserve it. Jarrett gets out of the ring rather than waiting for Elias to enter the ring, and when the two do get in the ring the ref rings the bell.
Elias opens by playing the evasion game before we go to commercials.
When we get back, Elias is on the offensive on the outside before Jarrett turns the tables back in the squared circle with a hip toss and a clothesline.
#DoubleJ @RealJeffJarrett hasn't felt THIS in quite some time…#RAW @IAmEliasWWE pic.twitter.com/RpjNysNBrb

— WWE (@WWE) February 5, 2019
Elias mocks Road Dogg before scoring a nearfall and locking Jarrett in a headlock, following up with a suplex for another two-count.
Jarrett gets out of a headlock with a jawbreaker, before Elias attacks Road Dogg at ringside, allowing Jarrett to fight back with a clothesline and an enzuigiri.
It is short-lived though as Elias hits the Drift Away to pick up the win. Road Dogg ambushes Elias from behind, and Jarrett hits Elias with his guitar.
Apollo Crews Smiles And Rezar Doesn't – 02:33am
Apollo Crews is with Charly talking about Angle's announcement earlier when Drake Maverick and Rezar get up in his face.
Looks like we're due an Apollo Crews vs. Rezar match, presumably next week. Oh yay.
The Roadie is here…
UP NEXT: @WWE Hall of Famer @RealJeffJarrett competes on #RAW for the first time in nearly 20 YEARS when he takes on @IAmEliasWWE! pic.twitter.com/BYwnaltXu8

— WWE (@WWE) February 5, 2019
Sasha Banks & Bayley def. Alicia Fox & Nikki Cross – 02:26am
The match does indeed go ahead regardless of the beatdown, with Bayley starting things off and scoring a couple of nearfalls on Fox.
Fox manages to take the upper hand  after a bit and she & Cross keep Bayley in their corner for a while, isolating her from the 'Boss'.
Bayley tries to fight out, but her attempt is thwarted by Cross who hits a bulldog for a nearfall, and then a crossbody from the apron to the outside.
In case you couldn't tell, @NikkiCrossWWE loves to play…#RAW #WomensTag pic.twitter.com/80TPZYtTZJ

— WWE Universe (@WWEUniverse) February 5, 2019
She goes to run at Bayley against the post on the outside, but Sasha from behind pulls Bayley out the way and Nikki collides with the post.
Fox tags in, and Bayley gets the roll-up win. Banks was never legal in the match there. One would assume she's yet to be cleared.
Nonetheless, the Boss 'N' Hug Connection qualify for the Elimination Chamber match for the Women's Tag Titles.
Up next… brace yourselves. It's Jarrett vs. Elias.
Banks & Bayley Ambushed by Cross & Fox – 02:15am
Banks and Bayley are on the stage making their entrance before being ambushed by Cross & Fox, and a brawl breaks out at the top of the stage with Fox and Cross lobbing Bayley into the LED board.
The pair also beat down on Banks and it looks like this match won't be taking place…
We go to commercial so I guess we'll find out shortly!
WHAT JUST HAPPENED?!@AliciaFoxy & @NikkiCrossWWE just got a major head start on @SashaBanksWWE & @itsBayleyWWE! Are we even going to be able to have this qualifying match for the @WWE #WomensTagTitles Elimination Chamber Match? pic.twitter.com/GXtp24NxzU

— WWE (@WWE) February 5, 2019
Kurt Angle Addresses His Future, And You'll Never Guess What Happens Next (Except You Will) – 02:05am
Kurt Angle opens his segment with the three i's before running down his accolades throughout his WWE career… and that he found a son.
He says the three i's have turned into the three d's recently – 'doubt, defeat and depression'. He says his last few matches haven't gone his way, and there is one opponent he cannot beat – time.
Doubt, defeat, and depression…@RealKurtAngle's 3 I's have become the 3 D's. #RAW pic.twitter.com/sB523nbvYA

— WWE Universe (@WWEUniverse) February 5, 2019
AND THEN BARON CORBIN COMES OUT OH YAY HOW VERY UNPREDICTABLE. Sigh,
Corbin says Angle did this to himself, and that we should never have seen Angle again after his Hall of Fame induction, and calls him a broken old man.
Angle challenges Corbin to a brawl, but Drew McIntyre joins the 'Lone Wolf' on the stage. McIntyre says Angle has no quit and will keep showing up until someone does something very drastic, before going on to say that this is the last time we'll ever see Angle in a WWE ring.
Drew and Corbin then approach the ring, but Braun Strowman comes out to even the odds. He and McIntyre brawl on the outside, with Angle taking out Corbin in the ring.
Drew and Baron run out through the crowd, leaving Braun and Angle in the ring. When we come back from commercials, the match is confirmed for later tonight. Drew & Corbin vs. Braun & Angle.
I said this in the intro to this live report:
Why do I bother?
Zack Ryder Moans Because WWE Spelled His Name Wrong – 01:54am
A really weird segment after that tag match.
Ryder and Hawkins backstage essentially telling each other about how useless they both are, but vow that soon that will change. I wouldn't be so sure, lads.
UP NEXT: @RealKurtAngle is ready to address his future in @WWE on #RAW! pic.twitter.com/fkBqycTgF8

— WWE (@WWE) February 5, 2019
Up next, Kurt Angle 'addresses his WWE future'. If this has anything to do with Baron Corbin and/or Drew McIntyre I will explode.
The Revival def. Heavy Machinery, Lucha House Party, The B-Team – 01:50am
If you're new around here, let me tell you that Otis Dozovic is my favorite man in this entire world.
If you're not new around here, let me tell you that Otis Dozovic is my favorite man in this entire world.
He and Tucker took on LHP, the Revival and the B-Team in a number one contender's match with the winners earning a future match with Raw Tag Champs Gable and Roode.
? and ?️‍♀️ are the NAME of the GAME, and #HeavyMachinery @WWEDozovic & @TuckerKnightWWE are ready for a high-stakes #Fatal4Way match with an opportunity at the #RAW #TagTeamTitles up for grabs NEXT! pic.twitter.com/265P9FN8mF

— WWE (@WWE) February 5, 2019
Metalik and Axel start things off before Wilder and Lince tag in. Lince and Wilder exchange holds for a short while until Tucker tags in for Dorado.
Otis tags in next and he & Tucker double team Wilder for a pin attempt. Dozovic powerslams Wilder before tagging Knight back in.
The B-Team run in illegally and are both chucked out by Machinery, before the Lucha House Party hit synchronized springboard moonsaults to the outside.
Machinery have Dawson in the ring and launch him out the ring too as we go to commercials.
Back from commercials, Dash of the Revival working over LHP's Metalik. Revival double team Metalik as Dawson tags in. Lince tags in soon though and takes out both Revival members before getting a nearfall on Dawson.
O-T-I-S! ???#RAW @WWEDozovic pic.twitter.com/oMf0KldJiN

— WWE Universe (@WWEUniverse) February 5, 2019
Lince goes to run the ropes but Otis blind tags in, and hits the Caterpillar on Bo Dallas, who is now legal, but the tag is broken up by Axel.
Machinery go for the Compactor on Dallas next, but the Revival prevent it. Dawson tags himself in, takes out Otis, and goes for a rollup on Dallas, which is countered for a nearfall.
Wilder then tags in, and the Revival pick up the win and a future Raw Tag Title opportunity. This will be their seventh title match. Will they finally manage to pick up the belts?
Ronda Rousey def. Sarah Logan – 01:27am
Ronda goes for the armbar on Logan straight away, but the actual Viking manages to escape and her pals pull her out of the ring before going to commercials.
Logan's last singles match was slightly more recent than Morgan's, coming in July of last year.
When we come back from the break, Logan out-powers Rousey launching her into the corner, but a few blows from Rousey take her down and she locks in the armbar and makes Logan tap quickly once again.
Yes, this is making Rousey look good, but it's also made Logan and Morgan look like absolute morons.
Ronda stays in the ring, as the Riott Squad's leader Ruby Riott steps onto the apron, teases a match, but backs down and the trio head back up the ramp.
She wasn't about to step in the ring with @RondaRousey tonight, but @RubyRiottWWE has no doubt she CAN and WILL defeat her for the #RAW #WomensTitle when the time comes! pic.twitter.com/5Tf2wtiV56

— WWE (@WWE) February 5, 2019
Dasha Fuentes is backstage and grabs the Riott Squad as they walk back through the curtain, asking why Ruby backed down. Ruby says that her friends are hurt and she needs to look after them. Aw.
Ronda Rousey def. Liv Morgan – 01:20am
Morgan immediately jumps out the ring as soon as the bell rings, and does so multiple times frustrating Rousey in the process.
Fun fact, this was Liv's first singles match since July, and she's actually never won one on the main roster yet.
Sarah Logan gets up on the apron to distract Rousey, but it doesn't pay off, and Ronda gives Morgan a few blows before making her tap out to the armbar in short order.
Ronda then challenges Sarah Logan to a match, and that's happening right now.
Apparently beating @YaOnlyLivvOnce wasn't enough…@RondaRousey is now squaring off with The #RiottSquad's @sarahloganwwe LIVE on #RAW! pic.twitter.com/PJHSfBBWwN

— WWE (@WWE) February 5, 2019
Stephanie McMahon Suspends Becky Lynch – 01:15am
Raw kicks off with the show's Commissioner Stephanie McMahon welcoming us to Raw, before proceeding to introduce us to Ronda Rousey's WrestleMania challenge, the 'Man', Becky Lynch.
Becky in true 'Man' fashion actually cut Steph off when she was in the middle of introducing her, which was a nice little bonus.
A replay is shown of last week, with Ronda Rousey being drowned in boos as her and Lynch went face-to-face after Lynch's announcement.
Becky says she is going to the main event of WrestleMania to slap the head off the 'Baddest Women on the Planet', to which Steph says she'd like to see that more than anyone.
Not going to let #TheMan compete without being medically cleared?@BeckyLynchWWE doesn't like the sound of that. #RAW pic.twitter.com/CsgyktMvNC

— WWE Universe (@WWEUniverse) February 5, 2019
Steph points out that Lynch is wearing a knee brace and shows images of when the 'injury' was suffered in the Royal Rumble match, before Becky of course went on to win it.
McMahon says that for the past eight days Lynch has been refusing medical attention, and says that she cannot let Becky physically compete if she doesn't get cleared by medical staff.
Becky says that she's not the chosen one, and earned her way to this spot, and Steph is just a daddy's girl who never had to fight for anything.
McMahon ends up pretty much shouting at Becky and calling her "thick-headed"… which just isn't very nice is it. She then adds that Becky will be suspended if she doesn't refuse medical examination.
The Man is on a rampage! After being suspended by @StephMcMahon for refusing to see a doctor, @BeckyLynchWWE lays waste to everyone in the ring on #Raw! pic.twitter.com/JqcgzeOokr

— WWE (@WWE) February 5, 2019
Becky still refuses, and Steph suspends Becky until she gets herself cleared. The 'Man' tries to lock Steph in the Dis-Arm-Her but her leg gives out, and Jamie Noble's pal that isn't Joey Mercury runs out to prevent Lynch from furthering the assault and Steph escapes.
This just feels like they're trying to force a babyface underdog story instead of just letting it happen naturally.
Up next, Ronda Rousey vs Liv Morgan. I wonder who's gonna win this one?
After commercials, Rousey and Lynch have a tense exchange of words ahead of Rousey's match against Morgan, with the Raw Women's Champion claiming that Becky has ruined their match.
Preview
So it's 2019 and Jeff Jarrett is wrestling on Raw tonight. I see WWE's 'New Era' has already peaked.
Nonetheless, it looks like we could be in for quite a packed show overall. Here's a quick rundown of what's set to go down.
Becky Lynch declared last week that she is cashing in her Royal Rumble win by opting to challenge Ronda Rousey for the Raw Women's Championship at WrestleMania. Tonight Stephanie McMahon (groan) has "invited" (groan) Lynch to Raw, presumably to emasculate her and say something along the lines of "this is the women's evolution stop calling yourself 'the Man'" (groan).
Also going down on the show tonight, Finn Bálor will challenge for Bobby Lashley's IC Title after the 'All Mighty' and Lio Rush interrupted and assaulted the Irishman last week when he was addressing his Rumble loss to Brock Lesnar.
Another major development tonight is Kurt Angle, who is set to address his WWE future. What this means we'll have to find out, but for the love of God I hope it is not just to set up an Angle & Strowman vs. Corbin & McIntyre match. I bet it is.
The final Raw team to enter the Women's Tag Title Elimination Chamber match will be decided tonight, as Sasha Banks & Bayley take on the unorthodox pairing of Nikki Cross & Alicia Fox. Cross & Fox could be really entertaining here.
Another slightly less pertinent feature of last week's show was Mojo Rawley shouting into a mirror about being a disappointment and that soon he'll show us who he really is. I hope WWE follows through with this, because I genuinely really like Rawley and think there's bundles of potential there.