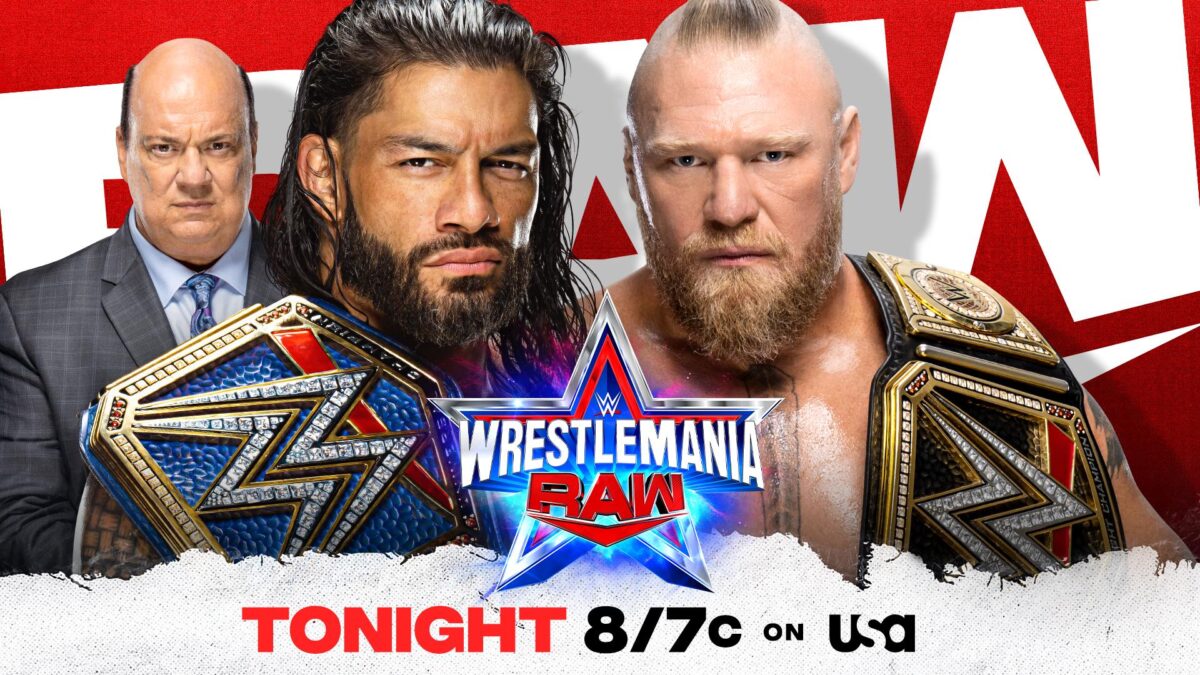 It's WrestleMania Raw! Not to be confused with Raw After WrestleMania, this is the last Raw BEFORE WrestleMania! WrestleMania, WrestleMania, WrestleMania…

Scheduled for the show per WWE.com:

Appearances from Brock Lesnar and Roman Reigns
RK-Bro vs. Usos
Eight Woman Tag Match with Carmella & Queen Zelina with Natalya & Shayna Baszler taking on Sasha Banks, Naomi, Liv Morgan and Rhea Ripley
Alpha Academy vs. Street Profits
Rey Mysterio vs. The Miz

… and probably more, it's a three-hour show after all! Join us back here at 5PM PST/ 8PM EST / 1AM BST

To make sure you stay updated with all the latest wrestling news, add WrestleTalk.com to your Google Discover feed and follow us on Twitter!
---
RK-Bro vs. Usos
Rick Boogs and Shinsuke Nakamura come out for a full entrance first just to sit at ringside, not even on commentary! This match was as fun as you would imagine with both teams getting in some big moves but overall choas reigns by the end of the match where the Street Profits run in and attack RK-Bro, Rick Boogs and Shinsuke Nakamura start up with the Usos and brawl up the ramp and off camera. It looks like a ref tells Randy as they've already finished celebrating to stretch for time so Street Profits get rolled back in for another round of RKOs to end the show.
AND ANOTHER ONE.@SuperKingofBros#WrestleMania #WWERaw pic.twitter.com/VbeoP0omZE

— WWE (@WWE) March 29, 2022
---
Drew McIntyre vs. Happy Corbin and Madcap Moss
A 2 on 1 handicap match that I am just now realizing is an entirely SmackDown matchup why is this happening? Essentially, Corbin abandons Moss, McIntyre lands a Claymore on Madcap Moss and gets the pinfall victory but then Happy Corbin is back! Out to assault Drew McIntyre as he beats down Drew, steals the sword Angela, yes – again, and runs away with Moss.
⚔️

Happy @BaronCorbinWWE walks away with Angela on #WrestleMania #WWERaw! ? pic.twitter.com/96eKV5ZyLP

— WWE (@WWE) March 29, 2022
---
Bianca Belair In-Ring with Becky Lynch
Bianca cuts a promo, she's interesting on the mic but less so alone than when she has someone to pop off of which seems to be the case for most people so maybe stop booking everyone to just have monologues? Becky comes out, after a physical exchange Becky has scissors and tells Bianca she said she was coming for her hair! Becky doesn't get the chance however as Bianca gets the upper hand and hits Becky with not one but two K.O.D's and then grabs the scissors and gives Becky a haircut!
The crowd chants "You deserve it!" at her to end the segment in a very nice extra touch in the character arc.
#WWERaw Women's Champion @BeckyLynchWWE just got a haircut courtesy of @BiancaBelairWWE!!! #WrestleMania pic.twitter.com/Nd7H5rxEeP

— WWE (@WWE) March 29, 2022
---
Ricochet vs. Austin Theory
Oddly paced, this match could have been really entertaining but it was fairly short and relatively one sided as Ricochet, the Intercontinental Champion who is here on Raw from SmackDown in theory just for this match, Ricochet lands some kicks, a Shooting Star Press and a near fall but after Theory was able to take control, he wrapped it up with The ATL and a fast win.
WOAH! @austintheory1 just made quick work of Intercontinental Champion @KingRicochet on #WWERaw!

What say you, @PatMcAfeeShow? ?
Ready for #WrestleMania Sunday?! pic.twitter.com/EDDNW1UotN

— WWE (@WWE) March 29, 2022
---
Kevin Owens In-Ring
Kevin Owens breaking some news? saying that he and Stone Cold are going to be main eventing WrestleMania Saturday. He says Stone Cold is going to pass the torch to him as the new Stone Cold and the master of the Stunner. That's the bottom line because K.O. said so!
Oh a recap package of something that happened three segments ago, Omos bumped for Bobby Lashley. The match is official for WrestleMania Sunday.
"@steveaustinBSR is NOT coming to the #KOShow to pick a fight with me because he knows what would happen if he picked a fight with @FightOwensFight!"#WrestleMania #WWERaw pic.twitter.com/uyEI4QUkgM

— WWE (@WWE) March 29, 2022
---
Sasha Banks, Naomi, Liv Morgan and Rhea Ripley vs. Carmella, Queen Zelina, Natalya & Shayna Baszler
Before entrances, backstage the heels converse. I don't know if I've heard Shayna Baszler's voice in… a very long time. She brands her duo, the Queen of Spades and the Queen of Hearts (I mean, Harts right?) which is kinda fun. Entrances start and the faces I guess, all come out to Sasha Banks' music. No entrances for the heels as we come back from the break to kick off the match. Corey Graves is too annoying, I think it's obnoxious when their schtick takes away from the match. After Carmella abandoned the match to snuggle with Corey, leaves Zelina with a very momentary upper hand on Sasha Banks before Sasha reverses, tags in Naomi then to Ripley who hits the Riptide on Zelina for the pinfall victory.
There's a throw to the commercial talking about Stone Cold Steve Austin but the most notable part is the music they are using is definitely 2018 WWE Hall of Fame Inductee, Kid Rock with his 1998 hit, Bawitdaba. 
An amazing win for the team of @NaomiWWE, @SashaBanksWWE, @YaOnlyLivvOnce & @RheaRipley_WWE!

And a boo-boo face for @CarmellaWWE! ?@ZelinaVegaWWE @WWEGraves #WrestleMania #WWERaw pic.twitter.com/dQbCGYsukw

— WWE (@WWE) March 29, 2022
---
Pittsburgh! Acknowledge him!
Roman Reigns is here with Paul Heyman and the Usos in tow, wearing a stylish red tracksuit today might I add to celebrate his return to Raw. The crowd is hitting him with the 'WHAT?' and he is unamused. He tells them that if they keep whatting him, he's going to smash all their faces just like he'd smash Steve Austin's. They chant Suplex City!! at him and Roman goes back to talking about Brock, including at WrestleMania 34 when Lesnar busted his head open to the point his children didn't recognize him, his wife didn't want him in this business anymore, his Father doubted him! This is personal for him not whatever stupid carnival, wedding whatever Brock is out here talking about. On Sunday, he's going to make Brock understand what it means for it to be personal because it's always been personal to him! Roman is delightful on the mic.
The Tribal Chief acknowledges that he has done EVERYTHING … except beat @BrockLesnar at #WrestleMania!

Can @WWERomanReigns make the dream a reality on @WrestleMania Sunday?@HeymanHustle @WWEUsos #WWERaw pic.twitter.com/N2YTShEQ8l

— WWE (@WWE) March 29, 2022
---
24/7 shenanigans
Reggie gets down on one knee and gives Dana Brooke a ring for her left hand but doesn't actually ASK her to marry him… but she says yes! Just before Tamina runs in, knocks her down, and tries to get the pin but Reggie interrupts and they run away with the 24/7 title.
Akira Tozawa is wearing a suit and Tamina is like uhh what are you wearing? Akira says he heard that Reggie was planning on proposing to Dana so… he gets down on one knee, "Tamina, you are the earth, wind and fire, will you do me the honor of…" and Tamina grabs him by the collar, lifts him up and all mean says "what do you think!?" then yes! The ring doesn't slide down so he licks it and then it does. Yikes.
The camera pans over and R-Truth is hiding with a ref and says joyfully, "that gives me an idea… by the power vested in meeeee" ? Someone out there probably really loves the 24/7 Championship segments and I love this for them.
What is @RonKillings up to?! ?#WrestleMania #WWERaw pic.twitter.com/NT1GcUueB9

— WWE (@WWE) March 29, 2022
---
Omos vs. Viking Raiders
"Omos made this look disturbingly easy." – Byron Saxton
Omos squashes the Viking Raiders. Kevin Patrick is in the ring, reminds him he's undefeated and in fact, no one has even knocked him off his feet and asks him if any WWE superstar could threaten him… and is interrupted by Bobby Lashley's music and entrance hitting. In the ring, Bobby motions towards the WrestleMania sign until Omos shoves him easily, Lashley starts selling like crazy as he get tossed around the ring and tries and fails x2 to knock into Omos until finally after a whip off the ropes, he's able to knock him down. Commentary would then go on to incessantly talk about how Omos got knocked off his feet. This storyline is really shoddily put together.
In a commercial for NXT, Bron Breakker says re: Dolph Ziggler, "I'm gonna smash his ass."
????????@fightbobby just knocked @TheGiantOmos off his feet on #WrestleMania #WWERaw! pic.twitter.com/4ivApTggXX

— WWE (@WWE) March 29, 2022
---
Seth Rollins Recap
Why did they Tweet this entire video several hours before the show? No clue! Red Herring because Cody is really about to pop up!?! No probably not. Nevertheless, the most interesting thing about this segment was when the commentary was throwing back from the clip, Graves said that it didn't matter who Mr. McMahon picked, he could pluck anyone out of obscurity, brush the mothballs off of them?
---
The Miz vs. Rey Mysterio
The Miz introduces Logan Paul as "Lucha Logan" and he's wearing Rey Mysterio's mask from last week with Miz saying he wants a mask of his own so he will be taking whatever mask Rey has on tonight. Before the match starts, Dom attacks Miz and Rey stalks Logan outside the ring who slides in the ring and Dominik attempts to attack but then is ejected by the referee!
Michael Cole says the reason Dom doesn't wear a mask is that Rey says he needs to earn it and hasn't yet. After the commercial break, Rey wraps up the match and gets the pinfall victory over the Miz. Dominik runs back out and the Mysterios have Logan Paul in the hopes for the double 619 but Miz makes the save… but not before Rey snatches back his mask! Unfortunately for Miz, when the Mysterios have him lined up Logan does NOT return the favor, rather standing by and watching as they hit the stereo move and then lay him out for a big frog splash from Dom and Rey, including a shimmy from the latter.
.@reymysterio is #WrestleMania ready!#WWERaw pic.twitter.com/pIifWUMMZ4

— WWE (@WWE) March 29, 2022
There's a Snickers WrestleMania moment video package reminding us that when John Cena won big in 2005, people were totally happy for him about it.
---
Brock Lesnar Adorably Kicks Off The Show
"What I don't suck at is handing out country ass kickings." – Brock Lesnar
Brock and his cowboy hat are here, they're on the mic and they're shooting from the hip! He started with a little bit of a fake southern accent? The crowd is shouting him down with the 'WHAT?' chants which he encourages for the most part. They're going wedding crashing! Brock says his title is going to marry Roman's title and they're going to have a little baby, the unified title – and Brock gets full custody. He literally said that. Who are the writers trying to tell Brock Lesnar all these random things to say, I mean see the tweet below… it was a lot but he can goof up all day, no one cared. It was Brock Lesnar, the crowd went bananas.
#SuplexCity ✔️
Beast of Broadway ✔️
Carnival ✔️
Go for a ride on the F-5 ✔️#WWEChampion @BrockLesnar has big plans for @WWERomanReigns' travel schedule for #WrestleMania Sunday!#WWERaw pic.twitter.com/NwPdyp3sE4

— WWE (@WWE) March 29, 2022
---
ICYMI: Seth Rollins is going to WRESTLEMANIA!
During his meeting with @VinceMcMahon, @WWERollins learns that he's going to #WrestleMania 38!!! pic.twitter.com/B4IiopCGmM

— WWE (@WWE) March 28, 2022