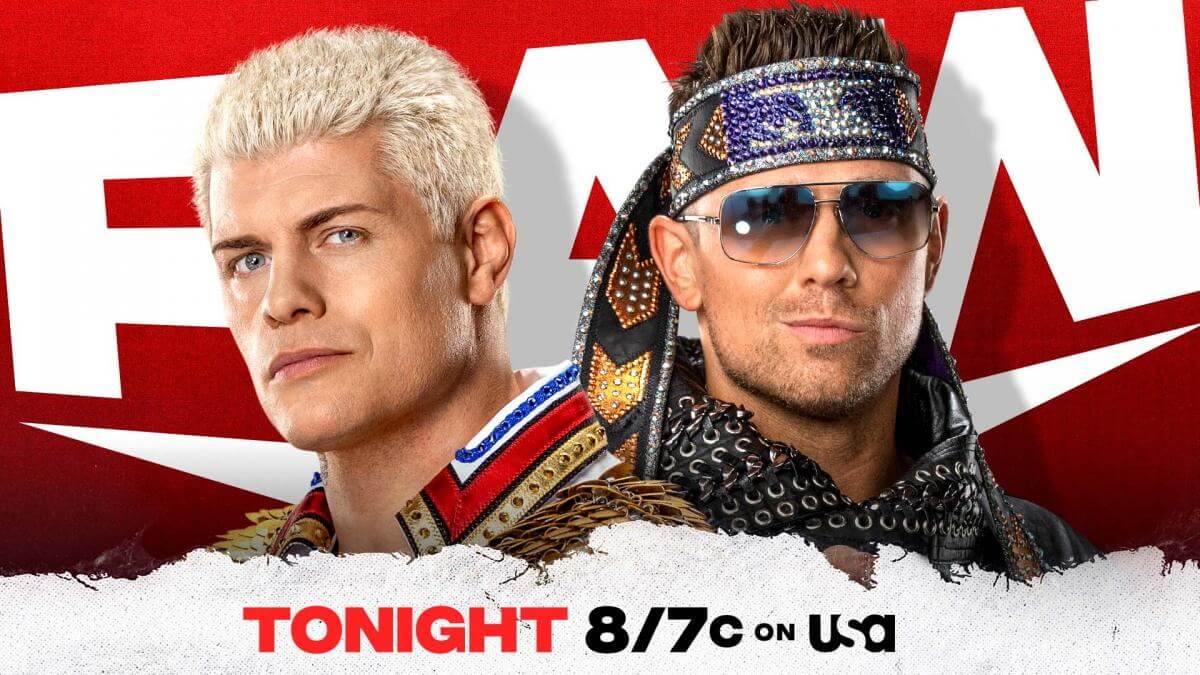 One week removed from one of the biggest news stories of the year so far, it's time for WWE Raw again on the road to Hell in a Cell.
Sasha Banks and Naomi took a stand last week in their disagreement with WWE's plans and legitimately walked out of the show, and if you were expecting to see them back this week, well, don't.
However, here's what you CAN expect, because WWE has announced the following for tonight:
Bobby Lashley has an 'All Mighty challenge' for Omos
Cody Rhodes vs. The Miz
Becky Lynch addresses her loss to Asuka last week
That sounds like a pretty unassuming line-up, but so did last week, and that went well.
Whatever happens tonight, be sure to follow along with our live coverage below for all the results, updates and shenanigans, because as we learned seven days ago, anything can happen in the World Wrestling Federation.
Becky Lynch vs. Asuka
A great match between Becky and Asuka, they remain on fire as ever and it actually amped up the idea that the HIAC bout could get even better versus just feeling like a random extra was tossed in at the last minute!
In a fun spot that saw Becky sitting on Bianca's lap who was at ringside (although, unlike Kevin Owens, wasn't shouting loudly enough to be on commentary whilst not on commentary) Asuka intended to plant a huge kick on Becky, instead laid out Bianca who remained laid out until the end of the show.
Becky comes out on top, winning the match and being added to the match at HIAC making it a triple threat for the WWE Raw Women's Championship, Asuka vs. Becky Lynch vs. champ Bianca Belair.
UH. OH.@WWEAsuka @BiancaBelairWWE #WWERaw pic.twitter.com/NfGbqGSu5e

— WWE (@WWE) May 24, 2022
Bobby Lashley vs. MVP
Ezekiel vs. Chad Gable
Owens at ringside, not even on commentary but shouting loudly enough that he is essentially still on commentary. to the point, you can hear his loud rant about STEAK SAUCE! I hope K.O. and Alpha Academy continue, they're so funny together.
Otis gets ejected from ringside but as the ref turns around, Owens is also in the ring and the ref throws him out too! He starts yelling at Otis again on the outside and they are nary away from ringside before Ezekiel gets the pin on Chad Gable for the victory and books it out of the ring and into the crowd!
K.O. grabs a mic and challenges Ezekiel to Hell In A Cell! Ezekiel screams yes!
.@IAmNotEliasWWE is making his presence known against @WWEGable on #WWERaw! pic.twitter.com/4HLe4e6vl6

— WWE (@WWE) May 24, 2022
Cody Rhodes vs. The Miz
This is an enjoyable match that seemed poised to end in shenanigans as we get kicked off before a commercial break, and come back to continued fast-paced action.
You can't say a Cody Cutter isn't fun to see, it just is! This is charming character work for Cody in that, boy is the Miz easy to hate and Cody is so over with the crowd is makes everything he does even more electic. This will add to the sense of travesty when we see Cody on the top rope, poised to do something cool when he is knocked off by Seth freakin' Rollins (who fashion update: also has on matching orange shoes) who throws him off the top and then an attack ensues as Miz and Rollins join forces in the beatdown, ending on them tossing Rhodes with fervor into the ring steps.
Rollins is leaving ringside until he goes up to the little kid that Cody had given his leather belt to, snatches it out of his hands and goes back to the commentary desk where Cody is and whips him with it big time while the crowd goes nuts, they're chanting Cody, he is HOBBLING back over to this child that Rollins stole from and gives it back to him, oh boy. Adrenaline, in my soul. Something, something, Cody Rhodes amirite?!
.@WWERollins is unhinged! ? #WWERaw@CodyRhodes pic.twitter.com/vB7mcdTf9D

— WWE (@WWE) May 24, 2022
Alexa Bliss vs. Nikki A.S.H.
Backstage with Alexa Bliss, she is super happy and says she's glad she's able to show more of her personality – reflects that she used to tag with Nikki A.S.H. but now she carries around a Lilly doll and Nikki dresses up like a superhero "well it sounds weird when you say it out loud." Yes sis, yes it does. They were tag team champions at WrestleMania 36!
Fascinating commentary with Graves saying first that this was an opportunity for both of them to raise their profile in the women's division then secondly that Bliss was showing no urgency like she was in cruise control right before she hits a Twisted Bliss to pin Nikki A.S.H. for the victory. Bliss is very smiley and takes Lilly and leaves.
Backstage, Bert is with Seth Rollins who is wearing a black with blue floral suit and orange dress shirt with matching orange tie for those of you who needed the fashion report – Rollins says it makes him physically ill to hear the name Cody. Did you know there's even a countdown clock for Cody Rhodes? WHERE DOES IT STOP!?!
Well not here because here's Cody Rhodes' entrance which honestly is perfect placement because the crowd is super into it so they'll have a nice time while we watch more adverts!
Former tag team partners @AlexaBliss_WWE and @WWENikkiASH go toe-to-toe on #WWERaw! pic.twitter.com/3Io4FyGK3T

— WWE (@WWE) May 24, 2022