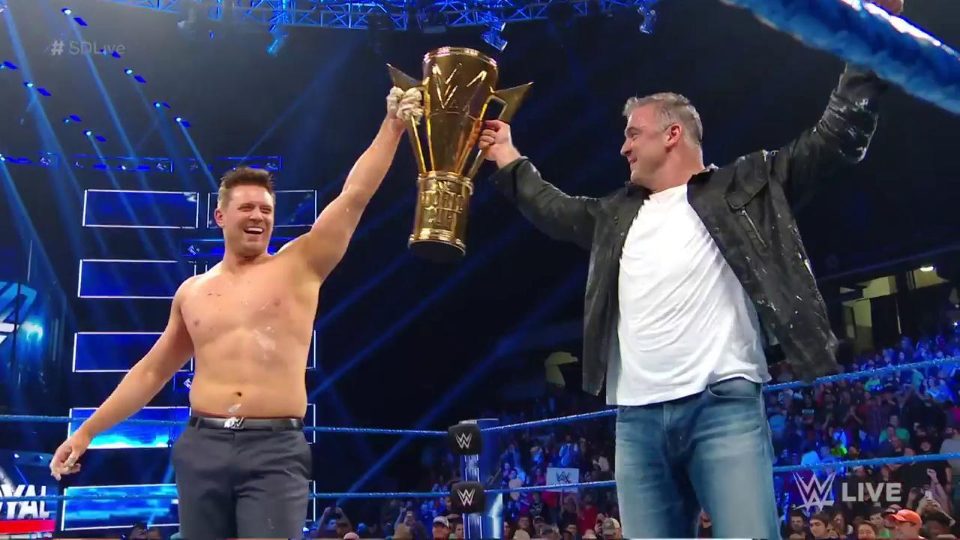 03:01am
Sheamus vs. Miz in a suit. The epitome of Brexit.
Miz picks up the win after Shane throws Cesaro through a table with a cake on to distract the 'Celtic Warrior'.
And then Miz and Shane sealed it with a "Coast-to-Cake" on Sheamus and lifted the World Cup trophy together.
This was an excellent show… and then this final half hour happened. It's just a bit silly for me. Doesn't change the fact that we've had a very good week of TV as far as Raw and SmackDown go, though.
COAST-TO-COAST! CAKE-TO-FACE!

What a birthday celebration for @ShaneMcMahon! #SDLive @WWESheamus @mikethemiz pic.twitter.com/z4xeyLb778

— WWE (@WWE) January 16, 2019
02:50am
Cringe time.
Miz wishes Shane a happy birthday and has bought him a cake that has a picture of them holding the World Cup trophy.
He's also bought him a pair of Jordan 33s to enhance Shane's performance at the Rumble.
It appears Miz has also paid Kevin Dunn to make a little vignette celebrating Shane's career, which ended with highlights of the last of few weeks of the birth of their tag team.
"I am so very, very proud to walk into the #RoyalRumble with YOU as my partner!" – @shanemcmahon to @mikethemiz #SDLive #HappyBirthdayShane pic.twitter.com/7NUnbsWOrQ

— WWE (@WWE) January 16, 2019
Shane tells Miz that he's happy to be walking into the Rumble this Sunday (the Rumble is not this Sunday) with him by his side.
As Miz is serenading Shane with a "happy birthday", the Bar come out and poop on this "party".
Shane gets into a bit and suggests that Sheamus should face the Miz tonight. Miz doesn't seem happy about this, but Shane convinces him to do it… as a birthday present.
.@ShaneMcMahon WANTS IT, so it's GONNA happen!@mikethemiz vs. @WWESheamus RIGHT NOW on #SDLive! @WWECesaro pic.twitter.com/rIOqwWTpcI

— WWE (@WWE) January 16, 2019
02:34am
Another new match has just been added to the Royal Rumble, as Rusev defends the US Title against Shinsuke Nakamura. That show is literally going to be about eight hours long.
ALSO: @RusevBUL will defend his #USTitle against @ShinsukeN at #RoyalRumble! #SDLive pic.twitter.com/txkMAGcabK

— WWE (@WWE) January 16, 2019
Up next, The Miz throws Shane McMahon a birthday party. Oh boy. Strap yourselves in for this one, folks!
02:27am
Jimmy decides to enter the hotel room, and of course Mandy is there doing her thing.
This is like Scarlett Bordeaux's schtick on Impact just about 10x worse because it's been written by a bunch of middle-aged men… and Vince.
Jimmy refuses to do anything, but a photographer walks in and snaps them together. Mandy reveals she never actually wanted Jimmy, she just wanted to annoy Naomi.
It's a good job she didn't say as much on worldwide TV. Oh.
Right hold on a minute. I think that was Jey because he walked off saying "Hmmm… my wife?" I don't know though, because I'm not a magician and they are very similar.
Nonetheless, Naomi comes in and they have a little scuffle. She was dressed like a highlighter and that's all I could really focus on. Largely because it was literally burning my eyes.
Lovin' the Kill Bill vibes, @NaomiWWE.

She's about to snatch @WWE_MandyRose BALD! #SDLive pic.twitter.com/zx2bG4DALK

— WWE Universe (@WWEUniverse) January 16, 2019
02:23am
Jimmy Uso is shown in the hotel walking up to what we can assume is Mandy's room with the key in his hand.
If I was Naomi, I'd be fairly annoyed at this.
If I was Jimmy, I'd have given the key to Otis, to be honest.
https://www.instagram.com/p/BpdzsXMnSo-/
02:19am
The crowd woke up after a nearfall from an Andrade moonsault, and we got yet another Canadian destroyer from Rey for another nearfall.
This is fantastic stuff. Truly fantastic.
https://twitter.com/totaldivaseps/status/1085360581295648774
Andrade catches a 619 but Rey manages to shift it into a Crucifix, leading to yet another two-count.
Rey manages to land a 619 this time, but Vega distracts Rey and the ref allowing Andrade to recover, and he hits the Hammerlock DDT off the top rope like he did McIntyre to win the NXT Championship in November '17.
That was a brilliant match. And Andrade won. Boss all round.
02:13am
This has been an excellent match.
We've not really hit a rapid pace yet but that's absolutely sound as we're simmering and bubbling away and it'll inevitably explode fairly soon.
Unfortunately, despite the phenomenal wrestling going on, half the crowd appears to be asleep. Luckily, I watch 205 Live every week so I'm used to it.
? WHO'S THAT JUMPIN' OUT THE SKY? ?#SDLive @reymysterio @AndradeCienWWE pic.twitter.com/cWreJpM5sY

— WWE (@WWE) January 16, 2019
01:56am
Up next, we've got Rey Mysterio vs. Andrade.
Yes, you read that right, just Andrade. WWE – forever creating problems that don't exist.
Oh look everyone, it's Nikki Cross, and she's a massive weirdo… just like all the other NXT callups.
Come play with @NikkiCrossWWE, @reymysterio! #SDLive

Nikki wants to play… play with Nikki… play with Nikki… hehehehehehehe pic.twitter.com/zjWW4XdxJm

— WWE (@WWE) January 16, 2019
01:47am
Joe assaults Ali while he's still making his entrance and assaults him at ringside, lobbing him into the ringpost and unloading on him with a barrage of strikes.
Then he screams "DO YOU UNDERSTAND?!" in his face. Understand what exactly? I am not sure, but that's an awesome match that we almost got to see.
Joe looks like he's about to leave and then comes back to chuck Ali into the barricade one final time.
It seems the main narrative they're pushing through this is that Joe is a threat in the Rumble.
Looks like @SamoaJoe just sent a message of his own to @MustafaAliWWE… #SDLive pic.twitter.com/f5Jr8Mjujf

— WWE (@WWE) January 16, 2019
01:37am
Styles is at the concession stand like Bryan was last week, and basically contradicts what the WWE Champion said last week by saying they should do whatever they want, and eat all the hot dogs they like.
What a lovely man.
He throws some t-shirts into the crowd of fans, but disguised among them is… Daniel Bryan! The two brawl and AJ puts Bryan through a table before being restrained by security.
??HOT DOG!!! ??

A FIGHT has broken out in the concourse between @AJStylesOrg and The New @WWEDanielBryan! #SDLive pic.twitter.com/AYYQ7c7Nr8

— WWE (@WWE) January 16, 2019
We then cut to a photo shoot with the Usos, when Jimmy receives a gift. Of course, it's not from Naomi, it's from Mandy, who's gifted him a key to a hotel room. Jey asks Jimmy what he's going to do, and he replies "I don't know". Well I'm not being funny but that's the response I'd be looking for if I was Naomi.
Samoa Joe – who just walked past EC3 backstage – is taking on Mustafa Ali next.
01:25am
Becky picks up the win with the Dis-Arm-Her which prompts Asuka to start shouting relentlessly in Japanese.
She chases the IIconics down the ramp and pulls Billie Kay into the ring to set up another match, which Asuka wins in about a minute.
Becky gets in the ring to confront Asuka, but the number one contender for the WWE Title AJ Styles makes his way down the ramp. He hops into the crowd and walks up the stairs in the stands.
And again… we go to commercial break.
? #SDLive @AJStylesOrg @WWEAsuka pic.twitter.com/TFnq0bl5Ke

— WWE (@WWE) January 16, 2019
01:21am
It's Peyton Royce taking on Becky, and in the first couple of minutes we get a shot of Lacey Evans watching on TV backstage.
Because… 'The Man' vs. 'The Lady'! Oh, the creativity.
Anyway, we're into the first commercial break of this one. In my opinion it's gone a bit too long already and Lynch should have won it quick.
Looks like #TheMan @BeckyLynchWWE got The Lady @LaceyEvansWWE's attention… #SDLive pic.twitter.com/6MtebE9QIr

— WWE (@WWE) January 16, 2019
01:12am
Becky says that it's a bit rich that Asuka is wondering if Becky is ready for her, considering Asuka couldn't beat Charlotte… who Becky beat numerous times.
Asuka came out too but was soon cut off by the IIconics. They say they're going to become the first WWE Women's Tag Team Champions and make WrestleMania iconic.
Becky challenges one of the IIconics to a match. We've gone to commerical with them not having made a decision but one would assume when we come back Becky will indeed be taking on either Royce or Kay.
"After #RoyalRumble, you will NOT be in @MsCharlotteWWE's shadow, you will be in MINE!" – #SDLive #WomensChampion @WWEAsuka to @BeckyLynchWWE pic.twitter.com/PK4sbOEJMm

— WWE (@WWE) January 16, 2019
01:04am
SmackDown Live opens with 'The Man' Becky Lynch making her way to the ring to discuss her match at the Royal Rumble against Asuka for the SmackDown Women's Title.
Side note, They've changed Andrade 'Cien' Almas' name to just "Andrade". Oh.
Look upon your fans, @BeckyLynchWWE.#TheMan has ARRIVED and is kicking off #SDLive! pic.twitter.com/xoem5tCy0S

— WWE (@WWE) January 16, 2019
Hello and welcome in to WrestleTalk.com's live coverage of tonight's SmackDown Live!
Announced for the show are Carmella vs. Sonya Deville, Andrade Almas vs. Rey Mysterio, and… The Miz throwing Shane McMahon 'The Best Birthday Bash In The World'. Yay!
Make sure you follow and refresh this page for live updates and thoughts throughout SmackDown Live starting at 8pm ET/1am GMT, and join the discussion during the show in our Discord server to share your views.