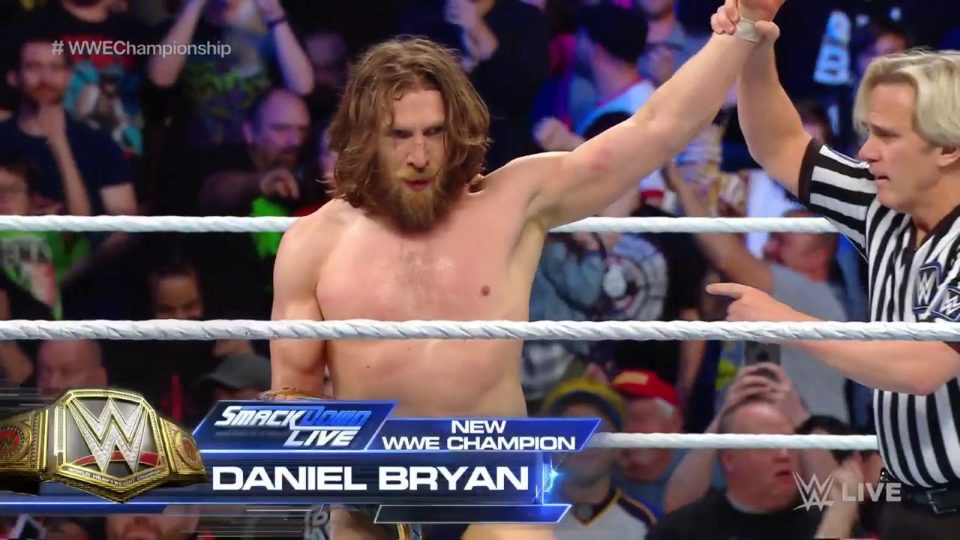 03:02am
WE HAVE A NEW WWE CHAMPION!
Bryan counters Springboard 450 into a Yes! Lock, Styles gets to the ropes. Bryan sets up for the knee, but Styles dodges and locks in a Calf Crusher. Another counter from Bryan transitions into a Yes! Lock again before the two break up.
AJ looks for the Phenomenal Forearm, but hits referee Charles Robinson. With the ref down, Bryan hits AJ with a low blow and follows up with the Running Knee to become the new WWE Champion!
Bryan continues to beat down on a helpless Styles, before smiling with the title and the show goes off the air.
Wowzers.
That show was insane. It was brilliant.
We have a NEWWWWWWW #WWEChampion, and his name is @WWEDanielBryan! #SDLive pic.twitter.com/EeVjI748Y8

— WWE (@WWE) November 14, 2018
02:32am
Up next, it's the main event – this show has absolutely flown by!
AJ Styles defends his WWE Championship against Daniel Bryan.
UP NEXT: Before he battles @BrockLesnar at #SurvivorSeries, @AJStylesOrg will put his #WWETitle on the line against @WWEDanielBryan on #SDLive! pic.twitter.com/0NFlpJtnpw

— WWE (@WWE) November 14, 2018
02:29am
Big Show and the Bar pick up the win after another fun little match, and then the Usos introduce us to the rest of the SmackDown tag teams.
Even Primo looks confused he's on TV.
#TeamRed, WELCOME to the SMACKDOWN PENITENTIARY! #SDLive #SurvivorSeries @WWEUsos pic.twitter.com/uIja98xR5h

— WWE (@WWE) November 14, 2018
02:08am
Becky picks Charlotte, and then hugs her.
That makes about as much sense as the rest of this show, so fair enough.
Ronda Rousey vs. Charlotte Flair is official for Survivor Series.
That does leave a gap on the SmackDown women's team though.
Up next, it's New Day vs. Big Show & the Bar in a six-man tag match.
#TheMan @BeckyLynchWWE chooses @MsCharlotteWWE to face @RondaRousey at #SurvivorSeries. #SDLive pic.twitter.com/xkJasSHMjB

— WWE (@WWE) November 14, 2018
02:03am
We join Paige in the ring, and she invites the SmackDown women's division who were part of last night's invasion into the ring.
With all the SmackDown women standing in a line, Paige announces that because Becky Lynch can't compete against Ronda Rousey, Becky will pick her replacement herself.
Since @BeckyLynchWWE is unable to compete at #SurvivorSeries, she will handpick @RondaRousey's opponent herself. #SDLive pic.twitter.com/8nm6DXpnuS

— WWE (@WWE) November 14, 2018
01:54am
Despite Miz blocking a splash after a 619, it's Rey who picks up the win with a roll-up, so that match was entirely pointless.
OH WAIT.
It's an RKO OUTTA NOWHERE to… Miz, as Rey manages to escape.
Phillips:
"This is one of the craziest SmackDown Lives I can remember."
Yes.
He's not going ANYWHERE! @reymysterio defeats @mikethemiz which means he will STILL be a part of the #SDLive Men's #SurvivorSeries team! pic.twitter.com/haENmIUluU

— WWE (@WWE) November 14, 2018
01:44am
Dasha Fuentes pulls Nakamura for an interview about the US Champ's match with Seth Rollins, in with Nakamura says he is going to "break his face."
There are far too many broken faces on this show.
Up next, it's Miz vs. Rey. If Miz wins, Rey is off the team. Cohesion at its finest.
Will @reymysterio secure his space on the #SDLive Men's #SurvivorSeries team? He has to go through @mikethemiz RIGHT NOW in order to do so! pic.twitter.com/nhGyxIkdBV

— WWE (@WWE) November 14, 2018
01:36am
After a fairly good match, it's interestingly Jeff Hardy to picks up the win over Almas.
And then Miz just nonchalantly says "ah Bryan isn't on Team SmackDown anymore."
When on earth did that happen?
Anyway, Miz announces that Bryan's replacement is Jeff Hardy. And now he's booting Rey off the team. But Paige makes a match for tonight – Rey vs. Miz, and if Miz wins, Rey is off the team.
And that match is next.
What on earth is going on?
If @mikethemiz doesn't want @reymysterio on his #SurvivorSeries team, he has to BEAT him… NEXT! #SDLive @RealPaigeWWE pic.twitter.com/ediTxBFLzc

— WWE (@WWE) November 14, 2018
01:30am
If anyone wants a closer look at the blow that ruled Becky Lynch out of Survivor Series.
Ow. Very ow indeed.
https://twitter.com/totaldivaseps/status/1062511966927884289
01:24am
AJ, Shane and Bryan all start screaming at each other backstage, and a WWE Championship match is confirmed for later tonight.
AJ Styles vs. Daniel Bryan for the WWE Title.
Interesting. Strange. Odd. Wow.
Up next, it's Andrade Almas vs. Jeff Hardy.
You want to fight? You got it.@AJStylesOrg will put his #WWETitle ON THE LINE against @WWEDanielBryan TONIGHT on #SDLive! @ShaneMcMahon pic.twitter.com/3fs0rCVxbm

— WWE (@WWE) November 14, 2018
01:19am
AJ, being a silly little sausage, then said Bryan's name… so Bryan did indeed punch him in the face.
A brawl breaks out, and SmackDown Commissioner Shane McMahon and backstage officials run to the ring and try to pull the pair apart.
They do so, and then the segment cuts off.
I am both confused and intrigued. And I kind of like it.
Nope, @WWEDanielBryan isn't wasting ANY time in punching @AJStylesOrg in the face! #SDLive #SurvivorSeries pic.twitter.com/1ic3r8A5tB

— WWE Universe (@WWEUniverse) November 14, 2018
01:15am
Styles is interrupted by Brock Lesnar's advocate Paul Heyman.
Heyman proceeds to big up AJ and group him in an elite class of sports entertainers along with the likes of Ric Flair and Shawn Michaels.
The 'Phenomenal One' goes on to explain that, be it through pinfall or through submission, he will defeat Lesnar on Sunday.
He's then cut off by the man he retained his WWE Title against a couple of weeks ago, and co-captain of SmackDown Live men's team – Daniel Bryan. And he's not particularly happy about AJ reminding everyone he tapped out.
01:07am
A replay is shown of last night's SmackDown women's division invasion that closed Raw, complete with Becky Lynch and he reported broken nose.
Tom Phillips confirms that due to a "broken face," Becky Lynch will not be competing against Ronda Rousey at Survivor Series and we will be updated throughout the night.
AJ Styles comes to the ring, in preparation for his clash with Universal Champion Brock Lesnar this Sunday.
THIS SUNDAY: Round 2. #SDLive #SurvivorSeries @AJStylesOrg @BrockLesnar pic.twitter.com/zqT9lDzXqk

— WWE (@WWE) November 14, 2018
Well, if you thought last night's Raw was hectic, my advice is to strap yourself in because tonight's SmackDown Live looks to be a very packed show indeed.
In case you've missed the news, a couple of hours ago, it was confirmed that due to an injury sustained by SmackDown Live Women's Champion Becky Lynch at the hands of Nia Jax last night on Raw, Lynch vs. Ronda Rousey at Survivor Series will not be happening.
A great, great shame.
That means this show is almost certainly going to go some way into figuring out a workaround, and probably a new opponent for Rousey come Sunday.
We've also got the five tag teams to be confirmed for the 10-on-10 Kickoff match, although there are only five active teams on SmackDown, so that shouldn't be too difficult. Usos and New Day already stamped their tickets last week, with SAnitY, the Good Brothers and the Colons the blue brand's only remaining options.There are also reports of a huge change to the men's team being planned to play out on tonight's show, and leaving us with an updated lineup to take on Raw's men's team.
Also Byron Saxton will exist. Hooray. Just realized we're going to get a five-person commentary team for Survivor Series so at least now I have a few days to prepare my poor little earholes.
What are your predictions for tonight's SmackDown Live? Join the discussion on Twitter, or on Discord.
"You mention my name one more time without reason and I'm going to PUNCH YOU IN THE FACE!" – @WWEDanielBryan to @AJStylesOrg #SDLive #SurvivorSeries pic.twitter.com/rBmTypinUA

— WWE (@WWE) November 14, 2018