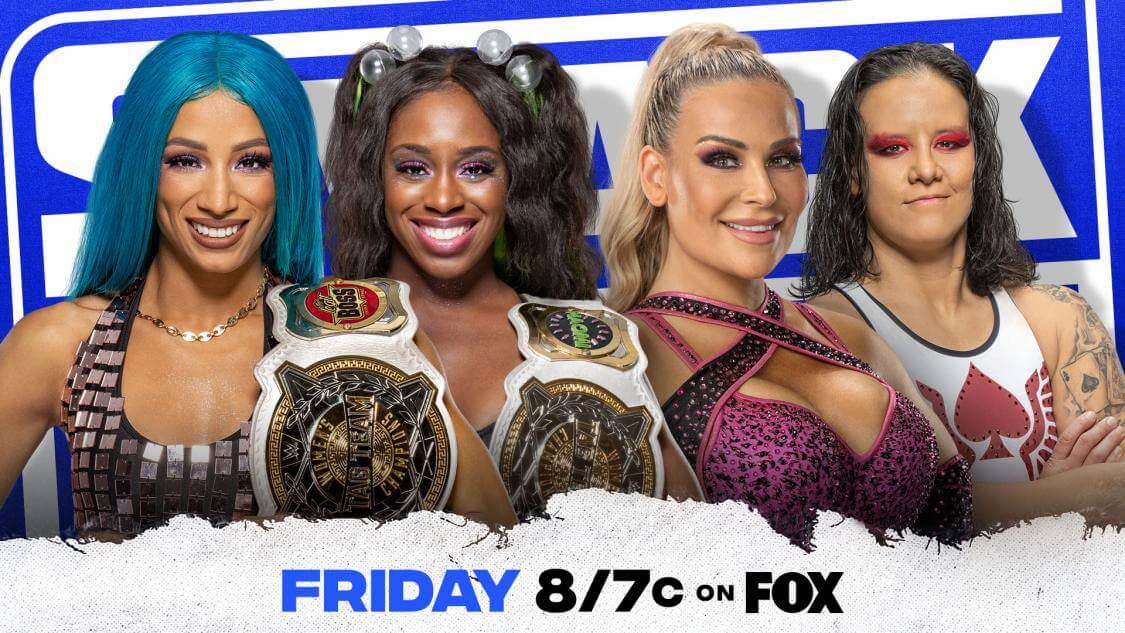 Hello it is Friday and welcome to WWE SmackDown live results. First and foremost, I, Nate of WrestleTalk.com, want to wish an early birthday shoutout to the funniest member of WrestleTalk's website team, Connel, for tomorrow.
Now, we are here for the first show following WrestleMania Backlash, and we have a new SmackDown Women's Champion, Roman Reigns' future has been speculated and we move towards Hell in a Cell.
Announced for tonight's show so far, we have:
WWE Women's Tag Team Championship – Sasha Banks & Naomi (c) vs. Natalya & Shayna Baszler
Kofi Kingston vs Butch
RK-Bro seeks an answer to their challenge to the Bloodline
The Bloodline
Roman Reigns and The Usos are here and he wants you to acknowledge him. This is after a long entrance. Roman says you know how it works. He smashes 'em on Sunday and he comes out and tells you what's next. This weekend was different. He says he's done smashed them all. No one is left to be next. He says he's untouchable.
Roman says The Usos do have a challenge. He asks what they are going to do about it. He hands the mic to Jimmy Uso and RK-Bro's music hits.
They join them in the ring. Riddle says he needs this match to happen. Orton says he wants the match so they can have both sets of titles. He says they will unify them into one set of titles called the Undisputed Tag Team Championship.
The Usos accept for next week. As they each pose, Riddle hits a pump knee on Roman!!! Yes. Please let Riddle be a challenger for Roman. I'd love it if he was the one who took the title off Roman before he leaves for a hiatus.
"@JohnCena is ten times the Superstar you will EVER be!" ?#SmackDown @RandyOrton @WWERomanReigns @HeymanHustle pic.twitter.com/7BD78szx5Z

— WWE (@WWE) May 14, 2022
Butch and Kofi Kingston do battle
This New Day and Fight Night story seems to have been going on for months. Butch found his way back to SmackDown. He's fighting Kingston tonight. I hate what they've done to Pete Dunne. Remember when Triple H called him a future world champ. There ain't no way this version is winning a world title.
Butch finally gets a win. He hits the Bitter End for the win. This was a decent match. Kofi does all the things he does well. He did some springboard and rebound moves. Butch was just too much though. Pat McAfee doesn't know what to call the finisher.
Butch takes off through the crowd. He found his way back and met Sheamus and Ridge up at the top of the aisle.
Up next, The Bloodline has a message for RK-Bro.
Butch is RABID!#SmackDown pic.twitter.com/J9t8pUy4nT

— WWE (@WWE) May 14, 2022
It's Boss Time
It's time for the Women's Tag Team Championship Match. Naomi and Sasha are wrestling Shayna and Natalya. Naomi is nursing an arm injury. I want to be excited for this, but the women's tag titles have been booked into oblivion. It's going to take a really great story to get them back on track. I don't think WWE cares enough about them to do that though. It's basically been hold the titles, lose the titles, and break up as a team.
Naomi wins with a roll-up. I wonder what percentage of WWE matches end in roll-ups. One of you math nerds out there calculate that for me. That's the second one tonight. The match was fine.
Shayna had a chance to win, but she put her foot on the ropes. Nattie grabbed her feet and the ref caught them. Nothing much of note otherwise.
Backstage, Drew Gulak is getting advice from Ricochet. He tells him not to give up. Gulak says he's not going to let Gunther just chop him down. He's going to put him in his place. Gulak walks down the hall and runs into Gunther. Gunther rips Drew's shirt and chops him into the wall. Poor Drew.
Kingston is up next…
Not so fast, @NatbyNature and @QoSBaszler!#SmackDown pic.twitter.com/0Q4JQmvHkB

— WWE (@WWE) May 14, 2022
Jooookkke!!!
Kayla Braxton is in the ring and she's going to interview Madcap Moss. Pat tells us he is not a big dumb doofus. Moss makes some jokes about how if Corbin would have just told some stories during their match then he would have tapped out to the boredom. I hear ya. I was tapping the entire time too from the shear boredom of this storyline. If Moss is supposed to make me like him, then he's failing.
Corbin's had enough. He attacks Moss from behind. He puts a chair around his head and drops the Andre the Giant trophy on the chair. That was an impressive visual. It looked nasty. The medics had to come check on Moss.
Corbin walked out happy. Moss is taken to the back on a stretcher. Corbin follows him to the ambulance. He tells him he's headed to the mosspital, but that doesn't rhyme with local medical facility. What a terrible joke!
What has Happy Corbin done?!#SmackDown @BaronCorbinWWE @MadcapMoss pic.twitter.com/qtBFQVzBf6

— WWE (@WWE) May 14, 2022
How will Raquel match up?
Raquel Rodriguez is impressive in this one. She towers over Rousey and she hits power move after power move. Rousey is having a lot of trouble countering the power of Rodriguez. Rousey can't sustain any momentum.
Rousey tried an armbar. She also tried an ankle lock. She couldn't keep the powerful Rodriguez in the moves. Eventually, Ronda went to a roll-up to get the win. After the match, Ronda shakes her hand.
WWE did a pretty solid job of putting Raquel over. Raquel looked very impressive.
Backstage, Adam Pearce is getting fussed at by Shotzi who felt it should have been her opportunity to answer the open challenge. Up walks Aliyah who also thought it should have been her, but Shotzi locked her in a room.
In her first match as the #SmackDown #WomensChampion, @RondaRousey takes on @RaquelWWE! pic.twitter.com/46GF2mcquv

— WWE (@WWE) May 14, 2022
The Champ is here and she's dressed to fight
Rousey is here with her new title. She's dressed in her wrestling gear. That usually means we're about to get an "impromptu" match. Prior to the entrance, Sami runs into Nakamura and Shinsuke call him the ass of the table.
Rousey makes fun of Charlotte. Then…She issues an open challenge. Nice. My guess is Dolph Ziggler.
Nope. It's Raquel Rodriguez. She's had one match. She's freaking huge.
The match is next.
.@RaquelWWE has accepted @RondaRousey's open challenge!

They square off for the #SmackDown Women's Title NEXT on @FOXTV! pic.twitter.com/xFnGXt6MW0

— WWE (@WWE) May 14, 2022
Riddle vs. Zayn
Riddle and Sami are battling here on Friday Night SmackDown. Cole clears up this has nothing to do with whether or not there will be a unification match. These are 3 very talented guys involved in this match. Orton is on the outside getting the crowd fired up.
The match is pretty much your typical WWE match prior to the commercial. Both guys get a few turns of being in charge, then the bad guy locks in a rest hold before we go to break. However, when we get back, the match really picks up. There was a great sequence where Sami dove off the top rope and Riddle caught him with a pump knee. Later, Zayn taunted Orton with setting up the draping DDT. Riddle reversed and hit an incredible Floating Bro. That was sweet.
Sami looks to be in trouble, but he rolls out of the ring. Sami goes for his finisher, a count out. Riddle gets in at the count of 9. Riddle hits the Bro Derek fo the win. RK-Bro celebrate in the ring. Roman and Heyman are backstage watching at an odd angle while the Usos are watching from a normal vantage point.
They want to know why they have to deal with these guys since they already beat them at Backlash. They promise to give them an answer before the night is over.
You know what? Roman has a point. Why do they get another shot since they already lost?
BRO! ?#SmackDown @SuperKingofBros @SamiZayn pic.twitter.com/zqjdidjlsY

— WWE (@WWE) May 14, 2022
I hear voices...
And they are chanting Randy, Randy, Randy. RK-Bro is here to challenge The Usos. They want to unify the tag team titles. RK-Bro has to be the most over faces in WWE in quite some time. Orton seems to be having a lot of fun and it's coming through in his character.
Orton and Riddle talk about how Roman is the only one who can make decisions in The Bloodline. They demand he come down to the ring. Instead, Sami Zayn comes out wearing a Bloodline shirt and declines the offer. He says he speaks for The Bloodline, SmackDown, and The WWE Universe and no of these want to see this match.
Riddle seems to have adlibbed. He told Sami that he was going to call him Rusty because his hair is the color of rust. This seems to have forced Sami to almost break character. He was holding in a smirk. Riddle, himself, was chuckling.
Randy turns this around on him. He says if Sami calls the shots, then he can make the match. He says Zayn and Riddle should have a match. If Riddle wins, they get the match. Sami walks to the back and backtracks. Adam Pearce walks out and makes the match. He does say he doesn't speak for the Bloodline. It is unclear if the stipulation will hold.
.@SamiZayn's advice: "Go back to #WWERaw and don't come back."#SmackDown @RandyOrton @SuperKingofBros pic.twitter.com/tYZYewI1B2

— WWE (@WWE) May 14, 2022
SmackDown