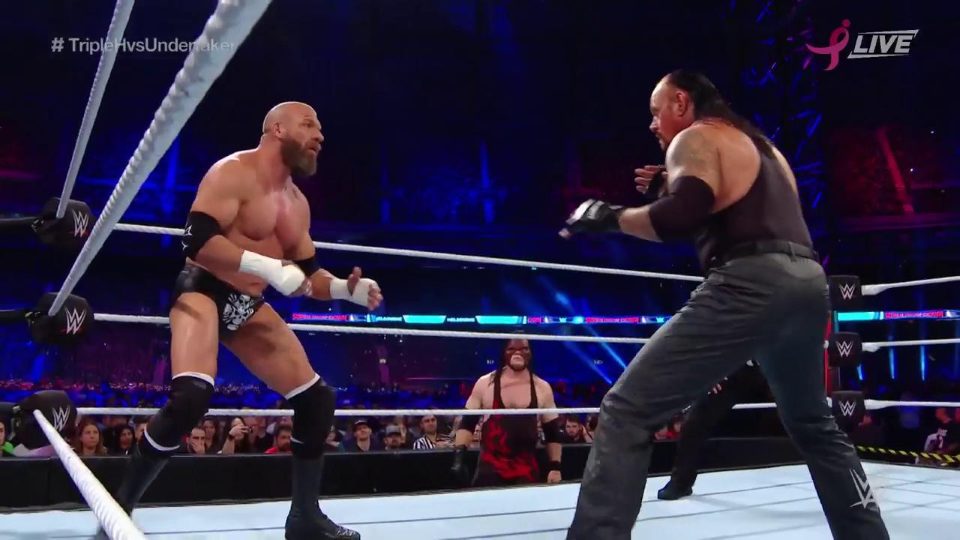 Summary
That was definitely a very interesting show.
Only one title changed hands, a huge WWE Title match confirmed for Crown Jewel, a main event tease for WWE Evolution, and a big ol' blast from the past to finish the show off.
Overall, I didn't think this was a particularly bad show by any stretch. Murphy vs. Alexander, Styles vs. Joe and Shield vs. Braun's Boys were all solid matches.
There were a few duds in there. The opener was somewhat disappointing and John Cena pinned Elias with his sixth move of doom, but overall I'd say this was worth watching. It certainly helped that it was during a normal human time for us UK folk.
Thanks for following along with our live coverage! We've been Liam and Andy, you've been the SWAFT nation, and we'll see you next time!
Don't forget to let us know your thoughts on Super Show-Down by hitting us up on Twitter and Discord.

Oh.
That wasn't the end!
The four men celebrated together in the middle of the ring, and all was happy…OH WAIT.
Kane and the Undertaker attack Trips and Michaels outta nowhere, tombstone to Triple H and Shawn is choke-slammed through a table.
Tag match confirmed.
What a way to finish.

Triple H def. The Undertaker
For matches like this, it's important to look at everything, and not just the in ring action.
What a spectacle.
Of course it was a bit rough around the edges, the men in the ring are about 700 years old after all.
They battled and battled and eventually Triple H and Shawn Michaels proved too much for 'Taker.
With Kane out of the game, Shawn Michaels hit two sweet chin musics, Trips clocked Taker with a sledgehammer and hit the pedigree.
Yes it was a bit botchy, but honestly, who gives a turd.

Daniel Bryan def. The Miz
Well that was odd.
After about three or four minutes, Miz landed Bryan's patented Running Knee on the GOAT, only for Bryan to kick out at two.
And then the latter won with a roll-up. Oh.
Bryan will challenge Styles for the WWE Championship at Crown Jewel. Maybe they're just protecting Bryan's health so he can go all out against AJ?
I guess the main event is going 45 minutes then. Or just 30 minutes for the entrances.
HE GOT HIM! @WWEDanielBryan just earned himself a #WWEChampionship opportunity with a SHOCKING roll-up on @mikethemiz! #WWESSD pic.twitter.com/ft2UGGAWnP

— WWE (@WWE) October 6, 2018

The Shield def. The Dogs of War
Well that was a bit of fun, wasn't it?
Plenty of Dean Ambrose heel turn foreshadowing, but in the end it seems he's holding off on it for the time being.
It looked as though Dean was going to be destroyed by a stampeding Strowman, but was saved at the last minute by a Roman Reigns spear.
This allowed Seth to attack Drew and Dean to re-enter the ring and hit Dolph with Dirty Deeds.
Dolph is once again the weak link, so will Dean, once the heel turn takes place, replace Dolph in the Dogs of War?
Next up, Miz vs Bryan to decide the number 1 contender for the WWE Championship.
Don't question this brotherhood.@TheDeanAmbrose, @WWERomanReigns, and @WWERollins are stronger than ever and looking to serve justice at #WWESSD! pic.twitter.com/Jxf3h6hazs

— WWE (@WWE) October 6, 2018

Buddy Murphy def. Cedric Alexander (c) – Cruiserweight Championship
HOLY SMOKES. THAT WAS SPECIAL.
Buddy Murphy is your new WWE Cruiserweight Champion.
Murphy was very much the babyface from the off, getting a fantastic ovation from the crowd during his entrance and throughout the match
This match had plenty of highlights. Cedric landing an INSANE top rope michinoku driver. A mental Spanish Fly followed up by a Lumbar Check only for Murphy to kick out a two.
And Buddy eventually lands Murphy's Law for the 1-2-3.
That was boss. That was why you should watch 205 Live. Absolutely sensational.
????????#WWESSD #CruiserweightTitle @CedricAlexander pic.twitter.com/L5bjsZYw2U

— WWE (@WWE) October 6, 2018

Ronda Rousey and the Bellas def. The Riott Squad via submission
That's the sort of match that proves a cool finish can make me forget everything else that happened.
Nikki Bella vs Ronda confirmed though, as the two argued at the beginning about who should start the match.
Liv Morgan kicked Brie really hard in the face, but because she's competent in the ring, no-one was knocked out.
Ronda locked both Liv and Sarah Logan in the armbar for the finish, which was a pretty cool spot.
Next up is the Cruiserweight title match between Cedric Alexander and hometown boy Buddy Murphy.
That was rowdy, that was fearless, this team had it ALL!#WWESSD @RondaRousey @BellaTwins pic.twitter.com/QaE0Oq2lpg

— WWE Universe (@WWEUniverse) October 6, 2018
AJ Styles (c) def. Samoa Joe via submission – WWE Championship
The two were so eager to kick things off, the match kicked off on the ramp rather than in the ring.
Joe dominated for a very large portion of the match, countering and shaking off any offense AJ could squeeze in.
AJ started bleeding from mouth at one point, but managed to get back into the bout via the use of a steel chair.
This culminated in an electric chair drop through a table, which injured Joe's left leg, allowing AJ a target point for the rest of the match – including a springboard 450 onto said leg.
AJ escapes a few Coquinas, and it's the Calf Crusher on the injured leg that gets the job done.
The match started off a bit slow in my honest opinion, but it definitely heated up toward the end and became a great bout. Match of the night so far by a long way.
Redemption has been achieved in Melbourne for #WWEChampion @AJStylesOrg! #WWESSD pic.twitter.com/N7UwYpBZKe

— WWE Universe (@WWEUniverse) October 6, 2018

The IIconics def. Naomi & Asuka
What a bag of misery that was.
Yay, I'm glad the IIconics won on their home turf, and I like their music, it makes me feel like I'm in a futuristic strip club.
I hate everything that WWE have ever done with Asuka. It's disgusting.
Anyway, they won with some kind of knee double team thing, so that's fun.
Next up it's actually a good match: AJ Styles vs Samoa Joe.
There's no place like home… ??????#WWESSD @BillieKayWWE @PeytonRoyceWWE pic.twitter.com/vqfyK5o3VW

— WWE Universe (@WWEUniverse) October 6, 2018

John Cena & Bobby Lashley def. Elias & Kevin Owens
Well that was a bit naff.
The heels dominated Lashley for a good 10 minutes through the use of heel tactics, then Cena gets the hot tag and takes it away with his six moves of doom.
The sixth of which is a weird punchy thing with a Mandarin name that he apparently learned during his time in China, that he hits Elias with and gets the pin.
How thrilling.
Cena then takes to the mic after the match to thank the fans in a really over-dramatic fashion, and that's the end of that.
Not been the best first hour in my opinion.

Elias & Kevin Owens insult Australia
Elias & Kevin Owens are introduced, and they do the usual "your town sucks," only because they're in the Australia it's "your country sucks."
Not quite the same levels of heat as their segment on Raw this past week, and Elias didn't even get to sing before Lashley interrupted him. I feel that was another victim of the time cut.
No Lio Rush either. Very disappointing.
Elias & Owens vs. Lashley and John Cena is up next!
GUESS WHO'S BAAAAAAAAAACK…#WWESSD @JohnCena pic.twitter.com/Hl0D7z9uU5

— WWE (@WWE) October 6, 2018

Charlotte Flair def. Becky Lynch (c) via disqualification – SmackDown Women's Title
Anyone still not sold on Becky being a full-on heel?
It's amazing how they can make the match feel like it's been going on for a lot longer than than it has been just with lots of tired facial expressions.
Charlotte's on top, so Becky runs out to grab her title and take the count out loss. But Charlotte's having none of it, and drags Becky into the ring to lock her into the figure eight leg lock.
Becky however can't be bothered to be locked in it, so she whacks Charlotte with the belt for the DQ.
Charlotte wins, Becky retains. Charlotte's the baby face, Becky's the heel.
Bit of a screwy finish, and again it feels like they're punishing the crowd for liking Becky.
Charlotte will win the belt at Evolution.
New Day (c) def. The Bar – SmackDown Tag Team Titles
The Bar dominated proceedings early on in this one, using their power game over New Day's smaller members to their advantage.
This continued for pretty much the entire match before Kofi managed to land a Trouble in Paradise on Sheamus on the outside, which was followed up by a Backstabber/Double-Foot-Stomp combo on Cesaro for the pinfall.
And New Day retain their SmackDown Tag Team Titles!
That wasn't quite the extravanganza I was hoping for there, maybe it has something to do with the show being cut, but that was slightly underwhelming in my opinion. Certainly felt like they were holding back.
My favorite moment in that match was Cesaro calling for the ref to use VAR when only counted two. Fantastic.
Up next, Charlotte Flair challenges Becky Lynch for the SmackDown Women's Championship. *Let's go Becky* etc.
The show is opening with the WWE SmackDown Tag Team Championsip match, as New Day defends against the Bar!
It's gonna be Kofi and Woods representing the champs in this one. This could very easily be a match of the show contender.
G'day mate, and welcome to WrestleTalk's live match-by-match updates of WWE Super Show-Down!
Before we get things kicked off though, some major news regarding the length of the show. The WWE Network is now showing that the event will only run for four hours as opposed to the previous allocation of five. I say "only," it's still bloody ages, but a whole hour is quite a large chunk to cut off. I feel something has probably had to give there…
Either way, here is the full card of all 10 matches that are coming our way today:
Cedric Alexander (c) vs. Buddy Murphy – WWE Cruiserweight Championship
Asuka & Naomi vs. The IIconics
New Day (c) vs. The Bar – WWE SmackDown Tag Team Championships
Daniel Bryan vs. The Miz
John Cena & Bobby Lashley vs. Kevin Owens & Elias
Becky Lynch (c) vs. Charlotte Flair – WWE SmackDown Women's Championship
Ronda Rousey & The Bella Twins vs. The Riott Squad
AJ Styles (c) vs. Samoa Joe – No Countout, No DQ – WWE Championship
The Shield vs. Braun Strowman, Dolph Ziggler & Drew McIntyre
The Undertaker vs. Triple H
That is… quite the set of matches there.
It's almost time crack open the Fosters, put on a barmah hat and eat a kangaroo testicle as we get set for the biggest wrestling show emanaating from Australia of all time!
Note: Andy and myself will be taking alternate matches today, with me starting with the opener.
What are your predictions for Super Show-Down? Let us know in the comments below or via Twitter and Discord.