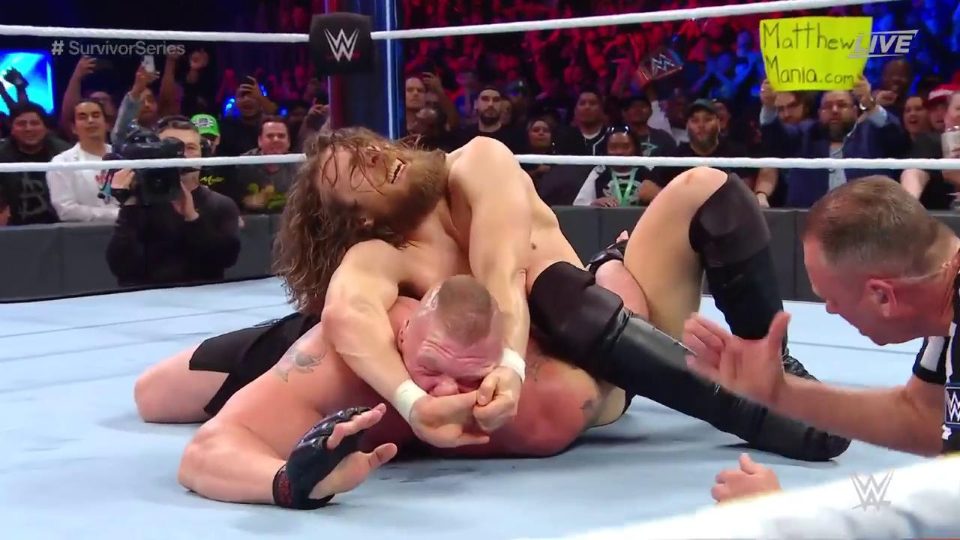 Full Results & Final Thoughts
Team SmackDown def. Team Raw – 10 vs. 10 Elimination Tag Match – Sole Survivors: The Usos – Kickoff
Team Raw def. Team SmackDown – 5 vs. 5 Women's Elimination Match – Sole Survivor: Nia Jax
Seth Rollins def. Shinsuke Nakamura
AOP def. The Bar
Buddy Murphy (c) def. Mustafa Ali – WWE Cruiserweight Championship
Team Raw def. Team SmackDown – 5 vs. 5 Men's Elimination Match – Sole Survivors: Braun Strowman, Bobby Lashley, Drew McIntyre
Ronda Rousey def. Charlotte Flair via DQ
Brock Lesnar def. Daniel Bryan
Reigning. Undisputed. BEAST.@BrockLesnar #SurvivorSeries pic.twitter.com/CqU3CwtLNy

— WWE Universe (@WWEUniverse) November 19, 2018
I am rather confused after watching that. I feel like I say that at the end of every WWE show nowadays.
Raw picked up the 6-0 clean sweep because apparently pre-shows mean absolutely nothing. I bet Fox are chuffed.
Enzo Amore got thrown out the arena, Drake Maverick pissed himself, Charlotte Flair turned heel and destroyed Ronda Rousey with a chair, and they tried to tell an underdog story with Bryan… who just turned heel a couple of days ago.
Oh well, can't wait to watch Raw tomorrow! He says, lying.
Brock Lesnar def. Daniel Bryan
This Daniel Bryan is the best Daniel Bryan. I love him.
After minutes of Bryan taunting Brock early on, the 'Beast' finally gets his paws on the WWE Champion, and ragdolls him around with Germans as if he was a Singh Brother. I don't think Bryan's neck enjoyed it.
This went on for AGES, and Lesnar hit an F-5, but lifted Bryan's shoulders off the mat before the ref could count three.
B-Bry fought back from here though, and thanks to a low blow that wasn't noticed by the official, managed to land a running knee on Lesnar, which prompted a nearfall.
The ref is down…@WWEDanielBryan has found new life in this match! #SurvivorSeries pic.twitter.com/ftUppqKEWl

— WWE Universe (@WWEUniverse) November 19, 2018
The two then go at it on the outside, and Lesnar misses Bryan with the steel ringside steps and ends up on the floor himself.
When the two get back in the ring, Bryan strikes with a second running knee, but once again Lesnar gets out at two.
Lesnar tries to counter another running knee into an F-5, but his legs give out with Bryan on his shoulders, and the latter locks in the Yes! Lock. Brock can't get out of it and Bryan transitions into a Triangle.
The Universal Champion did manage to escape this one though, and nails D-Bry with an F-5 to pick up the win.
That turned into a really, really great match.
Total domination.@BrockLesnar's victory secures a clean sweep for the red brand. #SurvivorSeries pic.twitter.com/aFjV6IxfhQ

— WWE (@WWE) November 19, 2018
Ronda Rousey def. Charlotte Flair via DQ
Yep, you read that right. This show just gets even more fun with a DQ finish!
Ronda bled from the mouth early on, but I didn't quite catch why. I can say with at least some confidence that is was nothing to do with Nia though.
A highlight of the match was Ronda kicking out of a magnificent Spear to produce a great nearfall, and then managed to break a Figure-Four by reaching the ropes.
The crowd reacted to the fantastic showing with a "this is awesome" chant, and things looked to be concluding when Rousey hit Flair with the Piper's Pit, but failed to lock in the Armbar as Charlotte escaped.
In a despicable act, Flair hits Rousey with a Kendo Stick to get DQ'ed, and then proceeded to continue beating down on the Californian after the ref had called for the bell. Charlotte attacked officials, and stamped a chair on Rousey's neck…
And the crowd are chanting "thank you Charlotte…" for some reason.
#NaturalSelection = delivered.#TheQueen = caught!@RondaRousey #SurvivorSeries pic.twitter.com/Gciw2VXY6N

— WWE Universe (@WWEUniverse) November 19, 2018
Team Raw def. Team SmackDown – 5 vs. 5 Men's Elimination Match
McIntyre got a quick elimination on Joe with a Claymore – can only assume Joe is hurt because the crowd were not happy with such a quick elimination at all.
Shane McMahon elbowed Braun through an announce table after Drew and Braun had had a scuffle, and then it was the turn of Finn Bálor to go at it with the Scot.
Bálor tagged himself in and kicked Drew, but was soon eliminated by Rey with a 619. Drew then attacked the Irishman and lobbed him out the ring.
Shane eliminated Dolph with a Coast-to-Coast like he did at Crown Jewel to become the BEST IN THE WORLD, and went for a second on Lashley, but was cut off in mid-air by Strowman who just swatted him like a little fly.
#CoastToCoast!#SDLive now leads this match 4-3! #SurvivorSeries @shanemcmahon pic.twitter.com/3KVFx7i6Le

— WWE (@WWE) November 19, 2018
The 'Monster Among Men then DELETED Jeff Hardy with a Powerslam after reversing a Twist of Fate, then with in seconds, did the same with 619 into a Powerslam and eliminated Rey too.
At this point, things were left at Lashley, Drew and Braun vs. Miz and a crippled Shane McMahon.
Braun easily dispatched of Miz, leaving Shane on his own. And then he dropkicked Shane and beat him with a Powerslam too.
Raw win, go 4-0 up on the night, and the Survivors were Lashley, McIntyre and Strowman.
? GET ? THESE ? HANDS ?

@BraunStrowman secures the victory for #TeamRAW. #SurvivorSeries pic.twitter.com/6mcBvCyb5C

— WWE (@WWE) November 19, 2018
Buddy Murphy (c) def. Mustafa Ali – WWE Cruiserweight Championship
That was a really good match – as expected.
A really good blend of high-flying, slow-paced offense from Murphy, and attempts at a comeback from Ali to make up a really great match.
One of the main highlights for me was a Spanish Fly from Ali off the announce table onto the floor, which sparked "205" and "This is awesome" chants from crowd.
It was very soon after that that the match ended, when Murphy countered a springboard Crossbody with a knee, and hit Murphy's Law for the 1-2-3.
That rhymed. Enzo rhymes in his raps (or tries to). Footage of him being kicked out of the arena has emerged.
What a fantastic segue that was.
Spending the foreseeable future watching this GIF over and over and over… #SurvivorSeries @MustafaAliWWE pic.twitter.com/FjDOWcmYun

— WWE Universe (@WWEUniverse) November 19, 2018
AOP def. The Bar
Well the opening minutes of the match were rather eventful. Nothing to do with the match itself, but because Enzo Amore got kicked out of the arena.
Enzo Amore just tried to hijack the show and got tackled by WWE and arena security. #SurvivorSeries

— Bryan Alvarez (@bryanalvarez) November 19, 2018
This sparked "We want Enzo" chants from the crowd, because of course it did.
Sheamus looked to have the match won, but Maverick put Rezar's foot on the rope to break the ref's count. Poor Drake then got absolutely battered… and… well… he pissed himself. Literally.
And then AOP won. But more importantly, Drake Maverick pissed himself.
#AOP's @WWEMaverick wasn't quite prepared to run into @WWETheBigShow at ringside… #SurvivorSeries pic.twitter.com/iKuB5ZEF2J

— WWE (@WWE) November 19, 2018
We Don't Deserve R-Truth
The Raw team are backstage motivating each other bickering like children, with McIntyre and Strowman arguing over who is the leader.
Corbin then moans at everyone, but the segment is saved by Ronald Truth who waltzes in and tells everyone to get on the same page, despite not being on the team, or even on Raw.
He's great.
Up next, it's AOP vs. The Bar. Get ready for Big Show to kill Drake Maverick.
#TheBar + @WWETheBigShow = intimidation, personified.@WWECesaro & @WWESheamus battle the #RAW #TagTeamChampions RIGHT NOW at #SurvivorSeries! pic.twitter.com/YX6jdEyJWn

— WWE Network (@WWENetwork) November 19, 2018
Seth Rollins def. Shinsuke Nakamura
Well, first of all, I'm no fashion expert, but what on earth were these two blokes wearing?
Rollins was wearing a half-and-half t-shirt like your standard Manchester City fan, and Nakamura was donning what can only be described as blue pajamas.
This felt a tad pedestrian until near the end, but things did pick up.
Nakamura kicked out of a King's Landing knee, and Rollins managed to survive a Kinshasa shortly after with a brilliant nearfall.
Shinsuke went for a second Kinshasa shortly after, but Rollins managed to dodge and nail the US Champion with a Curb Stomp for the win.
It's 2-0 to Raw! Because pre-shows mean nothing.
#ICChampion @WWERollins' victory over #USChampion @ShinsukeN = a 2️⃣-0️⃣ lead for Team #RAW! #SurvivorSeries pic.twitter.com/Q0oFgwqP2D

— WWE (@WWE) November 19, 2018
Also, Enzo Amore – or nZo as he is now known – is in the second row…
Team Raw def. Team SmackDown – 5 vs. 5 Women's Elimination Match
As you probably could have guessed, there was MASSIVE heat on Nia here.
The order of elimination was as follows:
Naomi by Tamina
Tamina – by Carmella – which got a rather large pop, largely because of Tamina's affiliation with Nia
Mickie by Mandy, who tagged herself in for Sonya
Carmella by Bayley with a Bayley to Belly
Mandy by Sasha with a Banks Statement
Deville & Bayley via double countout
There then followed a great exchange between Asuka and Banks that went a good few minutes, and then Nia pushed Sasha off the top rope into an Asuka Lock, and thus Banks was eliminated.
This left Jax vs. Asuka, and Jax picked up the win with a Samoan Drop. The boos are quite deafening.
Michael Cole topped it off by saying "Hashtag FaceBreaker." Ew.
Also, apparently the Kickoff match meant nothing, and it's 1-0 to Raw. But there're six matches. Which is an even number. Which means we could end tonight with a draw.
Hold on…

…you guys are on the SAME TEAM! @NiaJaxWWE #SurvivorSeries pic.twitter.com/BpFT82eujp

— WWE Universe (@WWEUniverse) November 19, 2018
Bayley and Banks Join Team Raw
After Alexa Bliss kicked Ruby Riott and Natalya off Team Raw earlier for bickering, she's chosen Sasha Banks and Bayley to replace them.
Where did Dr. Shelby go? He needs to sort this out.
#RAW's Women's #SurvivorSeries Team needs two new competitors…

So, welcome @itsBayleyWWE & @SashaBanksWWE! pic.twitter.com/vbOLy1dzBt

— WWE (@WWE) November 18, 2018
Team SmackDown Tag Teams def. Team Raw Tag Teams – 10 vs. 10 Elimination Match
Well that turned into quite a fun match after they got rid of a few bodies.
And by a few I mean about 75% of everyone in the match.
The order of elimination up to the final two was as follows:
Colons
B-Team
Sanity
Ascension
Gallows and Anderson
Lucha House Party
Roode & Gable
New Day
That left us with the Revival vs. the Usos, and after a good few minutes, the Usos picked up the win with a Splash. Team Blue is 1-0 up.
Your SOLE SURVIVORS of tonight's 10-on-10 #SurvivorSeries Tag Team Elimination Match… @WWEUsos! pic.twitter.com/9NMUQ5FJk0

— WWE (@WWE) November 18, 2018
10 vs. 10 Elimination Match Underway
There's a defininteive split here by which Team Raw are very much the heels in this one… largely because they're a bit naff.
Then they did this:
I'm not entirely sure that's going to help their cause.
Lars Sullivan, Coming Soon…
A video package for NXT's Lars Sullivan was just played… which I guess mean he's up to the main roster.
There were no details as to which brand, but the 'Freak' is on his way to either Raw or SmackDown soon.
OH MA GAWD HE'S BASICALLY BRAUN, MAGGLE!
….coming soon.@LarsSWWE #SurvivorSeries pic.twitter.com/zupCR8j5Ot

— WWE (@WWE) November 18, 2018
Mandy Rose Is On Team SmackDown
Well, they went with the obvious choice, Mandy Rose is the fifth member of the SmackDown women's team.
Not Nikki Cross, not Kairi Sane, not Shayna Baszler, and most disappointingly, not even R-Truth.
Look how happy she is!
About as happy as everyone watching was when the announcement she was revealed.
Newly appointed Team Captain @NaomiWWE welcomes @WWE_MandyRose to Team #SDLive!

Can this #SurvivorSeries team coexist? pic.twitter.com/d0X2pp14ZJ

— WWE (@WWE) November 18, 2018
Nattie & Ruby Off Team Raw?
That was a bit odd.
Alexa was rallying her team, and said that if Natalya and Ruby Riott couldn't get along, they'd be kicked off the team, and then they decided to batter each other.
So guess what? They're off the team. I think. The tweet there says "uncertain," which implies even WWE doesn't even know what's going on. Good.
If they are off the team, it will probably be Sasha and Bayley that step in, although Ember Moon is free too.
Now Lio Rush is here and Lashley is showing off his buttocks again.
After @NatbyNature and @RubyRiottWWE's altercation, their places on Team #RAW are uncertain… ?

How will the final teams shape up? #SurvivorSeries pic.twitter.com/wXooPMyG5C

— WWE Network (@WWENetwork) November 18, 2018
Survivor Series 2018 Pre-Show Begins
The pre-show is underway, and we join Jonathon Coachman, Jerry Lawler, Beth Phoenix and David Otunga to discuss the upcoming night of action.
Remember we've also got the 10 vs. 10 elimination match on the pre-show too, because you wouldn't want to miss out on a potential Ascension vs. Colons showdown, would you now?
You can actually watch the entire pre-show here via WWE's YouTube channel:
I feel like every time we watch an NXT TakeOver event, the first thing we think is "beat that, main roster!" This weekend is no different, and following a fantastic WarGames II show last night, it's time for WWE Survivor Series 2018 to step up and put on a show.
And put on a show it will, a really, really long one, in fact, and WrestleTalk will be with you every step of the way with our live match-by-match coverage, starting at 5pm ET/10pm GMT at the beginning of the pre-show all the way through to the end of the six-hour-long night.
The card certainly looks very interesting and – it must be said – very good:
Tag Teams 10 vs. 10 Survivor Series Elimination Match – Kickoff
Women's 5 vs. 5 Survivor Series Elimination Match
Champion vs. Champion – AOP vs. The Bar
Champion vs. Champion – Seth Rollins vs. Shinsuke Nakamura
Buddy Murphy (c) vs. Mustafa Ali – WWE Cruiserweight Championship
Men's 5 vs. 5 Survivor Series Elimination Match
Raw vs. SmackDown – Ronda Rousey vs. Charlotte Flair
Champion vs. Champion – Brock Lesnar vs. Daniel Bryan
So sit back, grab some popcorn, bookmark this page in your browser, and follow along with the action, on the only night of the year that Raw and SmackDown go head-to-head in direct comp…
I couldn't do it.
What are your predictions for WWE Survivor Series? Let us know in the comments, on Twitter, or on Discord.