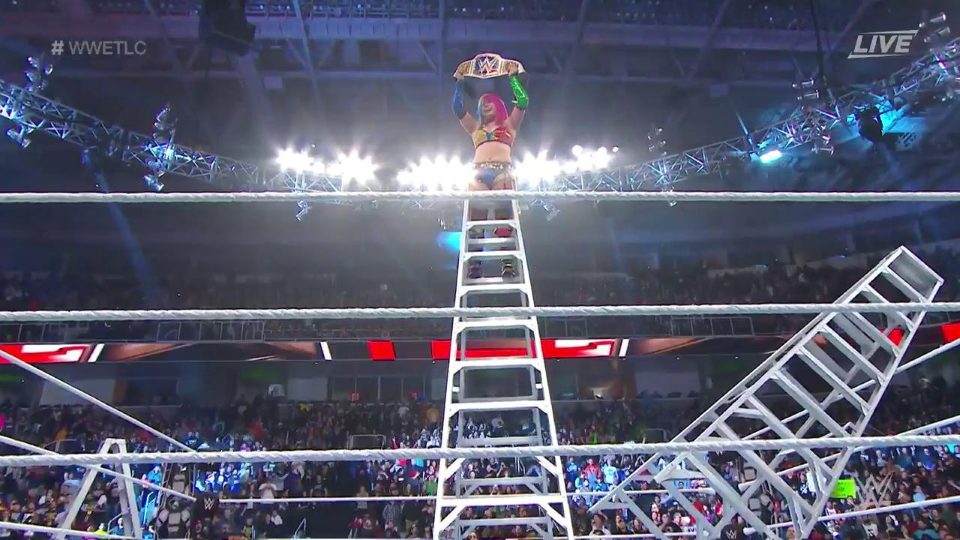 Full Results
Buddy Murphy (c) def. Cedric Alexander – Cruiserweight Title – Kickoff
Elias def. Bobby Lashley – Ladder Match – Kickoff
R-Truth & Carmella def. Jinder Mahal & Alicia Fox – Mixed Match Challenge Final
The Bar (c) def. The Usos, New Day – SmackDown Tag Titles
Braun Strowman def. Baron Corbin – TLC Match
Natalya def. Ruby Riott – Tables Match
Finn Bálor def. Drew McIntyre
Rey Mysterio def. Randy Orton – Chairs Match
Ronda Rousey (c) def. Nia Jax – Raw Women's Title
Daniel Bryan (c) def. AJ Styles – WWE Title
Dean Ambrose def. Seth Rollins (c) – Intercontinental Title
Asuka def. Becky Lynch (c), Charlotte Flair – SmackDown Women's Title
#TheEmpressOfTomorrow reigns supreme. #WWETLC #AndNew pic.twitter.com/932edBl1WX

— WWE Universe (@WWEUniverse) December 17, 2018
Asuka def. Becky Lynch (c), Charlotte Flair – SmackDown Women's Title
Scenes in San Jose!
That was a phenomenal match, and it was the 'Empress of Tomorrow' who pulled the title down after interference from RONDA ROUSEY, who pushed Lynch and Flair off the top of the ladder allowing a downed Asuka to recover and pull the title down herself.
That was great. Three tables were broken, carnage aplenty, and a fitting main event.
Not to mention a very, very intriguing conclusion.
This is YOUR moment!!!

Congratulations to YOUR #SDLive #WomensChampion, @WWEAsuka! #WWETLC #AndNew #TLCMatch pic.twitter.com/wP1jd7ShAf

— WWE (@WWE) December 17, 2018
Dean Ambrose def. Seth Rollins (c) – Intercontinental Title
That was… not a great match.
It was less Dean Ambrose vs. Seth Rollins and more Corey Graves vs. Renee Young on commentary.
The chants of "this is boring" for the first time I can remember in a Rollins match summed it up really. It felt like it tried to be Gargano/Ciampa, and just… wasn't.
Ambrose countered a Curb Stomp into a Dirty Deeds for the win and is the new IC Champion.
Up next, it's the main event, as Becky Lynch defends her SmackDown Women's Title against Charlotte and Asuka in a TLC match.
#AndNew #WWETLC #ICTitle @TheDeanAmbrose pic.twitter.com/EyF7KGub5r

— WWE (@WWE) December 17, 2018
Daniel Bryan (c) def. AJ Styles – WWE Title
That was a great match, that you should certainly watch if you didn't tonight.
It ended with a Bryan roll-up victory which some may question, but I personally thought it was a fitting finish given the story.
Great offense, great selling from both men, and Bryan cements his place at the top of SmackDown Live.
Up next, Seth Rollins defends the IC Title against former Shield 'brother' Dean Ambrose.
WHAT. A. MATCH!

Despite a valiant effort from @AJStylesOrg, The New @WWEDanielBryan leaves #WWETLC as your reigning #WWEChampion! #AndStill #WWEChampionship pic.twitter.com/GOXDWOM58l

— WWE (@WWE) December 17, 2018
Ronda Rousey (c) – Nia Jax – Raw Women's Title
I think it's fair to say that was better than a lot of people were expecting.
Some nice spots in there, a Crossbody from Rousey to Jax on the outside, and a Powerbomb from the top rope.
Some great nearfalls too, and I feared the worst when Tamina got up on the apron and Nia clenched her fist, but Ronda blocked it and locked Jax in the armbar for the submission to retain her title.
Nia was looking glum backstage, when Becky Lynch walks up and smacks her one. Boss. Although Otunga saying "This new Becky is gangster" makes me want Saxton back.
Up next, Daniel Bryan defends the WWE Title against former champion AJ Styles.
#Armbreaker def. #Facebreaker!#Rowdy @RondaRousey is still your #RAW #WomensChampion! #WWETLC #AndStill @NiaJaxWWE pic.twitter.com/M0SnZTWkSK

— WWE (@WWE) December 17, 2018
Rey Mysterio def. Randy Orton – Chairs Match
Well, yeah. That was indeed a chairs match – everyone's favorite match stip, and it went exactly how you'd have thought.
There were chairs. They used them.
Orton attempted an RKO though a row of chairs, but Rey countered, and managed to skip across the chairs into a roll-up for the win.
This feud started with a Mysterio roll-up, and one-and-a-half month later, we're here again.
Finn Bálor was just attacked by Dolph Ziggler backstage. No, you're not the only one that's confused.
Up next, Ronda Rousey defends the Raw Women's Title against Nia Jax.
Consider @HEELZiggler's assistance a one-time only occasion, @FinnBalor… #WWETLC pic.twitter.com/s0EhqzS5TA

— WWE (@WWE) December 17, 2018
Finn Bálor def. Drew McIntyre
Sigh.
In a match that Drew dominated heavily, the Irishman managed to get the win after Dolph Ziggler appeared and Superkicked McIntyre.
Drew brought in a chair to attack Dolph with, but it ended up turning against him when Finn used it for a Shotgun Dropkick – which should have been a DQ – before landing the Coup de Grace for the win.
I feel this is another Raw rematch in the making.
Don't understand that result at all.
LOOK WHO'S HERE, @DMcIntyreWWE!!! #WWETLC @HEELZiggler @FinnBalor pic.twitter.com/jE9T7bnUhw

— WWE (@WWE) December 17, 2018
Natalya def. Ruby Riott – Tables Match
Nattie put both of Ruby's Riott Squad buddies through tables early on, in what actually turned out as a decent match.
Natalya pulled out a table with Ruby on from under the ring, and put on her father's jacket for the rest of the bout.
Ruby tries for a Hurricanrana through the table from the top rope, but Natalya prevents it and Powerbombs Riott through her own table for the win.
Up next, Drew McIntyre takes on Finn Bálor.
?? #RIPAnvil #WWETLC @NatByNature pic.twitter.com/8m7BYV6r6W

— WWE Universe (@WWEUniverse) December 17, 2018
Braun Strowman def. Baron Corbin – TLC Match
Referee Heath Slater starts his count as Corbin is adamant he's going to win by forfeit, but Braun turns up with one arm in a cast.
Braun points out that there are no disqualifications in a TLC match, so Strowman brings out… Apollo Crews.
Apollo. Crews.
Apollo.
Crews.
Oh, and also Chad Gable and Bobby Roode. And also Finn Bálor. He doesn't have anything important to do tonight.
Slater is pulling his referee shirt off too, and it's now a 5-on-1 beatdown on Corbin. This is basically wrestling Twitter vs. Vince McMahon.
Corbin tries to escape down the ramp, but former Raw GM KURT ANGLE comes out and cuts him off.
They all hit their finishers and Slater puts his referee shirt on and counted Strowman's pinfall. Braun gets a Universal Title match against Lesnar at the Rumble, and Corbin is fired as Raw GM.
#RAW Superstars, referees, and even a @WWE Hall of Famer have A LOT of aggression to take out on @BaronCorbinWWE tonight! @BraunStrowman #WWETLC pic.twitter.com/inqjIs8iid

— WWE (@WWE) December 17, 2018
The Bar (c) def. The Usos & New Day – SmackDown Tag Titles
Sheamus and Cesaro pick up the win to retain their title in an excellent Triple Threat match.
Lots of nearfalls, all six men got their moves in, and in the end it was Sheamus who pinned Woods with a Brogue Kick for the pinfall.
Who do they go on to defend against next?
#TheBar STANDS TALL! @WWESheamus & @WWECesaro get the better of @WWEUsos & #TheNewDay to retain the #SDLive #TagTeamTitles! #WWETLC #AndStill pic.twitter.com/FHT7d4QGZG

— WWE (@WWE) December 17, 2018
R-Truth & Carmella def. Jinder Mahal & Alicia Fox – Mixed Match Final
After a fun little match as expected, it's the Fabulous Truth who win Season Two of the MMC, and will enter their respective Royal Rumbles at #30.
They also get an all expenses paid vacation, and R-Truth decided where they were going earlier in the night, and he chose…
The WWE HQ in Stamford, Connecticut. Hopefully we get some decent comedy skits or something out of this.
Up next, the Bar defend their SmackDown Tag Titles against New Day and the Usos in a Triple Threat match!
The TRUTH is that @CarmellaWWE & @RonKillings have WON the #WWEMMC to enter the #RoyalRumble Match at No. 3 and go on a FABULOUS all-expense paid vacation! #WWETLC pic.twitter.com/ZKw1PDTMSx

— WWE (@WWE) December 17, 2018
Elias def. Bobby Lashley – Ladder Match
Elias is first to pull down the guitar and thus is declared the winner, but a Lio Rush distraction means it's Lashley who actually ends up stood tall after striking Elias.
This screams Raw rematch. Oh yay.
Main Event Announced
Becky Lynch just announced that her defense of the SmackDown Women's Title in a Triple Threat TLC match against Asuka and Charlotte will main event the show!
Great news.
#SmackDown #WomensChampion @BeckyLynchWWE has a few receipts to hand out… and there's no time like the present. #WWETLC pic.twitter.com/8MagmBsh7N

— WWE (@WWE) December 16, 2018
Buddy Murphy (c) def. Cedric Alexander – Cruiserweight Title
Well, it was the cruisers that were on the pre-show, and as expected they put on a very decent 15 minute match.
Murphy predictably retained over the former champion, and I am slightly sad that that was on the pre-show but the MMC Final will be on the main.
You CANNOT stop the UNSTOPPABLE! @WWE_Murphy defeats @CedricAlexander to retain the #Cruiserweight Championship! #WWETLC #205Live pic.twitter.com/HfkIwmHPep

— WWE (@WWE) December 16, 2018
TLC Kickoff Show Is Underway
You can watch along with the TLC pre-show for free via WWE's YouTube channel:
It's time for the final WWE pay-per-view of 2018, as TLC comes our way tonight from San Jose, California, and WrestleTalk.com will be with you every step of the way with our live coverage of tonight's event.
Join us from the start of the pre-show at 6pm ET/11pm GMT all the way through to the end of the night with our match-by-match results and opinions on what could arguably be referred to as a mixed bag of a card.
Check it out, and you'll probably see what I mean:
R-Truth & Carmella vs. Jinder Mahal & Alicia Fox – Mixed Match Challenge Final
Ronda Rousey (c) vs. Nia Jax – Raw Women's Title
Natalya vs. Ruby Riott – Tables Match
Elias vs. Bobby Lashley – Ladder Match
Rey Mysterio vs. Randy Orton – Chairs Match
The Bar (c) vs. The Usos vs. New Day – SmackDown Tag Titles
Buddy Murphy (c) vs. Cedric Alexander – Cruiserweight Title
Seth Rollins (c) vs. Dean Ambrose – Intercontinental Title
Finn Bálor vs. Drew McIntyre
Braun Strowman vs. Baron Corbin – TLC Match
Daniel Bryan (c) vs. AJ Styles – WWE Title
Becky Lynch (c) vs. Charlotte Flair vs. Asuka – SmackDown Women's Title
https://www.youtube.com/watch?v=-M4qKQKZxPM
If you fancy wetting your appetite a little, you can check out the latest betting odds for each match, but be aware that they may act as a potential spoiler if you happen to be particularly sensitive in that area.
Remember to bookmark this page (by hitting Ctrl+D), and join the discussion by following us on Twitter or joining our Discord server to let us know your thoughts and predictions for the show!