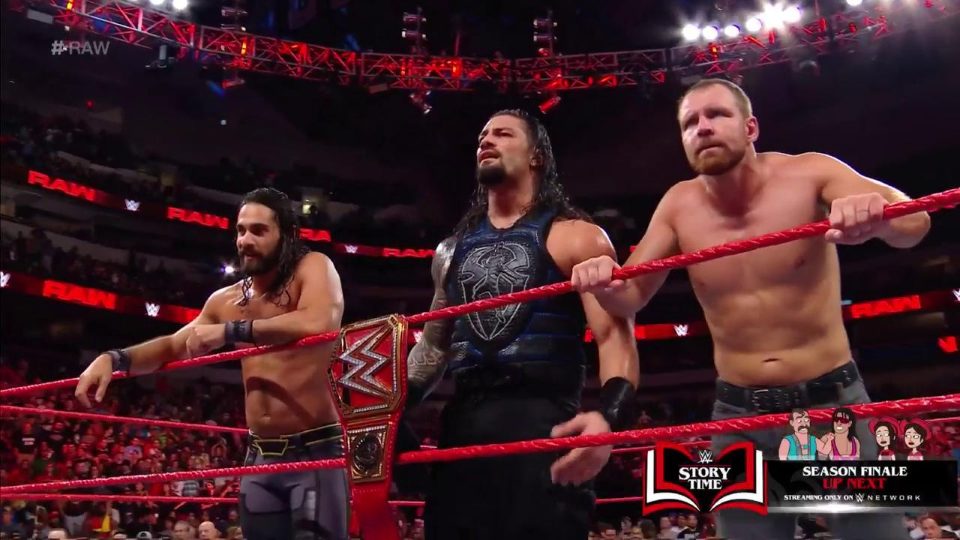 04:14am
That was the best episode of Raw for ages.
There were only a couple of segments that were a bit naff, everything that happened actually meant something, and yeah, a really fun and entertaining show overall.
Thanks for joining us on this journey through Raw!
What did you make of the show? Let us know on Twitter and Discord!
04:12am
After all is said and done, it's Roman Reigns who picks up the win to defend his title, as he nails Corbin with a Spear for the 1-2-3!
04:10am
And now out come Drew, Dolph, Seth and Dean and this has descended into utter chaos at rinsgide.
04:08am
Roman is about to hit Corbin with a chair, but Braun Strowman makes the distraction allowing Corbin to capitalize.
And now Braun is battering Roman. Remember, it's no DQ and the match is still on.
04:07am
So the last couple of minutes of that match were just Baron Corbin rolling out of the ring when Roman was going for the Superman Punch and Spear.
And then he chucked a chair in Roman's face and got DQ'd.
But, it's okay, because he's the GM, so he can just restart the match as a no DQ match. Hooray!
03:46am
Up next, it's the main event, as Roman Reigns defends his WWE Universal Championship against acting General Manager of Monday night Raw, Baron Corbin!
03:43am
Well that was just a few minutes of Ember being battered and a Nia hot tag to win.
Standard stuff.
03:36am
It is, in fact, Nia Jax.
Women's tag team action on the way!
03:31am
Up next, Alicia Fox and Mickie James will take on Ember Moon and a partner of her choosing.
I am 98.76% sure it'll be Nia Jax.
03:28am
Well then.
Lio was on commentary for that one, which would have been a lot more pleasant if Cole didn't shout over him every time he tried to speak.
Kevin Owens came out and tried to chase Rush, who did some flippy stuff to get away, dodging Elias too.
Lashley saved his 'Manager of the Hour' from an apron Powerbomb to close the segment.
That was really, really, really good.
03:21am
The match is up next: Elias vs. Lio Rush's man, Bobby Lashley!
03:17am
Elias is interrupted by Lio Rush!
This makes me so happy.
Elias: "Who's kid is this?"
I love this. This is amazing.
03:12am
Yes it's Elias!
And no commercials this time, either!
03:08am
Yes it's Elias!
No, it's commercials.
What?
Elias strummed his guitar and then we went to ads.
Eh? Don't do this to us you horrible so-and-so's!
03:05am
No, this isn't a match, it's just a 3-on-1 Riott Squad beatdown.
And now the Bellas are here to save the day.
How exciting.
(Not very.)
03:03am
Oh.
It's Natalya.
How deflating.
Oh no, her music played but she's not here. Oh, the Riott Sqiad have attacked Natalya and brought her onto the stage.
Looks like we're getting Ruby vs. Ronda. Yes please. This is good.
03:00am
Ronda's here!
Does she have an open challenge in store?
I'm still hoping it's Baszler here if so.
02:52am
Well that was quick.
Rollins retains, but there wasn't really anything to that match. It was fine, but I expected a bit more to be honest.
02:40am
It's time for Dolph Ziggler to challenge Seth Rollins for the WWE Intercontinental Championship!
02:31am
AoP vs. jobbers up next.
Like every Raw for the last – what seems like – couple of months
02:29am
Say what you want about 2K, but this trailer looks sick.
02:26am
Rezar of AoP just randomly assaulted a poor bloke backstage, and Drake Maverick told him to stop.
Right. I'm still confused by this.
02:24am
Bayley wins.
02:22am
A random Bayley vs. Dana Brooke match has appeared out of nowhere after the commercial break.
Yay.
Oh, and Dana's not in Titus Worldwide anymore, if anyone cares.
02:10am
'Taker is ripping into Triple H for going all corporate on our asses.
Another big announcement, to equalize with Triple H's backup in Shawn Michaels, the 'Big Red Machine' Kane will be in the 'Phenom's corner at WWE Super Show-Down!
02:01am
The 'Deadman' has arrived!
01:59am
We're getting Lashley vs. Elias tonight.
If this is Lio Rush's big plan, I am very disappointed.
01:55am
That wasn't a bad match, to be fair.
Gable picks up the win with the Chaos Theory German Suplex, but Konnor flattens both Roode and Gable before they can celebrate.
It's such a scintillating feud, this.
01:51am
It's Viktor of the Ascension!
The future WWE Champion is finally getting his chance to shine!
01:47am
Tell you what, it's going down tonight.
Ronda Rousey's gonna host a Raw Women's Championship open challenge soon.
Maybe a Baszler debut? Possibly?
Up next, we've got Chad Gable, being accompanied by Bobby Roode, taking on someone not important enough to be announced before the commercial break in singles action!
Mike Kanellis anyone?
01:43am
Baron Corbin has now made an Intercontinental Title match between Seth Rollins and a rematch clause-invoking Dolph Ziggler.
Rollins and Ziggler both fell through announce tables off the Cell last night, but Corbin reckons Seth isn't even at the arena, in which case Dolph will iwn the title by forfeit!
01:36am
A very solid opener with a great finish.
Ambrose attempted a dive off the ringpost to the outside, but McIntyre swatted him into the barricade.
Ambrose just made it back into the ring at the count of nine, only to be met immediately with a Claymore and Drew picks up the win.
McIntyre is a cold SOB.
01:27am
I missed the start of this match, but now it's commercials so I'm just going to assume that nothing's happened yet.
Top quality journalism here.
01:22am
Up next, it's our first match of the night, as Dean Ambrose takes on one half of the Raw Tag Team Champions, Drew McIntyre!
01:17am
Corbin just announced that he's challenging for the Universal Title night.
Cool.
01:12am
So, Baron Corbin's just come out, and announced that at an event called WWE Crown Jewel that will be streaming live on the WWE Network from Riyadh, Saudi Arabia on November 2, Roman Reigns will defend against Braun Strowman and Brock Lesnar in a Triple Threat match.
Wowzers.
And now Heyman's turned up.
01:07am
Roman's being a feisty doggy today!
He calls out Brock Lesnar, but instead, out comes Roman's opponent from last night, Braun Strowman!
01:04am
You know a really unique and interesting way to open Raw?
Well, it's Roman Reigns so… not this.
Hopefully we get some sort of decent explanation as to why a Hell in a Cell match was ruled a no contest last night.
Anything less, and I'm not a happy bunny.
12:30am
What better way to recover from whatever the hell last night was than staying up until 4am watching three hours of WWE Raw?
I can think of eleventy billion better ways, but oh well, I'm doing it anyway, and you're here to join me, for some reason.
Before the show, check out last night's Hell in a Cell results, and our preview for tonight, but here's a quick rundown of what's in store:
Undertaker returns to address his upcoming Super Show-Down match against Triple H
The fallout from a very controversial Hell in a Cell main event
Lio Rush and Bobby Lashley apparently have big plans, something I am genuinely looking forward to
@fightbobby knows that the #MOTH has a plan. See you in Dallas big man! Oh and tell the kids uncle Lio says put down that fortnite. @WWE #MOTH ?⏳ pic.twitter.com/4xSHTLUzzo

— Lio Rush (@IamLioRush) September 15, 2018
And that's about it, really. But don't worry, it's only THREE HOURS.
I'm sure they'll find a way to entertain us! Right? Guys? Guys come back…
What are your predictions for Raw? Let us know on Twitter and Discord!