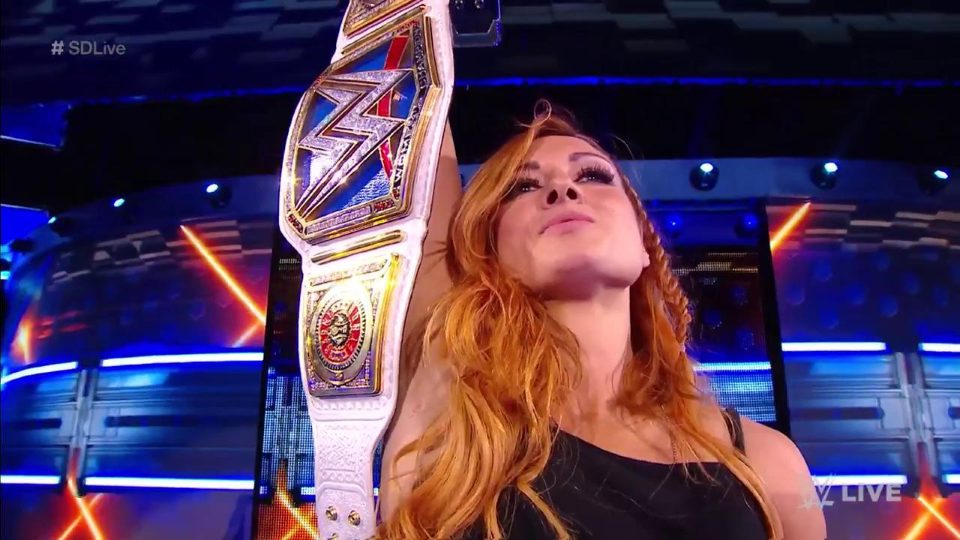 03:02am
And that concludes a great episode of SmackDown to follow up a great episode of Raw.
A few big takeaways, and a good night of storytelling and matches.
Thanks for following along with our live coverage, and we'll see you next week!
03:00am
Becky asks Charlotte to put the title around her waist, but Charlotte refuses.
So Becky instead asks Flair to "call me 'Queen,' bitch."
Charlotte then lunges, but Becky turns the tables to attack Charlotte at ringside.
Lynch locks the 'Queen' in the Dis-Arm-Her and walks off with her title.
The crowd, of course, cheered Becky and are now chanting "Yes! Yes! Yes!"
02::54am
Becky calls out Charlotte! I think things are about to get spicy.
02:47am
Asuka picks up the win in that one, and up next, and seemingly closing the show, it's Becky Lynch's SmackDown Women's Title 'Coronation.'
I bet this goes off without a hitch.
02:36am
Up next, Asuka takes on Billie Kay of the IIconics.
How exciting.
02:34am
After a great match, AJ Styles picks up the win with the Styles Clash, but as we could have guessed, he is ambushed from behind by Samao Joe before he can barely say "Yay I won lads."
02:18am
Almas attacks Styles before the bell even rings, but AJ isn't going down lightly and tells the referee to kick things off!
02:15am
Up next, Andrade Almas takes on WWE Champion AJ Styles in what should be another good match.
Keep an eye out for Joe, though.
02:07am
After a great match, the pale snake Aiden English gets up on the apron and "accidentally" distracts Rusev and Nakamura retains with a roll-up.
And AIDEN ATTACKS RUSEV! After the match, Aiden batters the Bulgarian with a microphone before singing a final Happy Rusev Day and leaving.
At least they turned the right one, they were a really good pairing, but it's done it's job now and Rusev is a full-on babyface. Good call.
01:52am
Rusev asks Aiden to introduce him, but Lana wants to tell her husband about what Aiden said earlier.
Rusev ignores her though as he is clearly trying to get in the right frame of mind to compete, so Aiden will actually be at ringside, who unbeknownst to Rusev, thinks Rusev Day is only popular because of him.
01:47am
The US Title match is up next, Nakamura defending against Rusev!
This one should be good.
01:43am
Randy Orton is in the production truck the little Kevin Dunn wannabe, and he orders one some poor bloke to pull up the footage of what he did to Jeff Hardy last night.
He also says that what he did to Hardy pales in comparison to what he'll do to his next victim. Who do you think his next victim will be?
01:36am
Sometimes I feel we tend to forget how good Kofi Kingston is. Or I do at least.
That was a really neat little match though, both in the ring and at ringside with Woods, E and Sheamus.
Cesaro picks up the win with the Neutralizer.
Oh, it's going off now… Rusev tells Aiden he can't be at ringside tonight, which leads to Aiden telling a bloke backstage that Rusev Day and all the success that came with it was all because of him, not the Bulgarian.
Lana hears it all though, and threatens to tell her husband.
Rusev will challenge Nakamura for the US Title tonight.
01:17am
Up next, it's Kofi Kingston vs. Cesaro in preparation for New Day's title defense against the Bar at Super Show-Down!
01:15am
Miz and Maryse did the usual thing mocking Bryan and Brie, before Bryan stormed to the ring and attacked Miz, leading to Miz to inadvertently striking his wife.
It was all a ruse and Maryse was actually fine, but Bryan still came out on top.
That was all a little bit silly.
01:06am
Miz reminds us that at Super Show-Down he will face Daniel Bryan in a number one contender's match, and also that he beat Bryan on Sunday at "Hell a Cell," which is almost as bad as my dad calling it "Hell in a Cage" the other day.
Oh, and I was right. It's Maryse. Yay.
01:04am
We're kicking SmackDown off with Miz TV!
Who will be his special mystery guest? Probably Maryse. How exciting
12:30am
Is everyone ready for WWE SmackDown Live?
No, me neither.
But, to be fair, it should be a good show. Even Raw was good last night and Raw is usually the absolute pits.
Before the show starts, check out our full preview for tonight, but here's a brief rundown of what's in store:
AJ Styles vs. Andrade Almas
Shinsuke Nakamura (c) vs. Rusev – WWE United States Championship
Miz TV with a special guest
Becky Lynch's WWE SmackDown Women's Championship 'Coronation'