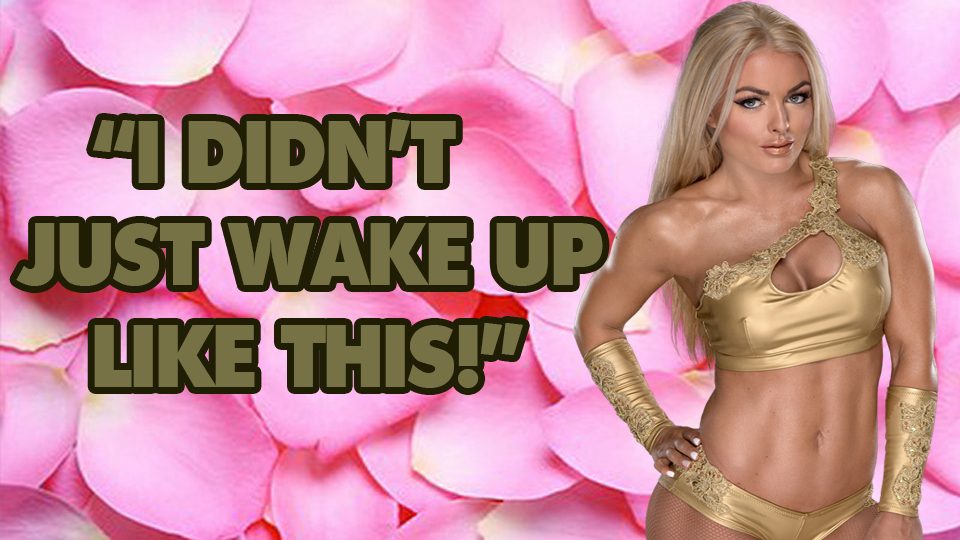 As the mean girl of WWE's reality series Tough Enough, Mandy Rose received a boatload of hate and didn't do much for her image by coming across as inexperienced and somewhat careless on Total Divas. Arguably the weakest member of Absolution, she is a history maker having been the first woman eliminated from both the inaugural Women's Royal Rumble and Elimination Chamber.
Now, Mandy Rose has spoken out on the public perception of herself on Lilian Garcia's Chasing Glory podcast. Talking Tough Enough, Total Divas, and according to some, her good looks, we open on the former subject and the aforementioned role she played up to in the sixth season of the show.
Securing runner-up under her real name, Amanda Saccomanno, it was Rose's bullish nature and on-screen rivalry with Sarah Lee which found her in the crosshairs of the general public. When asked by Lilian about the role and laying it on thick for the cameras, Mandy had this to say:
"It was rough because honestly, I remember, it's one thing when you are living together, but I felt really bad that I even said some of the stuff I did on national television, but she is a really sweet person, and I got along with her fine when the cameras were off, but that fakeness, because it's like, I can be so mean to you on camera, but she never said anything to me or addressed the issue. She is very quiet, she didn't want any of that, but inside it just didn't feel right. I thought that I wasn't this type of person, but I was so wrapped up in it and thought that it is what it is. I went with it, but I felt really bad, even towards the end of the show. I don't see her as much, but we talk here and there, but she never confronted me about it, which I was surprised, because if I was her, behind those cameras I would have."
This answer surprised me. I expected Rose to be the epitome of her character in real life, proving what we see on weekly television isn't that far from an extension of her real self. Somewhat grounded, one would expect this interview to change public perception of her and add another string to her lightweight bow.
On the subject of what she learned from being a part of Tough Enough and subsequently being added to the cast of Total Divas:
"She ended up winning and I ended up in second place. I still ended up getting a contract, and was put on Total Divas. In my head I was like, oh, I must have done something right because they see something and see a reality star, so I thought I did something right, that is why I say that I don't regret anything, and I learned for sure, but I didn't have to be influenced by people to show who I am, but I also thought, well, I did get signed anyway and got this great opportunity to be on Total Divas, and got this great exposure."
That is somewhat of an overstatement as Total Divas isn't watched or regarded by a wide enough audience to gain her the amount of exposure she's talking about. When Rose made her NXT debut, only a select few knew who she was, proving that the show is more for entertainment value than giving stars a platform on which to reach an audience that matter.
Lastly, we touch upon her mooted good looks. Now, I'm not a Mandy Rose fan and I don't pretend to find her attractive. Ember Moon is my cup of tea. Yet, Rose has a strong following of male admirers who lust after her looks. With that said, Lilian was right on point when she asked Rose what her thoughts were on being added to the cast just because she is "attractive":
"It's almost like, I don't like to do things for that reason, because I was told that a lot of girls aren't going to like me, and I was like, well, that's great. It's one thing where you have to do you, and it's the kind of business we are in unfortunately. But it's also like, no, I want people to like me and I want a long career in this business, and I want to have a name that people can respect because I know respect is huge here, and I felt like I was looked at like I'm just here because I'm hot, and I get that all the time, and I have to constantly look at it like, no, I am not just a Barbie doll looking girl, I have worked hard, and the struggles that I went through when I was younger, I didn't always look like this. I trained my butt off and competed and got to where I wanted to be from rigorous training and dieting. I didn't just wake up like this."
What are your thoughts on Mandy Rose? Does she have a bright future in WWE? Let us know in the comments below or on Twitter here.