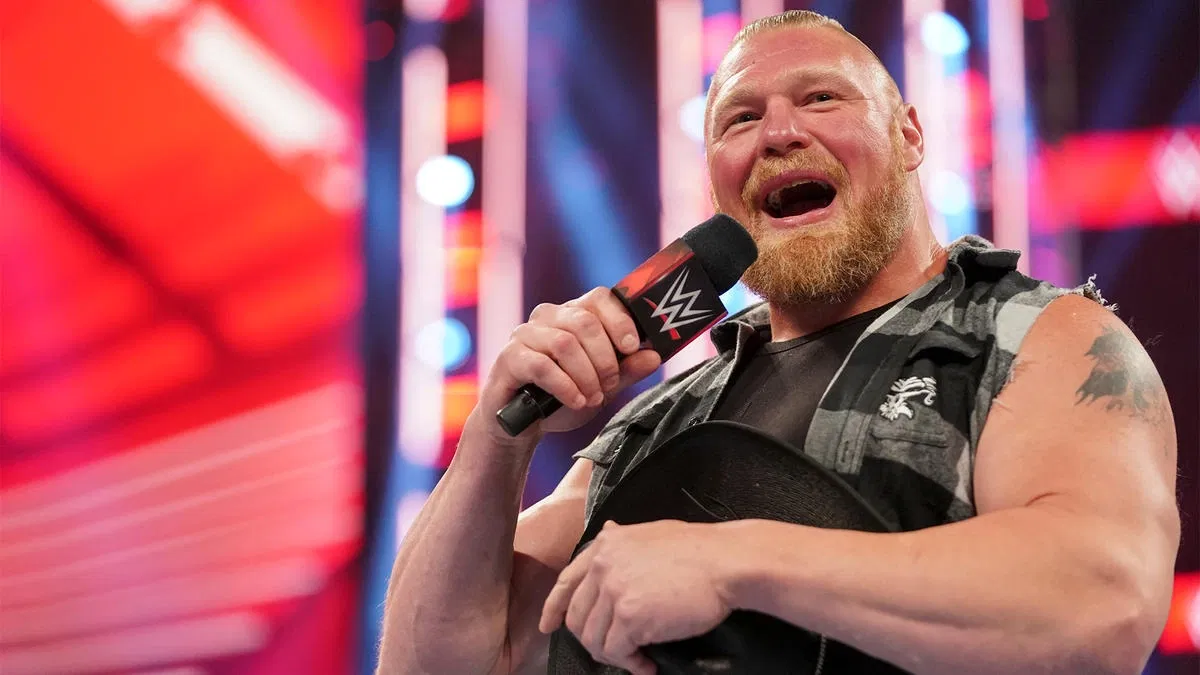 And now it's time for my review of Monday Night Raw – aka, wow nothing is really happening in these three hours but hey at least the wrestling is okay Monday Night Raw – in about five minutes.
One of Raw's biggest issues right now is that the biggest thing on either show – Roman Reigns vs. Brock Lesnar – which was also the biggest thing on either show just a few months ago – hasn't seen either man on Raw since the feud rebegan last month. Which has left Raw feeling slightly aimless.
But Brock was on the show this week, cutting the same Lesnar promo we've seen from him since he returned last summer with his new babyface cowboy gimmick. Although at one point, he said he would put his hand up Roman's arse and pull his heart out his butthole. This is a PG show, Brock.
Paul Heyman predictably came out and the two tried to do some improv comedy that didn't work, and Heyman did his best to get people excited about a feud that should have ended a few years ago, let alone this past WrestleMania. Austin Theory came out for a quick promo saying he's going to cash in Money in the Bank at Summerslam, and Brock beat up Alpha Academy around ringside – including brilliantly F5ing Otis through the announcer's table.
This may be the usual Brock stuff we've all seen a thousand times before, but it was an injection of energy that Raw has been sorely lacking.
Rey Mysterio took on Finn Balor in a really fun match with all the great spots you'd imagine from two great wrestlers. I'm actually surprised this is a first-time ever match, and the two went out there to show why it was a dream match for some people. Balor picked up the win the Coup De Grace, his first win on proper TV since May. Looks like we may be getting the full tag match at Summerslam.
Not taking place at Summerslam, however, is Bianca Belair vs. Carmella in their Money in the Bank rematch – as they did it here on Raw instead. Becky Lynch came out before the match to announce she wanted the title match at Summerslam because she beat Asuka last week and – well – because I imagine WWE looked at the card for Summerslam with its WrestleMania rematch of Brock vs. Roman, another Pat McAfee vs. midcard heel match, and another Logan Paul celebrity match and thought to themselves, 'well we may as well do a Becky vs. Bianca WrestleMania rematch as well. In for a penny, in for a pound.'
The Belair vs. Mella match was okay I guess. They did a couple of great nearfalls for Carmella, but this crowd did not buy her as a threat to the title so didn't get invested in them. But this is a half decent match, so it's time to spin the WHEEL OF BAD FINISHES.
Right, let's spin this bad boy – what have you got for me? COUNTOUT WIN! Come on down, you're today's winner!
Yeah Becky stopped Bianca getting in the ring so she got counted out and Mella won. But she didn't win the title because of the rules, so Belair beat up Carmella afterwards to show who really won. It was Carmella, Carmella won.
This was done to restart the feud between Becky and Bianca – and it is far too early to be running that back – but perhaps is also a way to get Mella into the mix? I don't really know at this point.
If you'd told me two years ago I'd be seeing Tomasso Ciampa wrestle AJ Styles on Raw, I'd be absolutely thrilled. If you then told me he'd be playing second fiddle to The Miz to further a feud with Logan Paul, I'd probably be asking you who the hell is Logan Paul. But then I'd also be sad because Ciampa deserves better than The Miz. He teamed with Miz to take on Styles and Ezekiel who feels so unspecial without Kevin Owens there carrying this character.
This was a good match, which means it's time to spin the WHEEL OF BAD FINISHES!
That's right we get another winner today and it is…. DQ FOR KICKING TOO MUCH ASS!
This one was baffling, too. AJ had Miz in the Calf Crusher and Ciampa broke it up – legally – and got DQ'd for his efforts. I honestly have no idea how this got written down on paper in the first place, let alone getting signed off and put out on national TV. People watch this show, guys, at least try.
Alexa Bliss and Asuka beat Doudrop and Nikki ASH in a decent match, and Alexa continues to feel directionless.
Raw then advertised a match between Angelo Dawkins and Jimmy Uso and I thought I'd put on an old episode of the show, but the joke was on me. As R-Truth came out to say he should be the referee for the Summerslam rematch, which brought out Omos for… reasons… and a six-man tag was made instead.
Look, this isn't a really hot take, but Omos is pretty terrible at this. And the match was only good when he wasn't in it. So of course he won. But did he pin Truth – you know, the guy who is comedy foil for the missing 24/7 title picture, whatever happened to that? – no, he pinned Angelo Dawkins – one half of the number one contenders to the Unified Tag Team Championships. Because why would you try and protect these people and build them up for their big match? This achieved absolutely nothing, and was a total waste of time.
After getting the same spooky promo earlier in the show, we got the next tease of Edge's return. While the first one focused on his Attitude Era feuds – Kurt Angle, Eddie Gurerro, The Dudley Boyz and The Hardyz; this one focused on his Ruthless Aggression/PG Era feuds – John Cena, Mick Foley and Randy Orton. I'm quite intrigued to see where this reflective Edge is going next.
And the main event saw Riddle team with Bobby Lashley to take on Austin Theory and Seth Rollins. It was a totally fine match for the most part – getting really good by the end – but the big talking point is Dolph Ziggler coming out wearing a nice suit and watching from ringside.
They put this over as a big return – even though Ziggler was in the battle royale two weeks ago – and was on Raw interrupting a segment with Omos and MVP a few weeks before that – but this felt like a true reset button press with a new character change.
This was also the hottest the crowd had been all night – popping big for all the big spots from all big guys who were fantastic in all their roles. The finish saw Theory get the pin on Riddle with his feet on the ropes, but Ziggler stopped that to allow Riddle to pin Theory with the RKO – you know, the number one contender to the United States Championship. Because why would you try and protect these people and build them up for their big match?
So Dolph is a babyface now, and going into a feud with Mr. Money in the Bank – presumably to remind us all – show the world, if you will – that he also had a great Money in the Bank cash in, which was set up earlier in the show when Theory told Rollins he had the best cash in ever.
Like most weeks of Raw, this was perfectly serviceable television. Outside of a few quibbles and terrible finishes, there wasn't a whole lot of bad on the show. But also not a whole lot of good, either. Just a lot of stuff that's there. Aside from Brock F5ing Otis through the table, of course – that was awesome. This week's Raw is 3 out of 5.
To make sure you stay updated with all the latest wrestling news, add WrestleTalk.com to your Google Discover feed and follow us on Twitter!