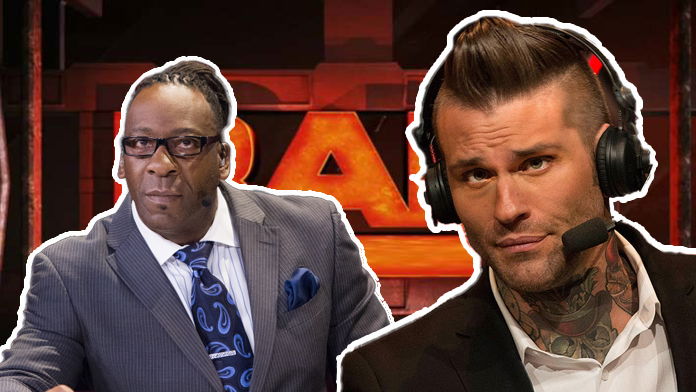 It seems there is a lot more to the departure of Booker T from the Raw announce booth than meets the eye.
Venting on his Heated Conversations podcast, Booker directly blamed former Raw co-host Corey Graves for his demotion:
"He's the reason I'm not on Monday Night Raw right now. A lot of people in the company thought I was going to jump on him, I was going to do something bad to him, I was going to drag him, I was going to take him out to the woods and beat that man so bad, I was going to beat this man until he said, 'Please, please, just don't beat me any more.' That's how hot I was getting."
https://www.youtube.com/watch?v=zjYYwJtmOFA
Booker added that while he would not do anything when he saw Graves at WWE events, if he saw him on the streets he would "take him out to the woods and beat him up."
Uh-oh.
https://www.youtube.com/watch?v=dbcarf6pEqo
Graves was quick to respond, taking to Twitter with a cryptic post that was very obviously related to Booker's comments. He even said as much himself at the end:
"Thus the expert in battle moves the enemy, and is not moved by him."

-Sun Tzu

(Yes, this is what you think it is)

— Corey Graves (@WWEGraves) February 5, 2018
It should be noted that Booker also challenged Graves to a match at WrestleMania 34 during his podcast diatribe, so it could all be an elaborate, WWE-approved work. Then again, it seems unlikely that the promotion would go to such lengths for a feud between commentators when they rarely give anything on the main roster half as much thought.
More likely, Booker is trying to save face by laying the blame at the feet of perennial on-air antagonist Graves, when the reality is he was just canned for being a bit crap.