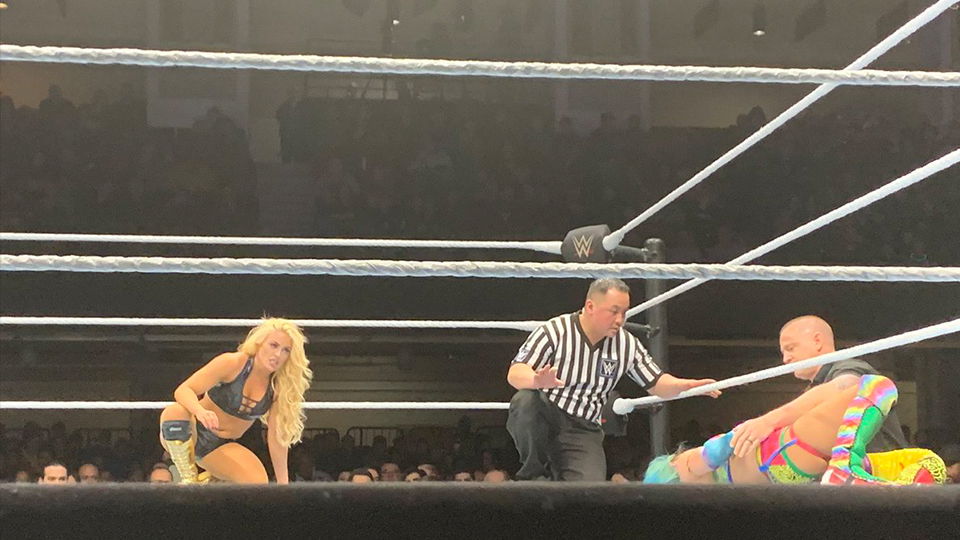 It is never a good time to pick up an injury, but surely the worst time for anyone would be just before WrestleMania. Well according to @kimberlasskick on Twitter, Smackdown Live Women's Champion Asuka was injured at the hands of Mandy Rose at a live event on Monday night.
Oh damn Mandy just dropped Asuka on her head/neck so hard. #WWEWhitePlains pic.twitter.com/JXeNF8ezcC

— Kim (@kimberlasskick) March 5, 2019
Mandy supposedly went to deliver her finisher but dropped the former NXT Champion right on her head and neck. @kimberlasskick said "it looked brutal".
The match went to a no-contest and doctors attended to Asuka. After some time Asuka was alert and talking to doctors and she was even able to walk to the back without the need of a further. However, it remains to be seen if Asuka is seriously hurt.
Mandy Rose is currently scheduled to go one-on-one with Asuka for her Smackdown's Women's Championship on Sunday night at Fastlane. The 2015 Tough Enough runner-up was granted a match with the champion after she pinned Asuka on the February 21 edition of Smackdown Live.
It remains unclear if this match is in jeopardy, but even if it isn't, this can't be good for Mandy Rose who won't want to become known as an unsafe worker. With Smackdown Live tomorrow night, I'm sure we will get the answers we want, but in the meantime, let's just hope Asuka doesn't need a spell on the sidelines