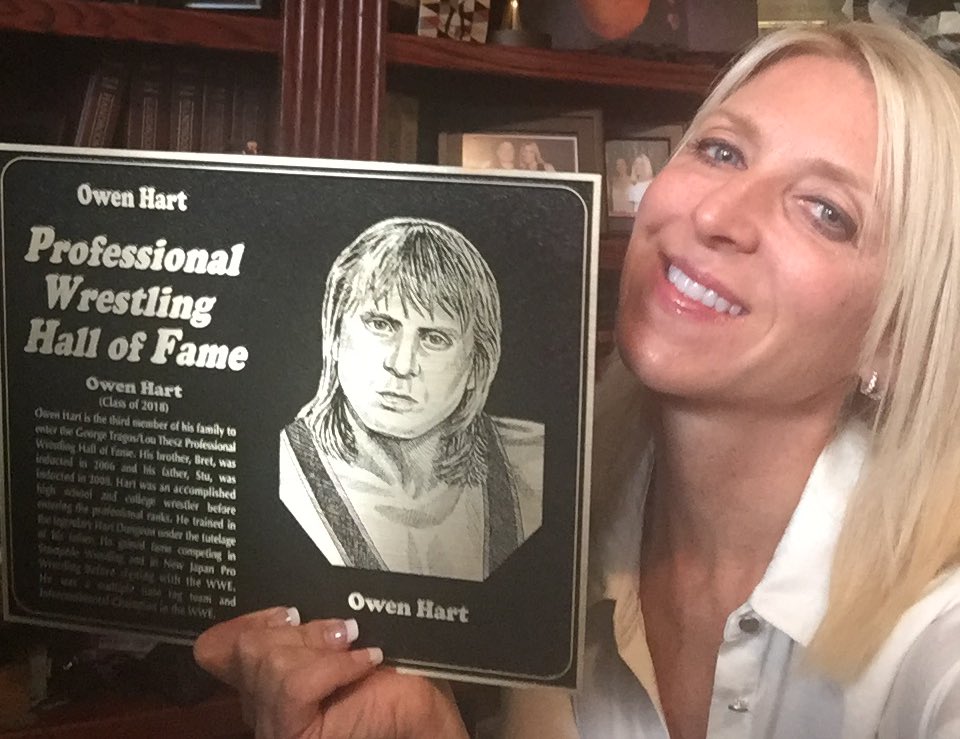 The widow of Owen Hart has been pictured proudly showing off a posthumous Hall of Fame award given to her late husband.
Martha Hart was shown with a plaque after Owen was inducted into the the George Tragos/Lou Thesz Professional Wrestling Hall of Fame.
Davey Boy Smith, Jr., Diana Hart, Keith Hart, Bruce Hart and Ross Hart were all in attendance to receive the award on Owen's behalf. Martha Hart and Owen's brother Bret were not at the ceremony.
Martha Hart holding her husband's Hall of Fame plaque. Owen Hart was inducted posthumously into the George Tragos/Lou Thesz Professional Wrestling Hall of Fame on July 28. pic.twitter.com/ECYLzMKbFo

— Dan Gable Museum (@wrestlingmuseum) August 28, 2018
Also in July, WWE Hall of famer Bret Hart appeared on "In This Corner" and discussed wanting his brother Owen Hart in the WWE Hall of Fame.
During the same podcast, Hart had some negative words for Martha who has been outspoken about not wanting her late husband to be inducted into the WWE Hall of Fame because she he blames WWE for Owen's death.
The Canadian star died after falling from the top of the Kemper Arena in Kansas City into the ring when a stunt went wrong during the Over the Edge pay-per-view in May 1999.
Mrs Hart said: "I am firm in my belief that the WWE was responsible for Owen's death. As a result, I cannot and will not support any efforts by the WWE to profit from Owen's memory. I want nothing to do with the WWE in any regard, in relation to Owen or on any other front."
Let us know your comments below or on Twitter. You can also join us on Discord to chat with other like-minded fans, Oli Davis, Luke Owen and the WrestleTalk staff!