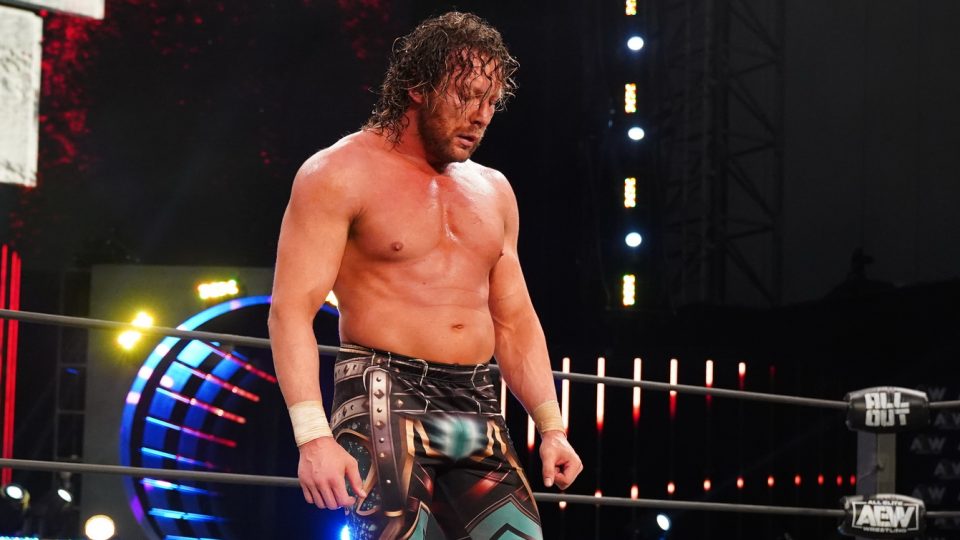 *** WARNING – This piece will contain potential spoilers for next week's episode of AEW Dynamite, as well as the Full Gear pay-per-view. Only continue reading if you want to know ***
Reddit user SpaceForce1, who is normally on the money when it comes to AEW scoops (including Eric Bischoff's debut in August) is reporting that we are going to see Kenny Omega vs. Hangman Page at Full Gear.
The report notes that on next week's Dynamite, we are going to see Kenny Omega and Adam Page defeat Penta El Zero M and Wardlow respectively to progress to the number one contendership tournament final,. which is set to take place at Full Gear:
Show opened with Wardlow vs. Page in the tournament semifinals. Back and forth early. Page gets dumped outside and comes back in with a buckshot lariat attempt, but Wardlow ducks it and hits a big clothesline. Wardlow hits the F10, but Page rolls out of the ring. Wardlow pulls him back in from the apron and tries to hit the F10 off the top, but Page fights out and hits a superplex. Page hits a Buckshot Lariat, but it only staggers Wardlow. Page runs to the opposite side and hops out to hit a second one, which takes Wardlow down. Page covers him and wins, advancing to the finals.

Kenny Omega vs. Penta El Zero M in the semifinals of the tournament. Penta replaced Ray Fenix, likely because of the bump that Fenix took last night during their match when he attempted that ridiculous spinning rana from the top and landed on his head. Not sure how he was cleared to finish that match and then not cleared tonight. Something else may filmed backstage to explain the swap. Kenny with another ridiculous intro package from Justin Roberts with more Cleaner stuff. Match starts with trading chops. Slow start, likely more filler for the time that was planned for the women's match. They eventually get going and Penta hits a suicide dive to the outside. Penta in control early until Kenny hits a hurricanrana and his own suicide dive outside. Back in the ring, Penta takes control again and perfectly hits the springboard slingblade, which is rad as fuck. Pents goes up top and runs the ropes for some unique offense, but Kenny regains control with a half-nelson suplex followed by a powerbomb and a low dropkick for a two. Kenny hits the V-trigger and goes for a One-winged Angel, but Penta counters. They brawl on the top rope as Kenny tries a superplex, but Penta knocks him off and onto the ramp outside. As Kenny tries to climb back up, Penta leaps from the top and hits a Canadian Destroyer off the top and onto the ramp. Crazy. They move back inside with Penta in control, but Kenny hits a counter and tries another One-Winged Angel. Penta drops down out of the tower and locks in a sleeper. Kenny fights out and goes for a third attempt at the One-Winged Angel, this time hitting it for the win. Great match. As most of you probably guessed, Omega vs. Page in the final for a shot at the AEW World Championship.
Some fans, including myself, speculated that we'd actually see Wardlow vs. Kenny Omega at Full Gear, with AEW potentially opting to delay the eventual Omega and Page collision after their tag team run this year. However, it seems like the match will be taking place in just a few weeks.
That is not all that is being reported, as SpaceForce1 is also reporting that a major WCW icon and former WWE name is going to be appearing on next week's episode of Dynamite. You can read more about that by clicking here.