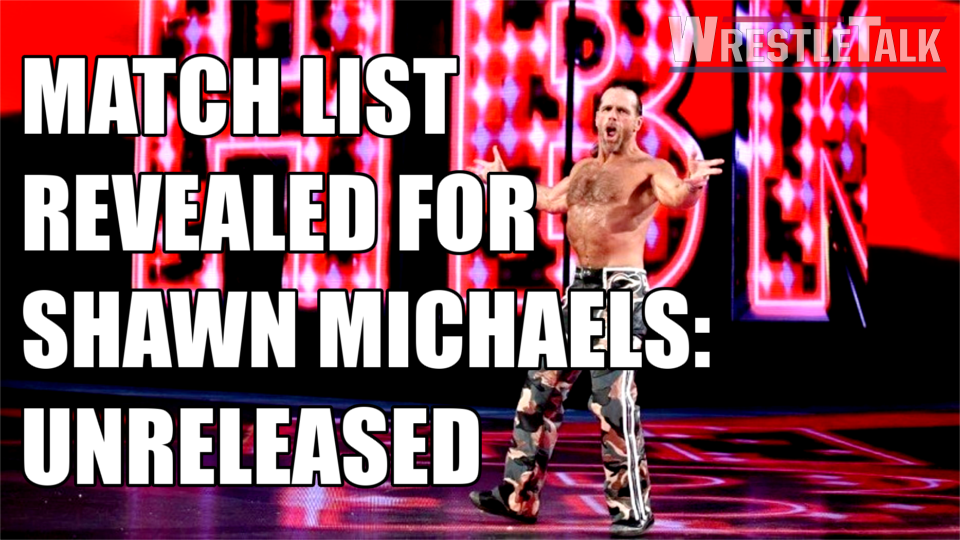 A week ago, we saw the first trailer for Shawn Michaels: The Showstopper Unreleased. The new WWE DVD is set to hit stores in October of this year. 'Unreleased' is a popular series from WWE which presents lesser-known content from our favorite wrestlers. Previous releases in the series include Hulk Hogan's Unreleased Collector's Series, WWE Unreleased 1986-1995, and Randy Savage Unreleased: The Unseen Matches of The Macho Man.
Since its announcement, fans have been eager to find out what matches would be included in the Shawn Michaels edition of 'Unreleased.' Thanks to Wrestling DVD Network, we now have those matches.
These following 11 matches, and one Piper's Pit segment, are confirmed for the DVD:
Shawn Michaels vs. Jake "The Snake" Roberts
Mid South Wrestling • February 1, 1985
The Rockers vs. The Orient Express
London, ON, Canada • April 29, 1990
WWE Tag Team Championship
The Rockers vs. Legion of Doom
Superstars • December 28, 1991
Piper's Pit with Shawn Michaels
Syracuse, NY • April 29, 1992
Shawn Michaels & Bret "Hitman" Hart vs. Jacob & Eli Blu
[Dark Match] RAW • July 24, 1995
Six-Man Elimination
Shawn Michaels, Diesel & The Undertaker vs. Sycho Sid, Tatanka & Kama
Evansville, IN • July 25, 1995
Shawn Michaels vs. 1-2-3 Kid
Superstars • April 27, 1996
WWE Championship
Shawn Michaels vs. Vader
State College, PA • September 29, 1996
WWE Championship
Shawn Michaels vs. Brooklyn Brawler
Madison Square Garden • November 15, 1997
WWE World Heavyweight Championship
Shawn Michaels vs. Rob Van Dam
RAW • November 25, 2002
WWE World Tag Team Championship
Shawn Michaels & John Cena vs. Rated RKO
[Dark Match] RAW • February 19, 2007
Triple Threat Match for the WWE World Heavyweight Championship
Shawn Michaels vs. Batista vs. Chris Jericho
Atlanta, GA • November 17, 2008
Will you be getting yourself a copy of Shawn Michaels: Unreleased? Any matches WWE might have missed? Let us know in the comments below, or on Twitter here. Take it a step further, and chat with us on Discord!